Standing desks and sit-stand desks have never been more popular. Since the COVID-19 pandemic made everyone work from home, workers have put even greater emphasis on creating a comfortable and healthy workspace in their home. After all, if you are going to be spending so much time at your desk, you might as well be as comfortable as possible, right? But how healthy are standing desks? Do they offer significant benefits over your run-of-the-mill normal desk? Can they actually be counterproductive or damaging? We'll try to answer all of these questions and more below as we get into the science of standing desks.
Are standing desks good for you?
The short answer: It depends. We know that staying active is a major component is staying physically and mentally healthy. Studies have shown that the current recommendation of doing brisk exercise like walking for 30 minutes per day can have major health benefits. Furthermore, the total time you spend sitting in a day is associated with an increased risk of cardiovascular disease, diabetes, and other ailments. Overall this has led to many experts recommending people in desk jobs to reduce the overall amount of time they sit during the workday. This is reflected in many public health guidelines that recommend taking frequent breaks from sitting throughout the day.
Is sitting the new smoking?
The claims around the negative effects of sitting can often be quite significant. Studies have found that those who have a relatively sedentary lifestyle are at a much greater risk of premature mortality. When these same individuals don't get regular exercise, the outlook can be even more negative. A study in 2014 showed that work done in a standing position had a positive association with blood glucose levels when compared to those who remained seated in the same office environment. Other studies have shown that standing while working was especially good at controlling blood sugar spikes when it was done after lunchtime, when the body is digesting. Furthermore, those that used standing desks in a 2012 study showed significantly fewer signs of upper back and neck pain when compared to those that only sat on the job. The same study even showed increases in mood associated with the same cohort that reduced their time sitting.
These results seem to point towards a strong recommendation to work in a standing position as opposed to seated. However, this is not the entire story. Indeed there are also risks associated with long-term standing positions for workers.
Why you might not want to work standing up
Standing up while working can actually lead to both discomfort and injuries if it is the sole way of working. A study in February 2018 showed that prolonged standing at the workplace has its own health risks, including discomfort, reduced reaction time, and deteriorating mental state. Another study reported that workers that used standing desks showed positive results such as increased enthusiasm and alertness but also cautioned the long-term issues that crop up around comfort when standing only. Other studies have noted that predominantly standing jobs such as construction and retail are actually the most associated with heart disease.
Stand, then sit, then stand again
So what conclusion are we to make with this contradictory data? As with everything in the world, a moderate middle ground seems to be the best approach. The clear link between poor health outcomes for those who sit for longer periods during the day is very clear. But reductions in comfort and long term risks of heart disease are also associated with those that only stand on the job.
The biggest recommendation that anyone working from home can take to heart is to mix it up.
The simple solution here is for people in desk jobs to try to reduce the total amount of time they spend sitting throughout their workday. This doesn't mean that you should stand the whole time, however. Instead, experts recommend a mix of both sitting and standing throughout the day. The benefits of this mixed approach can range from less discomfort, more alertness, less neck strain, and general increases in mood.
Enter the sit-stand desk…
Sit-stand desks are the best solution for working from home
In order to get the benefits of less time sitting but avoiding any negatives associated with standing, the absolute best solution is to invest in a sit-stand desk. These desks take many forms, but the idea is simple. They can change from a sitting mode to a standing mode in order to accommodate both positions. There are three main types of sit-stand desks.
The three types of sit-stand desks
1. The sit-stand converter
The first type is the least expensive. This is known as the sit-stand converter. These desks are actually something you add to your existing desk, essentially acting as a set of legs that push your computer up to a standing position without you having to completely buy a new piece of furniture.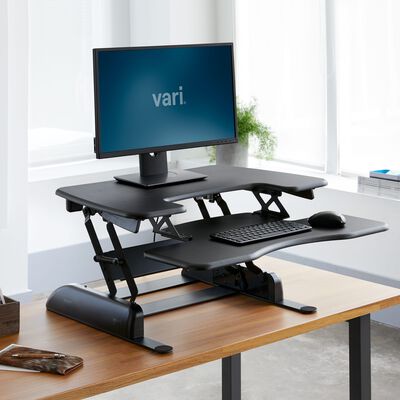 Best sit-stand converter:

VariDesk Basic 30 – Standing Desk Riser

Vari was one of the first companies to offer a sit-stand converter, and to this day they offer what we think is the best product in this category. With decent space for your laptop, keyboard, and mouse, and a very flexible riser system, the VariDesk Basic 30 will easily turn any old desk into a modern sit-stand desk.
2. The manual sit-stand desk
You will find some excellent "crank" style manual sit-stand desks from many manufacturers. These will feature a metal crank system that will allow you to slowly move the desk from sit to stand mode and back again. Probably the biggest complaint of these style of sit-stand desks is that it is annoying and slow to use the crank system. If you are at all impatient, we highly recommend an electric motorized solution. Because of this, we don't recommend anyone buy a manual sit-stand desk over a motorized option.
3. The electric sit-stand desk
If you have the budget, or your employer is willing to foot the bill, this is the sit-stand desk you want. They feature an electric motor that will automatically move your desk up and down. Most models will also feature a control panel that has a memory function to remember your sit and stand heights. More expensive models will usually feature less "wobble" at higher heights, dual motors, and more memory slots so multiple users can use the desk comfortably.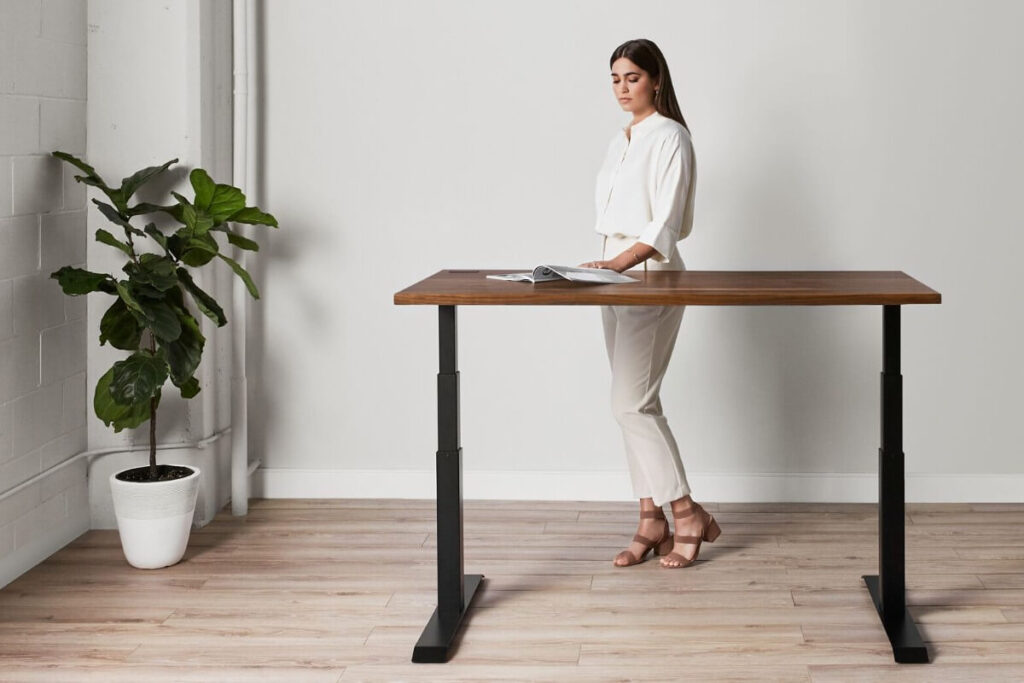 Best electric sit-stand desk:

Ergonofis Sway

The Ergonofis Sway sits heads and shoulders above most sit-stand desks. This is because they include some of the best motor internals on the market but also offer locally sourced Canadian hardwood desktops. We can't recommend the Ergonofis Sway desk enough.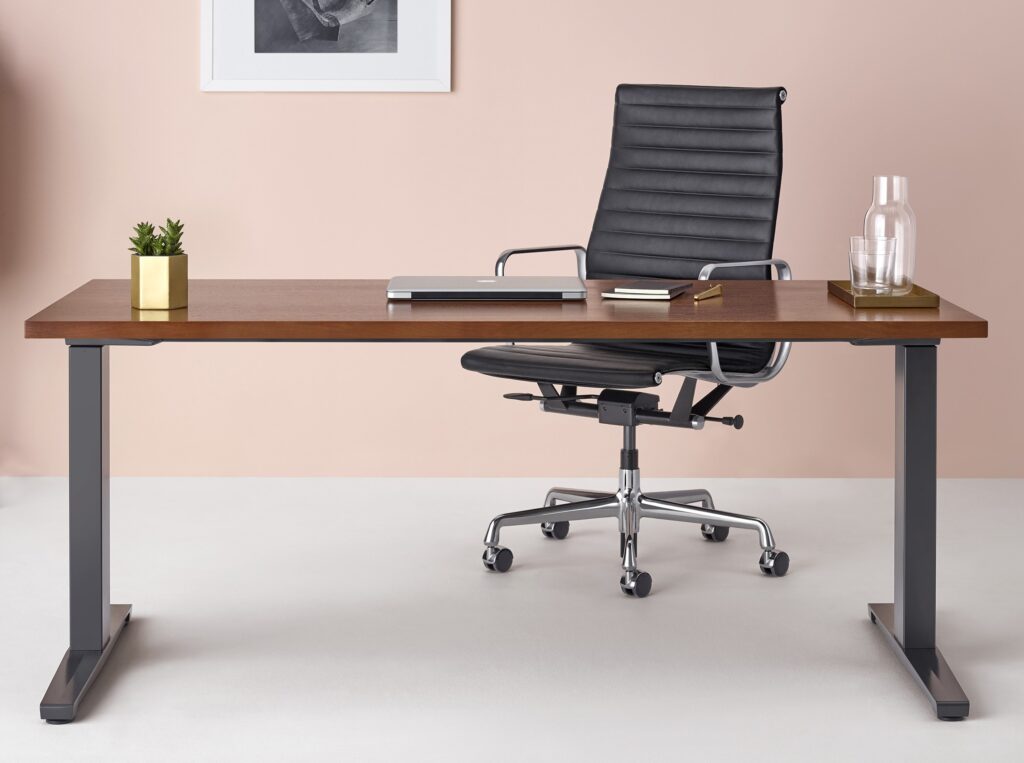 Also good:

Herman Miller Renew sit-stand desk

Herman Miller makes one of the most solid sit-stand desks on the market. Featuring an intuitive paddle switch to move the electric motor and several laminate-style desktops, the Herman Miller Renew is a great sit-stand desk.
Better yet, get some exercise
Simply standing up and sitting down throughout the day is an excellent idea, but it does not remove the necessity for you to get regular, vigorous exercise. Energy expenditure, cardiovascular exercise, muscle use, and anaerobic/aerobic exercise cannot be replaced by a simple sit-stand desk. Instead, take a break! We recommend regular breaks to go for a brisk walk or even fit a mid-day workout into your schedule. This will go a very long way in improving your physical and mental health. Even 60 minutes of moderate-intensity exercise can completely remove any of the negatives associated with sitting for long periods at your desk. We wrote a whole piece about the benefits of exercise during the workday in terms of depression and anxiety.
---
Conclusion: Get a sit-stand desk and get some exercise
The science is clear. You need to minimize your time sitting but also not exclusively stand while working. Mixing sitting and standing throughout the day with a sit-stand desk will help with focus, energy levels, and general comfort. Adding in regular vigorous exercise will even further eliminate any of the negatives associated with sitting work.