In 2020 I made the jump from a normal Ikea desk to an electric standing desk. And I haven't looked back. Along with a pair of noise-canceling headphones, it was the best purchase for my home office setup. There are several types of standing desks and the budget required for each varies significantly. We're going to focus on electric sit-stand desks, as they are the best type available since they will allow you to quickly convert from sitting to standing position with the push of a button.
Electric height adjustable standing desks generally vary in cost from $300 to almost $3000. The price difference is due to: better legs and materials, stronger motors, dual-stage motors, higher-quality top (real vs laminate), and size. The best value for money tends to be around the $500-$600 mark, as this is where manufacturers include higher quality motors and more customizability.
Comparing standing desk prices
Not all electric standing desks are created equal. Clearly, you are not going to get the same quality parts if you opt for a $399 Ikea desk vs a premium Steelcase or Ergonofis desk. We have pulled together the top electric standing desks available and listed their approximate price for (1) the base model which is usually about 35-50 inches wide, (2) the fully loaded deluxe model with wire management, wheels, and other functional upgrades, and (3) a larger version of the deluxe model which is usually around 60 inches wide.
Basic model
(35-50″)
Deluxe model
(*added upgrades)
Larger deluxe model
(~ 60″)
Flexispot Seiffen
$309
N/A
$464
Autonomous SmartDesk 2
$399
$449
$649
Ikea Bekant
$399
$429
$499
Fully Remi
$439
$635
$755
Fully Jarvis
$479
$1,249
$1,549
Uplift Standing Desk V2
$499
$1,417
$1,567
Vari Electric Standing Desk
$550
$595
$695
Uplift V2 Commerical
$559
$1,477
$1,627
Ikea Idasen
$579
N/A
$599
ApexDesk Elite
$599
$809
$869
VertDesk V3
$637
$1,110
$1,222
GeekDesk V4
$749
$929
$1,079
Branch Standing Desk
$925
$1,094
$1,114
Ergonofis Shift
$956
N/A
$1,116
Steelcase Ology
$1,157
$1,228
$1,409
Ergonofis Sway
$1,356
$1,596
$1,996
Ergonofis Alive
$2,076
$2,396
$2,956
*The deluxe model price will generally include: wheels, upgraded desktop, power grommets, and wire-management when available from the manufacturer. Optional shelves, trays, hooks, and other items are not included.
What are the best quality standing desks for the money?
You'll see in the above table that we have highlighted three particular desks in BOLD. These are the desks that we think are the best value for money in their class. We will go through each of these and explain why you should consider them over other desks in the list.
---
The best overall bang for the buck electric standing desk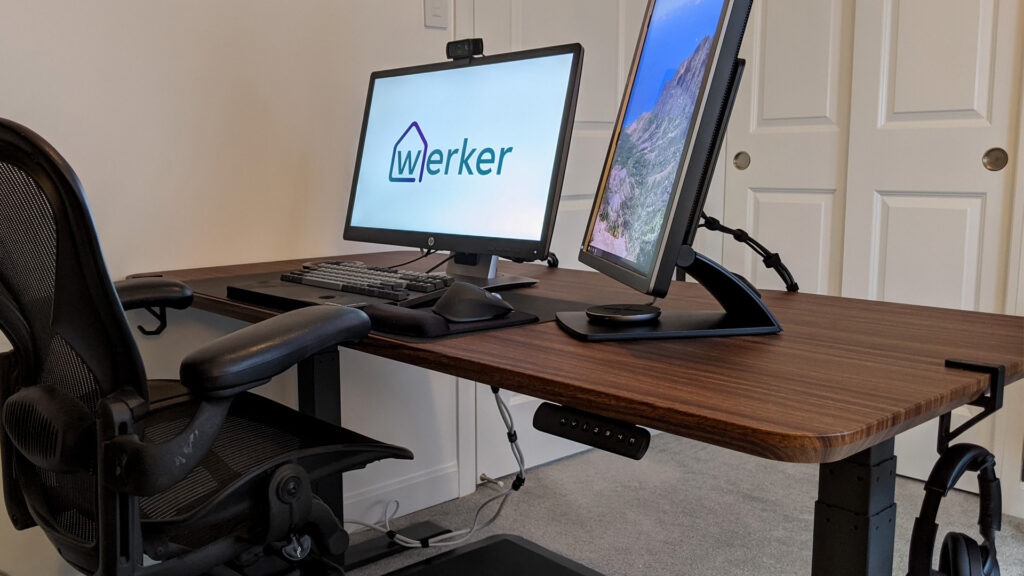 Best bang for the buck:

Vari Electric Standing Desk

The Vari Electric Standing Desk offers so much quality for a very reasonable price. It has top of the line motors, an excellent, roomy desktop, and almost no sway, even at its highest extension.
It took us a while to land on our pick for the best bang for the buck. But you can take my word for it, as I am currently writing this article on this very desk (pun totally intended). I did my research and spent my hard-earned cash on this model over all others.
Why is this desk great?
The Vari Electric Standing Desk has a lot going for it. For a decidedly low price, you are getting one of the most highly reviewed desks around. Wobble and sway tests have consistently shown that Vari's T-leg design is among the most stable, even at very high height settings. The legs/motors are very high-end dual-stage motors made by Jiecang and can fully extend in 5 seconds with very little noise. The control module is excellent and intuitive and offers 4 programmable height settings. The accessories that are offered by Vari are good, but not many. The Vari Electric Standing desk is simply a great desk for a very good price. Check out our full in-depth review here.
What's it like to use?
Excellent! I have been typing away on the 60-inch version of this desk for over a year now. The size of the desktop is perfect for my two-monitor setup and the optional wire management tray is lightyears beyond most of the finicky solutions offered by other companies. The claims around stability are 100% true. I have had absolutely zero issues with wobble or sway.
What makes this desk exceptional?
The main thing with the Vari Electric Standing Desk is that they price it very well. They don't offer a crazy upgraded version for a thousand dollars more. They simply make 2 models. One that is 48 inches and one that is 65 inches. They have put their best technology into the motors and the laminate desktop does a very good job in not looking or feeling cheap. There is no other standing desk on the market that gets you this kind of quality for this price. Learn more about the Vari Desk.
---
The best standing desk for customizability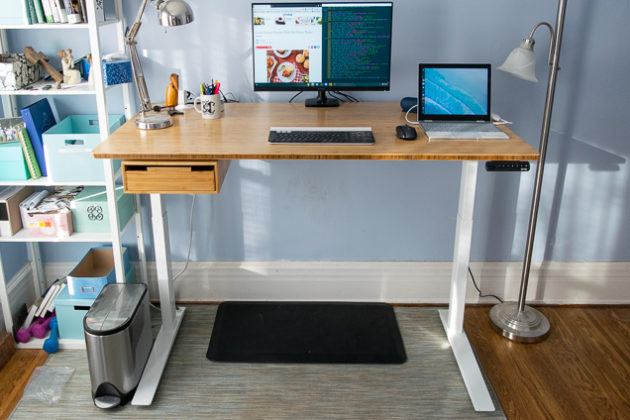 Most customizable standing desk:

Fully Jarvis

This is one of the most popular electric standing desks on the market., and for good reason. The Fully Jarvis is a very solid construction with quality motors and desktop, but it really takes the cake with innovative accessories. Just get your pocketbook ready…
One of the great things about standing desks is that there are a lot of very useful accessories and add-ons that can really make them your own. From grommets to wire management, and even under desk filing cabinets, these accessories are amazing.
Why is this desk great?
The Fully Jarvis is the one desk that really propelled the idea of a standing desk into the general populace. The major reason for this is that Fully created the Jarvis as a very modular experience when you buy one. The beauty of the Jarvis is in the extensive customization options available. That isn't to say that the motors, desktop, legs, and other components aren't good (they very much are), but the level at which you can make this desk your own is what sets it apart.
When you click the "Design my own" button on the Fully website, you are greeted with a dizzying number of options. Customizations include: Desk shape, desktop material, grommets with or without power, an integrated surge protector, casters, standing stools, cable management channels, balance boards, desk drawers, filing cabinets, headphone hooks… and bottle openers. Fully really thought out these accessories and how they can be functionally used with the Jarvis. Sure, Uplift has that crazy under-desk hammock, but we would probably use a filing cabinet more regularly.
What's it like to use?
I have tested the Fully Jarvis on numerous occasions. It is just about as premium feeling as the Vari Desk above. The one area where it isn't quite as good is its stability when it is at a high setting. It's not a deal-breaker, but it will wobble a little more. But when it comes to functional convenience, the integrated drawers and filing cabinets just make so much sense.
What makes this desk exceptional?
Fully really supports their product. They support your purchase with a full 10-year warranty on the frame, motor, control box, and electronics. This is about as good of a warranty as you will find.
---
The best premium electric standing desk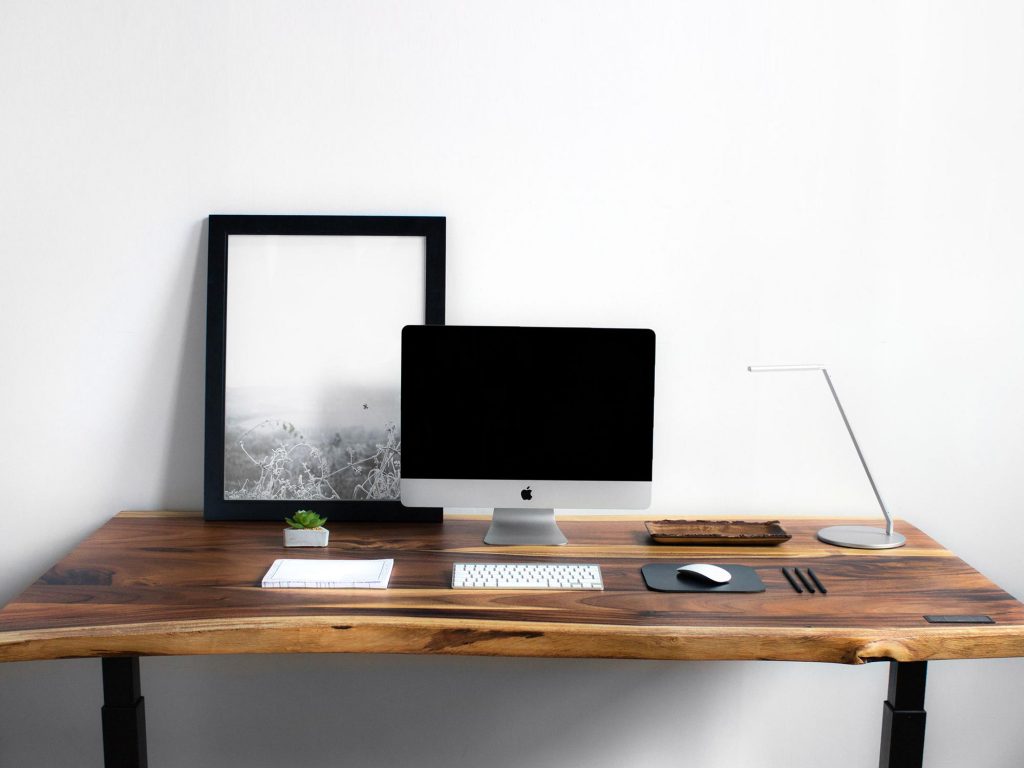 Best premium standing desk:

Ergonofis Alive

The Ergonofis Alive is about as premium a standing desk as you will find. It features a luxurious Canadian-sourced hardwood live edge top as well as some of the most reliable internals in the industry.
Sick of laminate desktops? Well, the winner of our premium category has gone all out with their natural wood desktop.
Why is this desk great?
The materials on the Ergonofis Alive are 3 or 4 notches ahead of anyone else in the standing desk game. This desk exudes elegance when you use it. Instead of laminate or bamboo on the top, you are interacting with real 1 3/4″ live-edge walnut or maple, sustainably sourced in Canada. The touch screen control module is integrated right into the top of the desk. And, most importantly, the Alive includes industry-leading dual-stage motors. This is the kind of desk that you want to show off in your office.
What's it like to use?
I got a chance to use the Ergonofis Alive at one of their locations in Montreal, Canada. I liked it so much that I was very close to justifying its price and picking one up. Logic, of course, got the best of me and I opted for the Vari. But in terms of quality, this is the best standing desk that I have ever used. The only area that it could use some improvement is that it only has 2 memory buttons. Most desks are now coming with 4 settings so 2 people in a household can program their sitting and standing positions.
What makes this desk exceptional?
The quality of the top of this desk is what really makes it shine. The live edge hardwood looks and feels incredibly premium. The 10-year warranty on everything included is also nothing to sniff at.
---
What to look for in a quality standing desk
There are a few areas that you should pay attention to when you are considering an electric standing desk. First, what kind of motors does it use? Are they dual-stage? This will allow the legs to extend faster. One of the best motor providers is Jiecang, who make really nice powerful motors that are also really quiet. Second, what kind of materials are used on the legs and the desktop? Cheaper desks will be made of laminate, and more premium models will feature bamboo or solid hardwood tops. Next, what kind of stability does the desk have. Some companies like BTOD have done extensive wobble and sway tests on many of the desks listed above. Just take some of their conclusions with a big grain of salt since they actually sell their own model, the VertDesk. It's worth noting that many desks that use the T-leg design (like the Vari desk) score much better than C-leg designs on stability tests. Last, what kind of warranty is offered on the desk? I wouldn't consider any company offering anything less than a 5-year warranty on all components. Top-level manufacturers like Fully and Ergonofis offer amazing 10-year warranties.
Which accessories do I really need?
Since a standing desk is inherently an open design at the bottom, you're going to need to consider wire management. A lot of companies offer some pretty janky solutions to this. Think Chinese-made plastic wire channels… While these will adequately handle a few wires, in our experience most home office setups have way more cords than can be handled with a normal wire channel. That's why we really love Vari's integrated (but extra) wire management tray which hands from the backside of the desk. it is large enough to store a proper power bar and a tonne of wires.
Second, consider adding grommets to your desk if that is an option. Being able to cleanly organize your desktop is a lot easier when you have some grommets to run wires through. Some grommets will even integrate power or USB passthrough to even further simplify things.
Get yourself a good standing mat. These anti-fatigue mats are essentially a must if you intend to spend a significant amount of time in standing mode.
Got headphones? Consider some simple headphone hooks to store your noise-canceling headphones. Some manufacturers actually throw these in when you buy a desk (thanks Vari!).
You can probably do without additional drawers and cabinets unless you have a lot of stationery that you use regularly in your job. Balance balls and standing desk stools are also sort of niche products that aren't really recommended for most users. Oh, and that Uplift hammock is awesome but ultimately superfluous (sorry George Constanza).
Can I use my own top on a standing desk?
One popular option is to only buy the frame of the desk (legs, motors, electronics) and then add a nice desktop slab after the fact. This can be a very affordable option, but is probably not for people who aren't handy. Pre-drilling holes into solid wood, or hollow-core slabs can be difficult to get right. But if you have the skills, aftermarket desktops can yield amazing results. One popular option is buying a relatively cheap butcher block table top from Ikea (the Karlby) and bolting it to a standing desk frame.
---
Conclusion: Aim for the middle of the pack
So how much DO standing desks cost? Overall, we recommend looking at standing desks in the $500-$600 range because this is where they hit a really nice sweet spot in terms of quality for money. The Vari Electric Standing Desk is our favorite due to its rock-solid construction and well-thought-out design. If you're looking to really customize your desk, then go with the Fully Jarvis. Just know that the price can really skyrocket as you add more and more add-ons. And if you have money to burn, there is nothing better than the Ergonofis Alive.