This year was the year that I bought myself an electric standing (sit-stand) desk. I was spending all of my working hours in my home office and thought it was time to make an upgrade from the tired old Ikea desk I had been using for years. I did a tonne of research on all of the available options and finally settled on the Vari Electric Standing Desk. This is the follow-up to the very well-received VariDesk ProDesk from a few years ago. What I found when doing my research is there is almost no review out there by someone that actually has bought this desk and used it regularly. So, here we go, this is my Vari Electric Standing Desk review after I have used this desk for more than 6 months while working from home. Specifically, I will be referring to my hands-on experience with the 60×30 version which is 60 inches long.
My Verdict
The Vari Standing Desk 60×30 is one of the most stable and well-made sit-stand desks on the market. The dual motors used are both quick and quiet, and the laminate top used is top-notch. The legs look great, in a darker metal powder coat, and show almost zero wobble even at the desk's highest point. This is miles ahead of both the Fully Jarvis and the UPLIFT Desk which both suffer from severe wobble when the desk is extended. The price on the desk is also excellent, costing a fraction of a fully-loaded version from Fully or UPLIFT. The various accessories such as the wire management tray and standing desk mat are also of excellent quality and have led to a work environment that is both more productive and aesthetically pleasing. I wouldn't hesitate in recommending the Vari Standing Desk to anyone that is in the market for a sit-stand desk.
*All of the photos in this review are from my actual home office.
Specifications
Vari Electric Standing Desk 60×30
Vari Electric Standing Desk 48×30
Maximum height
50 ½" (128 cm)
50 ½" (128 cm)
Minimum height
25″ (63.5 cm)
25″ (63.5 cm)
Maximum weight
200 lb (90.7 kg
220 lb (99.8 kg)
Depth
30″ (76 cm)
30″ (76 cm)
Length

60″ (152.5 cm)

48″ (122 cm)
Leg support depth
28 ⅞" (73.5 cm)
28 ⅞" (73.5 cm)
Space between legs

45″ (114.3 cm)

33″ (83.82 cm)
Product weight
126.10 lb

114.27 lb

Top depth to wire cutout
29 ¼" (74.5 cm)
29 ¼" (74.5 cm)
Top wire cutout length

26 ¾" (68 cm)

22″ (56 cm)
Top surface area

1,800 in² (11,590 cm²)

1,440 in² (9,272 cm²)
Top thickness
1 ⅛" (2.8575 cm)
1 ⅛" (2.8575 cm)
Leg style
T-style leg
T-style leg
Memory settings
4 programmable
4 programmable
Anti-collision safety
Yes
Yes
Motor noise level
<50dB
<50dB
Motor speed
35mm/s
35mm/s
Standby power consumption
0.1W
0.1W
Tools needed
None
None
Certifications
UL962 Listed, UL Certified to BIFMA Standards,
and Greenguard and Greenguard Gold Certified
UL962 Listed, UL Certified to BIFMA Standards,
and Greenguard and Greenguard Gold Certified
Warranty
5-year
5-year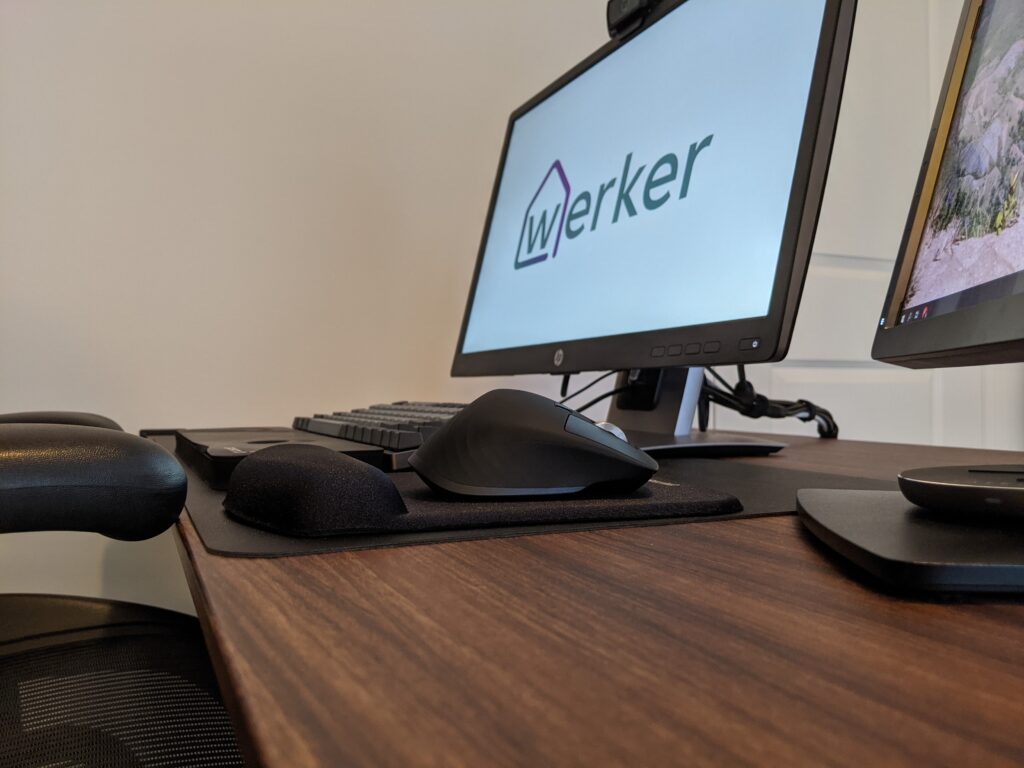 How it feels to use everyday
Now let's get into the meat of it. How is this desk to use regularly? In one word: GREAT. I have used several different sit-stand style desks over the years between different office jobs I have had. The Vari Standing Desk is by far the nicest I have ever used. And this includes the big guys over at Fully and Uplift.
The part of the desk I interact with the most is actually the lip of the tabletop believe it or not. Some desks I have used in the past have had a very sharp-angled corner to them that digs into my wrists while I type. Vari made a good decision and added a soft chamfered edge on this desk that allows my forearms to rest comfortably. It's a small thing, but something that you will 100% notice. The tabletop workspace on the 60×30 model is the perfect size for my setup. I have 2 monitors, a conference call speaker, a wireless Qi charging dock for my phone, and a keyboard/mouse all on the surface. And there is actually quite a bit of space on either side of my main tech that I can use for reading or placing a cup of coffee. I would say that the 48×30 model might be a little too cramped for my specific setup.
On an average day would say I use the standing function 2-3 times. This means I put the moto to the test in terms of how fast it can extend the desktop as well as how loud it is. First, the desk is very quick, with its dual motors. And it is also very quiet. My wife's office is just across the hall and she has never even heard the desk motor before (I checked). The control module is simple and offers really nice tactile clicky feedback on the buttons. Again, not a big thing, but it speaks to the quality that Vari has put into this desk.
In the evenings my wife will often use my desk to do some of her own work. This means that she uses completely different sit-stand settings. Because the desk offers 4 memory settings we have both sit and stand for both of us pre-programmed. And it works great.
None of this stuff is too different from any other electric standing desk out there. But I would say that the general feeling of using the desk day in and day out is one that has left a good feeling. It feels just that level above cheaper Chinese-made desks that you may find in an office environment. And this goes a long way in making a more premium experience.
---
Design
This is a very well thought out electric standing desk. Everything seems considered but it doesn't add anything extra that makes it seem cluttered. You almost need to search to find any branding on the desk at all. In fact, I just spent a couple of minutes literally trying to find a Vari logo. There is a tiny one on the control module and that's it! In a world where companies tend to smack their logo everywhere, this is a nice change.
Frame
The frame (legs) of the desk come in a really nice dark grey matte color. This was the most striking thing with the desk when I first unboxed it. Most cheaper desks use a very standard metal color, black, or white. The matte powder coat that Vari has applied here looks awesome and the pictures don't quite do it justice. The T-style legs used look really nice and give a slightly different look than most C-style standing desks. And I prefer it.
Tabletop (slab)
The tabletop itself is made of a really nice laminate. I would have loved to see real solid wood here, but obviously, that would have increased the price substantially. If you are interested in a solid wood desk, we highly recommend the Ergonofis Sway, which sources hardwoods from Canada. I chose the "darkwood" finish on my desk and it does a great job of mimicking the look of real walnut. In fact, I have a few walnut picture frames in the room and the Vari does not look out of place at all. Of course, there are other finishes such as white, black, and a really nice reclaimed wood style, but I can only speak to what I have used. As I mentioned above, the chamfered edge on the desktop slab is a really nice addition.
Ease of assembly
What I was absolutely blown away by was how incredibly easy they make it to assemble this desk. Quite literally I was up and running within 10 minutes. Everything you need to attach the legs is in the box. I recently put together a cheaper standing desk for my wife's office and it took me almost 2 hours of fiddling to get everything to fit correctly. Vari has made this crazy simple with the pre-machined holes for accessories and the way that the legs and motors basically just snap into place. Even the most technically challenged person could put this together in no time.
---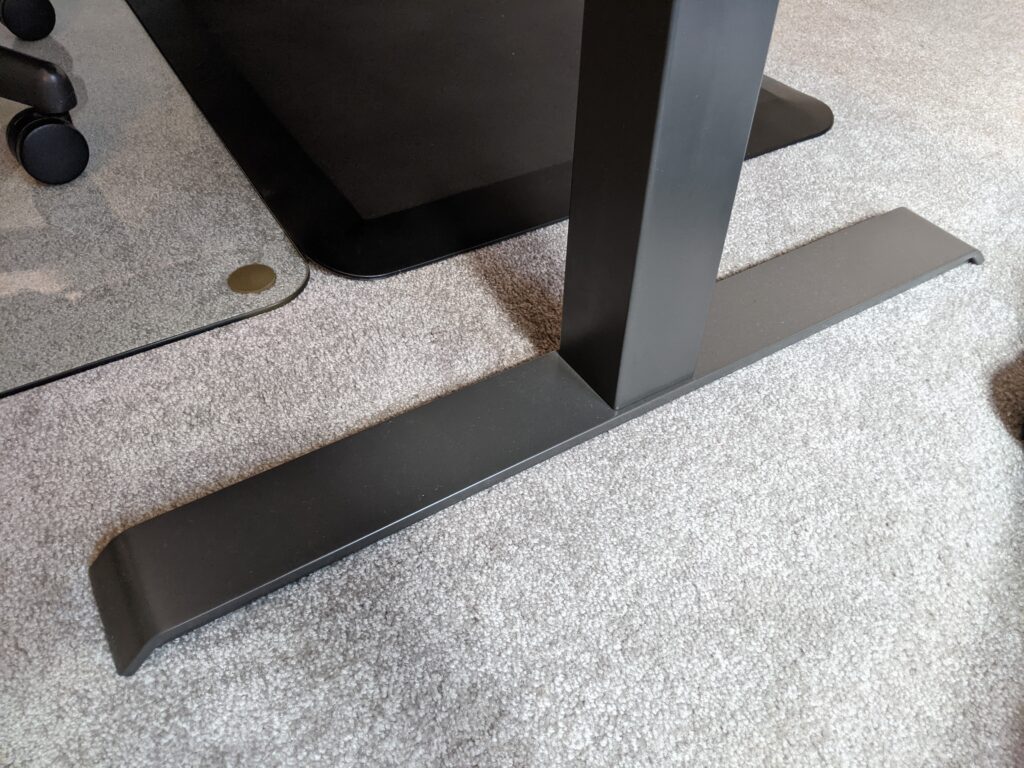 Quality
Aside from the more aesthetic considerations above, we are also going to go through some of the other elements of quality such as stability and the quality of electronics and mechanical parts.
Stability
This is perhaps the most important consideration when it comes to picking a sit-stand desk. Cheaper models will always sway back and forth quite a bit, especially when it is in its standing mode. Somehow Vari has managed to make a standing desk that alsmot no wobble or sway. Seriously, I can crank this desk up to its highest point and it has almost no wobble. I am 5′ 10″ and my natural standing position is at just over 42″. At this height, I experience literally zero wobble. It feels identically as stable as to when it is at its 28.5″ seated position.
The previous model to this one was called the VariDesk ProDesk and it was also quite stable. However, that model required a cross-bar between the legs that added stability. The new Vari Electric Standing Desk achieves this with no cross-bar whatsoever. My guess is the quality of the T-style legs is what really makes this desk so solid. Other review sites such as Wirecutter have also remarked at the stability of the Vari. I'm really not sure how they landed on their most recommended unit, the Uplift Commerical v2 as it is known to have very bad side to side stability. I am going to assume that there is a commercial relationship at play here.
Materials
As mentioned above, the quality of the materials used on both the legs and the desktop are excellent. Without going to a full solid tabletop slab, I would say the Vari is the nicest desktop I have used. The legs and frame feel equally solid with their beautiful poweder coat finish and decidedly solid weight. I'm no expert on the internals of the legs themselves, but they seem to extend in a buttery-smooth way with no jerking or rubbing.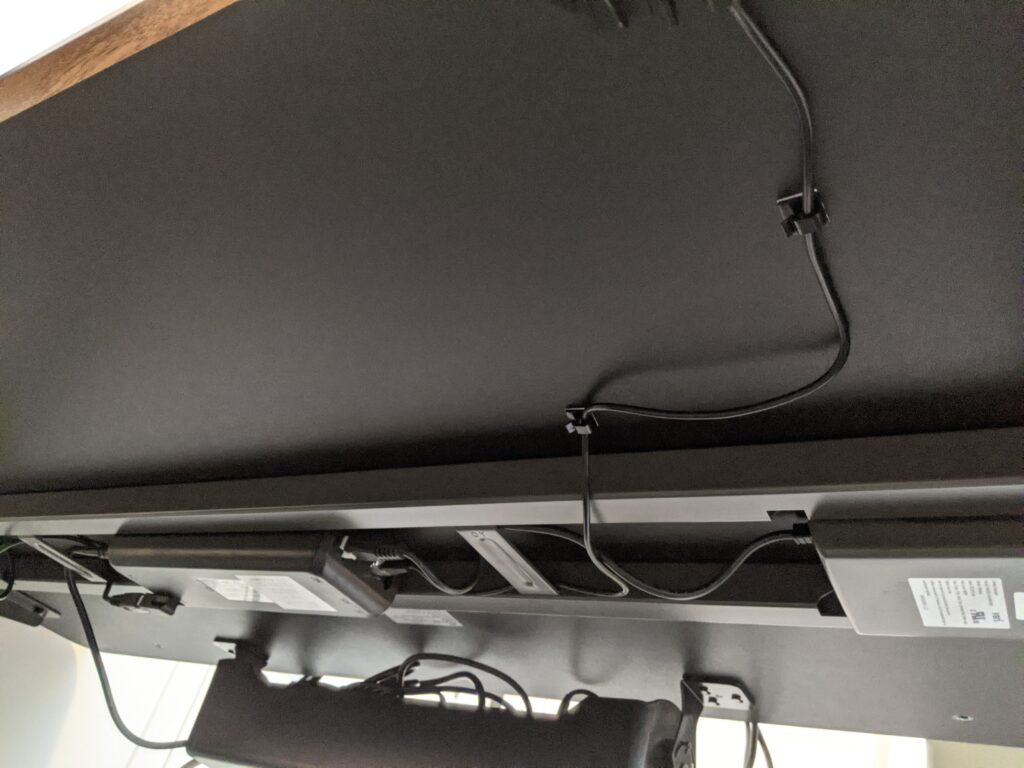 Electronics and Motors
The Vari Standing Desk upgraded its control module when it was redesigned from the ProDesk 60. The biggest difference is the one-touch control as opposed to having to hold the buttons to move the motor. The motors and leg housings seem to be made for Vari by Jiecang, a very well-known manufacturer of these types of components. The motor can move at 35mm/s which is plenty fast for me. I can fully extend the desk within 5 or 6 seconds.
One thing I looked into before I bought was the standby power consumption. Some of these electronics can actually use up a fair amount of electricity by just being plugged in. The electronics/motor in the Vari uses only 0.1W in power consumption which is barely anything. The motors only emit less than 50dB when in full motion which is totally reasonable. Again, my wife has told me she has never heard it in operation this whole 6 months.
---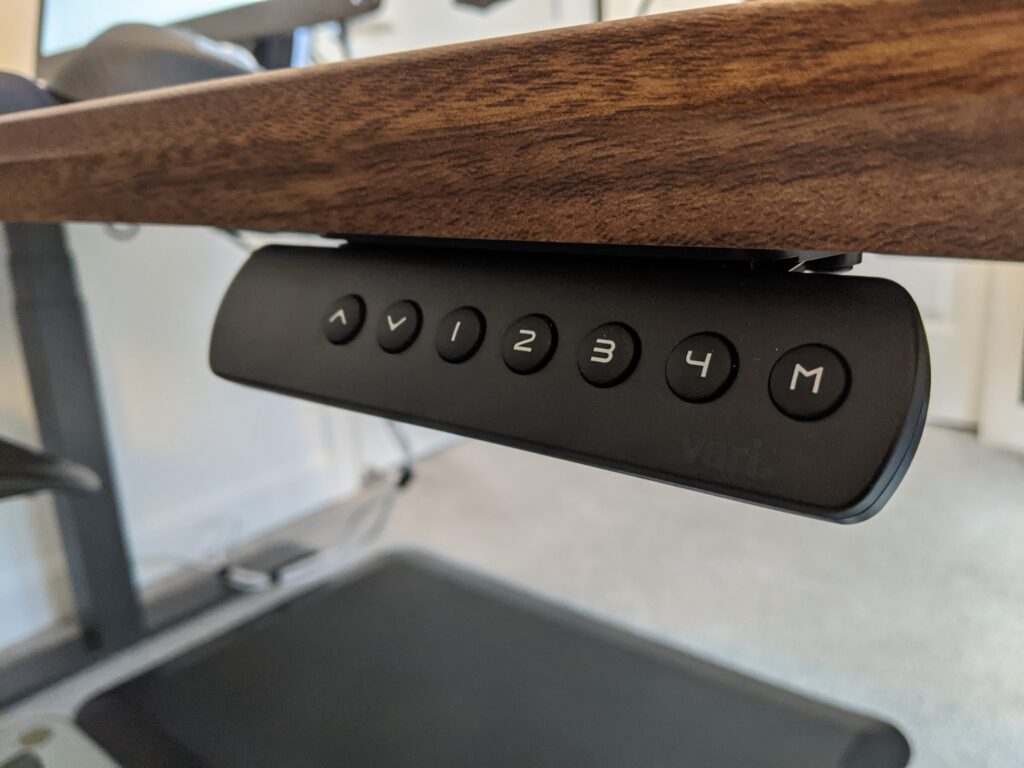 Features
Control module / memory settings
The control module is not only well built, but it is very user friendly. It features 4 memory buttons which I have programmed for the sit and stand position for both my wife and myself. There are also manual up and down buttons of course. When in motion a hidden LED screen shows what height the unit is currently at. There isn't too much else to say about the control unit except that it looks good, feels good, and doesn't stand out at all. I love stuff to kind of blend in until I am ready to use it and this unit does just that.
Anti-collision technology
The motors Vari uses on these desks feature anti-collision technology so the desk won't continue moving down if there is an object (or person) in the way. I haven't had to use this yet during actual use but I did test it out when I first got the desk and it works just fine. Nobody wants a runaway desk crushing their thighs…
---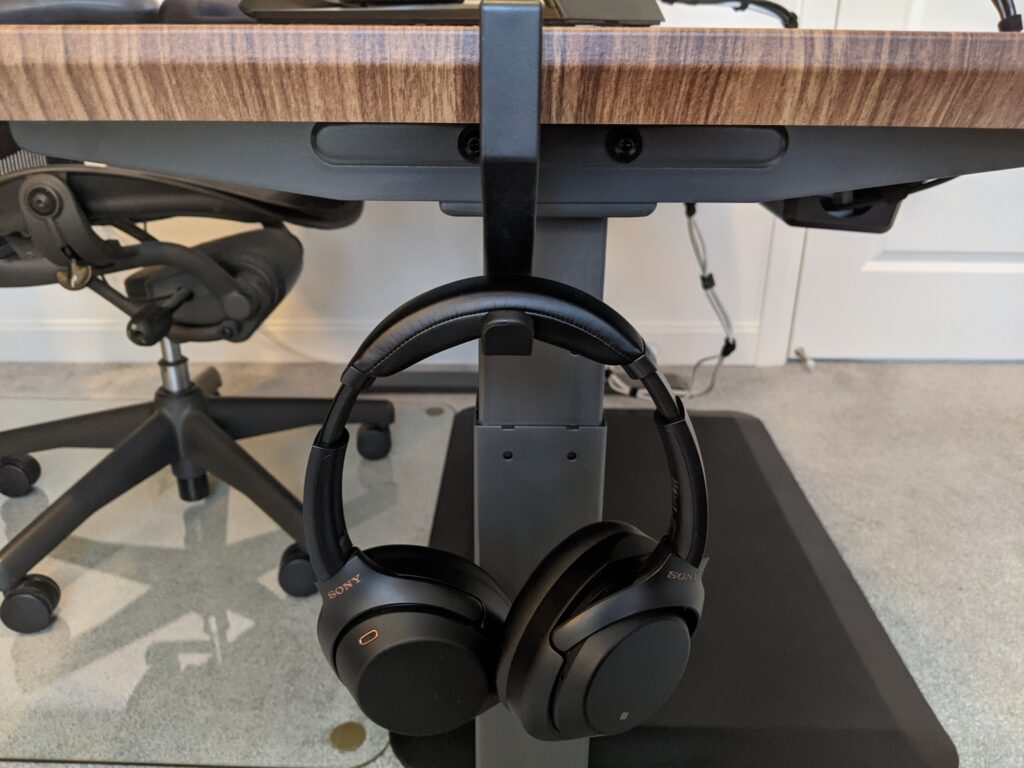 Accessories
Aside from the desk itself, there are some accessories that I think are almost necessary when you buy this desk. Vari doesn't have a massive list of add-ons for their desk because that just isn't their thing. I kind of like the minimalist approach.
Wire management tray
First is the wire management tray. The way this desk is designed, there is no built-in wire management on the legs or underside of the desk. Some other desks offer small wire channels to control the inevitable mess of cords that you will have under the desk. Vari, on the other hand, offers an optional wire management tray that I consider to be a must when ordering this desk. The tray is really simple. It is a large hard plastic tray with metal attachment points that have a built-in hinge on them. This means you can easily access cords and power bars in the tray without removing the unit. It is a really simple accessory, but it more than gets the job done and is way nicer looking than most wire management on standing desks.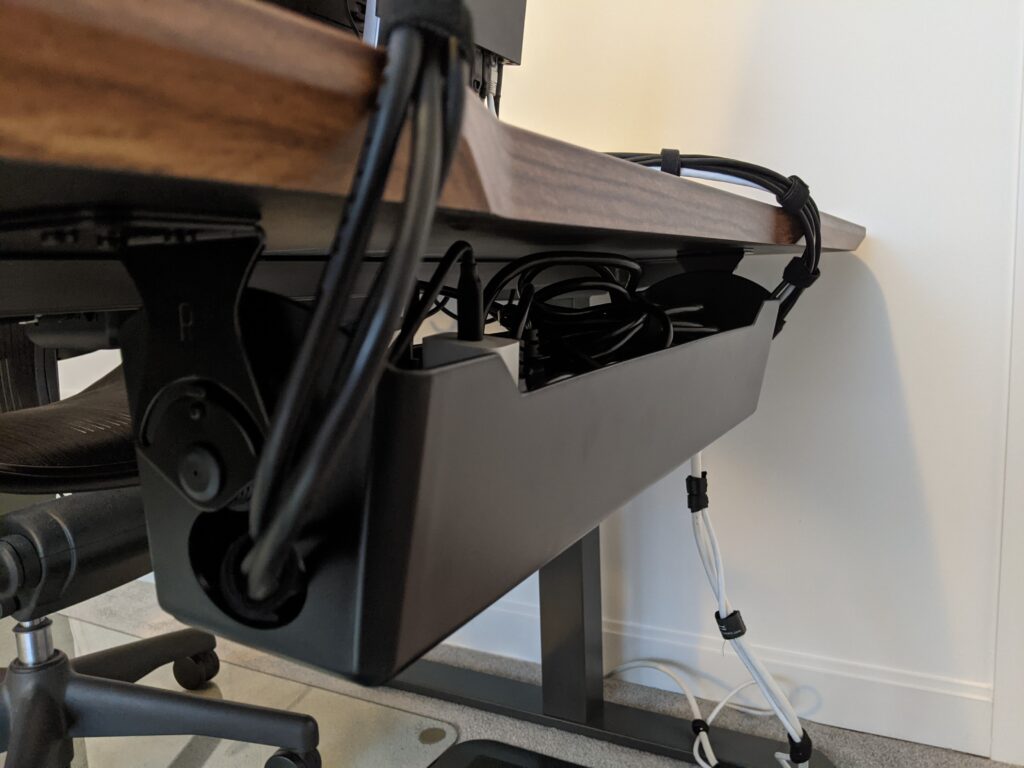 Vari standing desk mat
I didn't have a standing mat when I picked up this desk so I decided to just go for it and buy the official Vari standing desk mat. And boy am I glad I did. This thing is excellent. It features super-soft rubber that truly makes it a lot easier to stand for long periods of time. I keep it just below the desk even when seated because I like the padding it gives my feet. You should get this standing mat, period. You won't regret it.
Included headphone hooks
Call me surprised when I opened up the standing desk box and out came 2 headphone hooks! I was actually planning on buying some from Amazon, but Vari included two with the desk purchase. These are very simple and just slide on to the desktop. They are snug but not enough to damage the desk at all. It's always nice to use official accessories that were designed to work with the desk.
---
Disadvantages/Criticisms
There really aren't too many negatives to mention here. First, the desk is quite heavy. At 126 pounds, I recommend unboxing the desk in pieces near your doorway and then moving each leg and the desktop up separately. But the weight is really a result of the quality components that Vari has used here, so I'm not complaining too much.
There are no options for buying a solid natural wood desktop. This would, of course, push the price way up, but it would be nice to have the Vari desks challenge the likes of Ergonofis with a more premium desktop slab.
I would have liked to see some very basic wire management included with the desk itself. Because it is not included I would basically consider the purchase of the, admittedly very nice, wire management tray a must.
---
Sales process and price
The process of buying this desk from Vari was excellent. The product came within 10 days, which I consider pretty amazing for such a large item. It may sound weird, but I was very impressed with the quality of packaging that Vari uses. They don't use styrofoam, but instead actual rubber-ish foam around all of the components. This is a nice touch.
But what about price? To be honest, I feel like this desk should cost way more than it does. Competitors like Fully and Uplift that use similar quality (or even inferior quality) motors and legs cost double in most cases. I was pleasantly surprised with how much value I got from this purchase.
---
Conclusion
I didn't set out to write this much about a desk… But I felt compelled to. It's rare that you buy a product and it exceeds almost every one of your expectations. With the Vari Electric Standing Desk 60×30, I now have a large work surface that can accommodate both standing and sitting. I also have a really great looking desk that takes my home office aesthetic up several notches. Lastly, I know that I will be limited my time seated, which has been shown to be a major health risk for things like heart disease. I wholeheartedly recommend anyone looking at buying an electric standing desk to consider Vari at the very top of their list.