In recent years, the concept of working from home has gained tremendous popularity. As more people embrace the flexibility and convenience of remote work, it becomes essential to design a productive and comfortable home office. If you're looking for affordable and stylish options, IKEA is a go-to destination. With their vast range of furniture and accessories, you can create an inspiring workspace without breaking the bank. In this article, we will provide a comprehensive guide on how to furnish your home office with IKEA products, helping you create a space that enhances your productivity and reflects your personal style. So without further ado, let's build a home office on a budget!
Assess Your Space:
Before diving into furniture shopping, take a moment to assess your home office space. Start by determining the location and size of the room or area designated for your office. Consider the dimensions, natural light, and any existing elements you want to incorporate into the design. Take measurements to ensure that the furniture you choose fits perfectly within the room. Understanding your space will guide you in selecting the right furniture and layout to optimize your productivity.
Choose the Right Desk:
The desk is the centerpiece of any home office. It serves as your primary workspace and storage area for essential items. IKEA offers a variety of desk options suitable for different needs and styles. Consider the size, shape, and functionality you require. For smaller spaces, the MICKE series offers compact desks with storage compartments and cable management features. The LINNMON series provides customizable options with different tabletop sizes and leg styles, allowing you to create a desk that fits your space perfectly. If you need ample storage, check out the BEKANT or ALEX series, which feature drawers and compartments to keep your workspace organized.
For a nice upgraded desk we recommend a nice sit-stand desk.
| Desk Series | Description | Features | Price Range |
| --- | --- | --- | --- |
| MICKE | Compact and stylish desks suitable for small spaces. | Integrated cable management, storage drawers, and shelves. | $79 – $179 |
| LINNMON | Versatile desks with various size options and customizable configurations. | Simple design, multiple color choices, compatible with different legs and accessories. | $39 – $199 |
| BEKANT | Professional-grade desks designed for office environments. | Height-adjustable options, sturdy construction, cable management solutions. | $179 – $579 |
| ALEX | Combination of desk and drawer units for ample storage space. | Spacious drawers, solid construction, classic design. | $179 – $399 |
Ergonomic Seating:
Investing in a comfortable and supportive chair is crucial for maintaining good posture and preventing back pain. Since you'll be spending long hours at your desk, it's essential to prioritize ergonomic seating. IKEA offers a range of ergonomic office chairs designed to provide excellent lumbar support and adjustable features. The MARKUS series is a popular choice, featuring a high backrest, adjustable headrest, and breathable mesh material. Another excellent option is the JÄRVFJÄLLET series, known for its customizable support and premium materials. Visit your local IKEA store to test out different chairs and find the one that suits your body and work style.
If you want an upgrade pick, consider the Herman Miller Aeron.
| Feature | MARKUS series | JÄRVFJÄLLET series |
| --- | --- | --- |
| Design | Modern and ergonomic | Modern and sleek |
| Material | Polyester fabric and steel frame | Polyester fabric, leather, and aluminum frame |
| Adjustability | Adjustable seat height, tilt, and backrest | Adjustable seat height, tilt, and backrest |
| Lumbar Support | Built-in adjustable lumbar support | Built-in adjustable lumbar support |
| Armrests | Adjustable height and width | Adjustable height and width |
| Headrest | Not included | Optional headrest |
| Swivel | Yes | Yes |
| Weight Capacity | Up to 110 kg (242 lbs) | Up to 130 kg (286 lbs) |
| Price Range | $100 – $250 | $200 – $500 |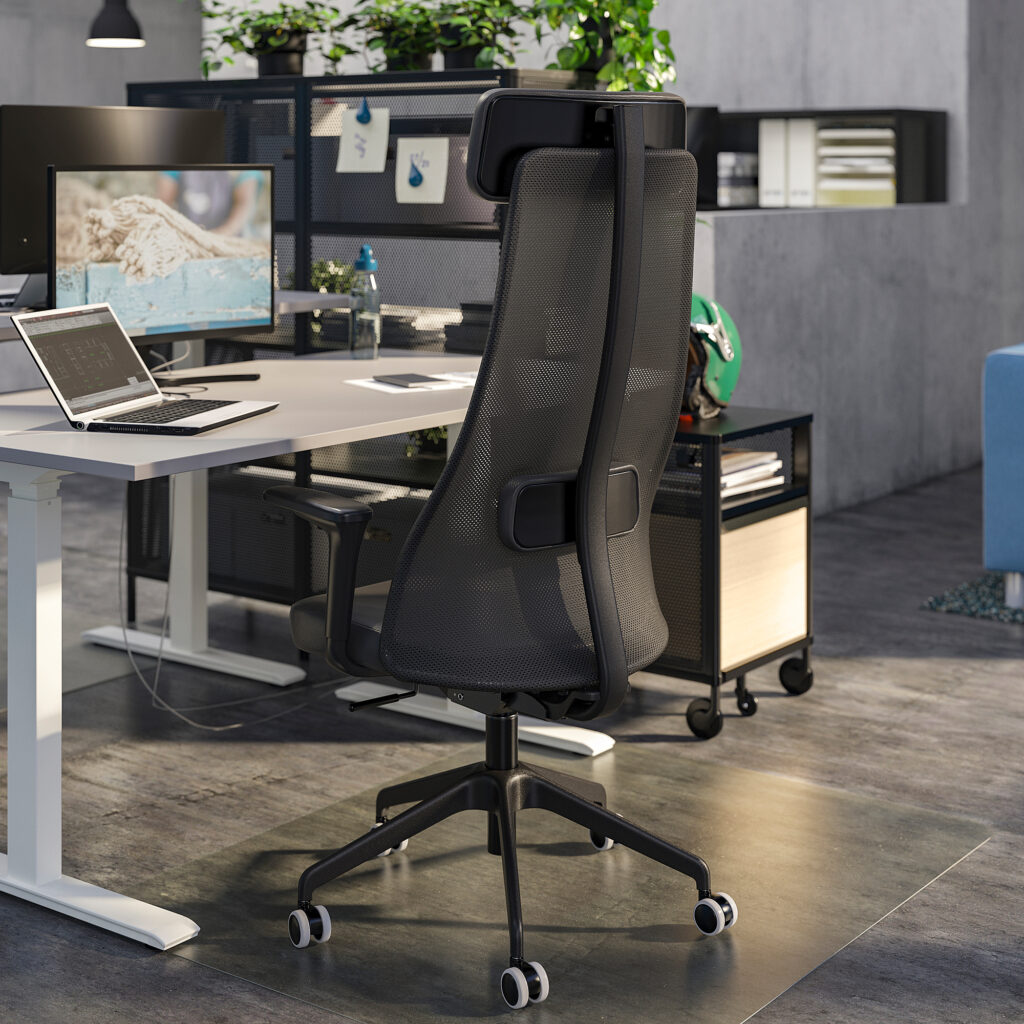 Storage Solutions:
An organized workspace promotes efficiency and reduces distractions. IKEA's storage options are versatile and affordable, offering a range of solutions to suit various needs. Consider adding bookshelves, cabinets, or wall-mounted storage solutions like the KALLAX series. The KALLAX shelving unit provides multiple compartments that can be customized with drawers, baskets, or boxes to store your office supplies, books, and files. Another popular option is the HEMNES series, which offers stylish storage solutions with a traditional touch. Utilize storage boxes, magazine files, and desk organizers to keep your stationery, files, and documents in order.
| Shelving Unit | KALLAX | HEMNES |
| --- | --- | --- |
| Description | Versatile and modular shelving unit | Classic, solid wood shelving series |
| Price Range | $49.99 – $249.99 | $69.99 – $299.99 |
| Material | Particleboard with fiberboard backing | Solid wood |
| Finish Options | Various color options available | Stained or painted finishes available |
| Dimensions | Multiple sizes available | Various sizes and configurations available |
| Assembly Required | Yes | Yes |
| Additional Features | Optional inserts, drawers, and doors | Adjustable shelves, dra |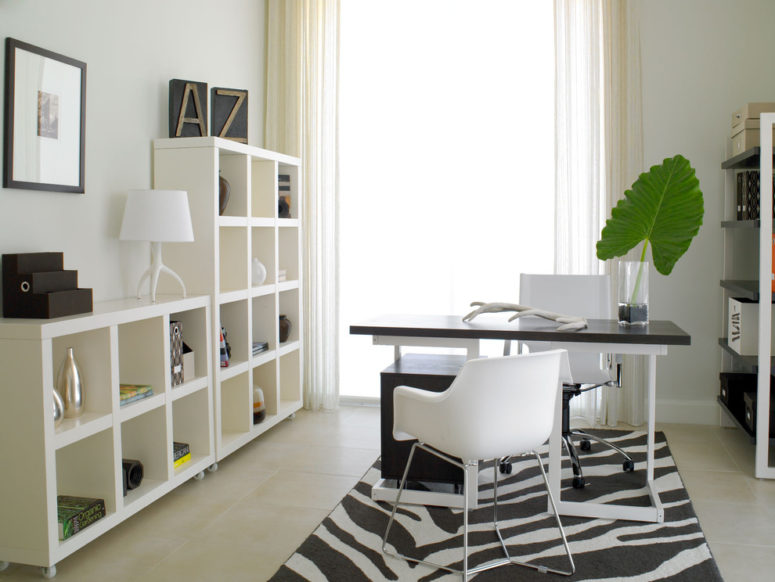 Lighting:
Proper lighting is vital for productivity and reducing eye strain. Natural light is ideal, but if your office lacks it, choose appropriate artificial lighting options. IKEA has a wide range of desk lamps, floor lamps, and ceiling lights to suit different needs and aesthetics. Opt for adjustable lighting solutions to customize brightness and color temperature according to your preferences. The RANARP series offers classic industrial-style desk lamps, while the HEKTAR series provides a modern and sleek look. Experiment with different lighting options to find the perfect balance between functionality and ambiance.
| Feature | RANARP Series | HEKTAR Series |
| --- | --- | --- |
| Design | Industrial, classic | Industrial, modern |
| Material | Steel | Steel, aluminum |
| Colors available | White, black, gray | Gray, dark gray, white |
| Lamp type | Table, floor, pendant, wall | Floor, pendant, wall |
| Price range | $25 – $70 | $30 – $100 |
Cable Management:
With multiple devices and cables, keeping your workspace tidy can be a challenge. IKEA offers practical cable management solutions to help you keep your cables organized and prevent accidents or tangling. Consider investing in cable trays, cable clips, or cable management boxes. The SIGNUM cable management series provides practical solutions to hide cords and keep them organized under your desk. Another option is the versatile KVISSLE series, which includes cable management boxes, cable holders, and desk organizers that integrate seamlessly with your workspace.
Add Personal Touches:
Make your home office a place that reflects your personality and inspires creativity. Incorporate decorative items like plants, artwork, or motivational quotes. IKEA has a variety of accessories such as picture frames, desk organizers, and plant pots to help you personalize your workspace. The FEJKA artificial plant series offers low-maintenance greenery to add a touch of nature to your office. Use picture frames to display family photos, inspiring quotes, or artwork that resonates with you. By adding personal touches, you can create a space that feels inviting and sparks joy.
Consider Soundproofing:
If your home office is in a busy area or you often face distractions, it's important to reduce noise pollution. IKEA provides affordable options to help you create a quieter environment. Consider incorporating curtains, room dividers, or acoustic panels into your office design. The HÄRLIGA series offers curtains with sound-absorbing properties that can help reduce outside noise. For a more permanent solution, the ODDLAUG sound-absorbing panels can be mounted on walls to improve acoustics and create a quieter workspace.
Conclusion:
Designing a home office with IKEA products allows you to create a functional, stylish, and affordable workspace. By carefully selecting the right furniture, lighting, storage solutions, and personal touches, you can transform your home office into a place that promotes productivity and reflects your unique style. Remember, with IKEA's wide range of options, you have the flexibility to mix and match products to create a home office that is tailored to your specific needs and preferences. Take the time to assess your space, prioritize ergonomic furniture, and incorporate storage and organization solutions. Add personal touches that inspire you and consider soundproofing options to reduce distractions. With IKEA as your guide, you can create a home office that not only meets your practical needs but also inspires creativity and enhances your overall well-being. Happy furnishing!