In early 2020 I started working from home full-time. Like many of you, I didn't have an ideal setup for my home office. I was using an old desk and a mishmash of technology that I had gathered over time. An old keyboard, a small Ikea desk, a wired mouse, and a fairly crappy external monitor. It worked for a while, but I soon realized that my workspace was cramped and disorganized. That is when I decided to optimize things a little. Here are my tips on how to declutter your work from home workspace and what I have learned since early 2020.
What science tells us
For years research has been telling us the same thing. When your workspace is disorganized, so is your work. Productivity can suffer, and our cognitive state can suffer based on how cluttered your environment is. Nobody wants to feel out of control or overwhelmed at work. This is the best reason to consider decluttering your space. Here are a few tips to make it happen and regain your lost space.
Wire management
The biggest contributor to a cluttered desk is poor wire management. Naturally, you will have several computer accessories that need wires. But that doesn't mean you should settle for a rat's nest of wires all over (and under) your desk. I recommend you buy a cheap set of velcro straps that can bundle wires together for a neater and more organized look.
In some cases, desks can be equipped with accessory wire management trays and channels to further hide unsightly wire nests. My favorite is a hanging wire tray that is meant for a standing desk. These trays have enough room to hold your power cables, ethernet, and even a small power bar to keep them out of sight.
USB C or Thunderbolt Monitor
I recently made the jump to a more modern external monitor. Sure, it is awesome because it has 4K resolution, but probably equally great is the fact that it connects to my laptop with a single USB Type C cable that provides both video signal and charges the computer. This eliminates the need for a big power brick for the laptop and also large HDMI video cables. Now I literally have a single cable going from my laptop to my monitor, cleaning up my desktop a tonne. For even more video bandwidth you can also check out monitors with Thunderbolt connections (essentially doing the same thing).
Right now my favorite USB C monitor is the Dell S2722QC, a great 4K 27 inch monitor that has full USB C hub support. It also allows you to plug in a couple USB A devices to send data over the single cable to the laptop. Be sure to confirm that your laptop is indeed compatible with USB C/Thunderbolt monitors.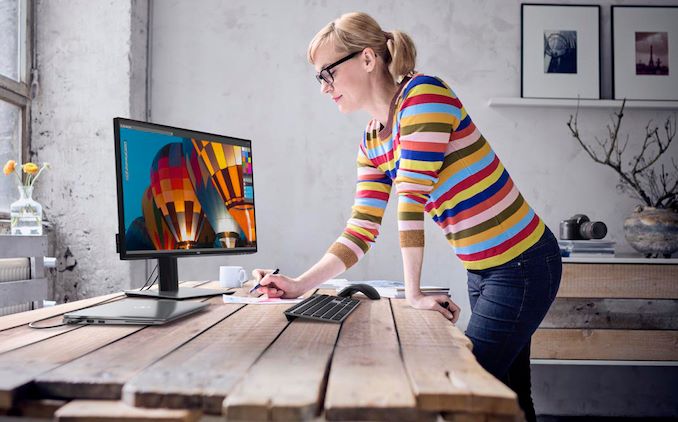 Wireless mouse
Ditch that wired mouse! This adds a tonne of clutter to your setup and is also less pleasant of an everyday experience. The freedom of a wireless mouse really can't be overstated. By far our favorite wireless mouse right now is the Logitech MX Master 3. This mouse is absolutely incredible and can connect via Bluetooth or a radio frequency USB dongle for a streamlined wireless experience.
Wireless keyboard
Like a wireless mouse, a wireless keyboard saves you from having to look at unsightly cables on your desktop. You can go with something like the Logitech MX Keys for a traditional keyboard experience or jump for a mechanical wireless keyboard like the Keychron K8 which adds in some excellent tactile keys. Either way, make the jump to a wireless keyboard, you won't regret it.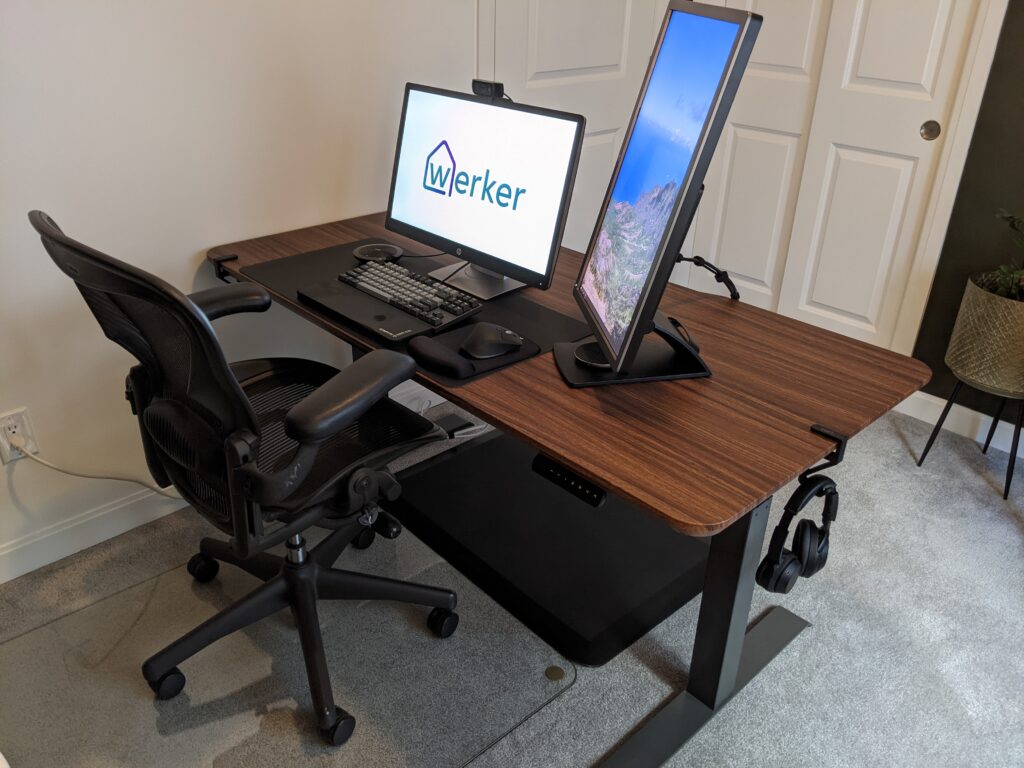 Larger deskspace
I learned from experience that the easiest way to declutter is to actually increase your desktop size. Removing that sense of claustrophobia in your daily work from home setup is a killer way to increase your daily enjoyment at work. I personally jumped from a very small Ikea desk to a larger 60 inch long standing desk from Vari. I would never consider having a smaller desktop now. Learn more about our favorite standing desks here.
Desk mat
This is a small one, but adding a larger desk mat to your desk can help in a couple areas. First, it protects your desktop from damage, but it also acts as a mousepad so you can ditch that old mousepad from Staples…
Laptop stand
Elevating your laptop off your desktop with a laptop stand can free up some extra real estate for other things like an external keyboard. It also gets your monitor up to a better height on your desk so you aren't straining your neck. I personally prefer a laptop stand that can adjust in height as opposed to the cheaper single height fixed stands out there. That way you can move the stand to other desktops with the extra adjustments.
Ditch the paper
Where possible I recommend folks find a software solution to note-taking when possible. Post-its are great, but can quickly lead to a very cluttered workspace. I am partial to Evernote for my note-taking, but others have had a lot of success with One Note on PC and Bear on Mac OS. the advantage of digital note-taking is that you can carry your to-do list with you where ever you go. I personally still use Post-its for very important notes that need to be addressed ASAP but I keep them to a minimum to keep a clean desk space.
Reset every day
A trick I use is to take 2 minutes at the end of every workday to "reset" my workspace back to its default. If there are cups or snacks from the day, I clean those up. If anything has been moved, I move them back to where they should be. If I have loose bits of paper or notes, I transfer these into my Evernote for searchability later and then destroy the physical note. That way, when I come back to my home office the next day, everything is in its original uncluttered state. Ahhhhhh, bliss…
---
Conclusion
Clearly, decluttering is an important step in keeping productive and mentally healthy at work. And some of the above tips should help you gain back some of that lost space at your desk. The small investment for some smart accessories will be worth the cost to declutter your workspace.