Not everyone has a dedicated home office. This means that many of us are looking for a desk that can fit into a small space. Whether it is installing it in a nook or alcove or actually fastening the desk to the wall, there are a bunch of ways to save space but not sacrifice practical desk surface. We have pulled together 11 of the best space-saving small desks for remote work environments.
Free-standing traditional office desks tend to be around 36-40 inches wide and about 20 inches deep. Laptop desks, meant to be a minimal solution for just your laptop can be as little as 13-14 inches wide. Desks that fold down for storage can eliminate their depth to next to nothing, making them a perfect solution for a condo or small apartment. If you are looking at sit-stand desks, the smallest width will be about 47 inches and will be at least 24 inches deep in most cases.
1. IKEA MICKE desk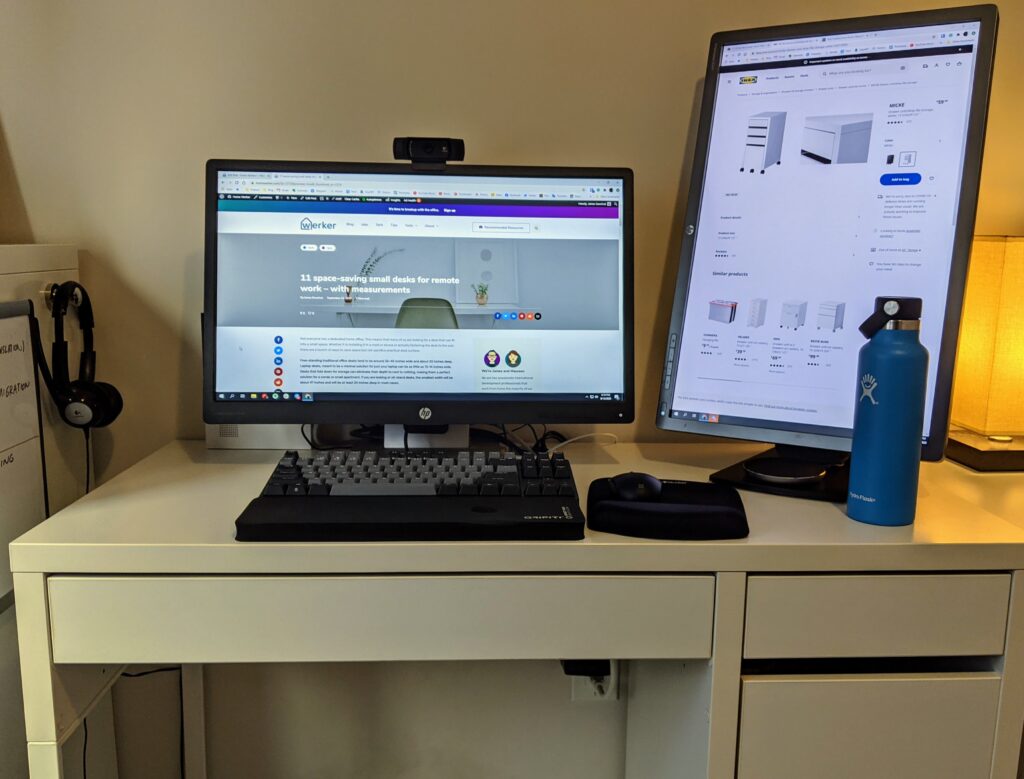 I am currently writing this article at a white IKEA MICKE that I bought 5 years ago. This is probably one of the best deals in the desk industry. It is well-made, attractive, and features a lot of storage considering its small footprint. At 811 square inches, the top of the desk is big enough to put a dual monitor setup, keyboard, and whatever paperwork you are working on. But it isn't so big that you can't fit it in a tight space. My previous home was a one-bedroom condo, and I was able to squeeze the MICKE into a very small nook just off the kitchen. I suspect this would be a great desk for a lot of condo and apartment dwellers. I personally added the MICKE drawer unit to my setup so I have a bit more room for stationary and my lamp.
The finish on both units is typical IKEA acrylic, but I have to say, it has held up really well. It gets a bit of direct sun every day through a window and I don't see any signs of discoloration. one of the side supports is powder-coated metal, and it gives it a level of durability that I love. The main drawer is perfect for storing cables, while the side shelving is great for reams of paper, laptops, and also my external USB hard drives. I even have a Mac Mini in these drawers running my home Plex server. The wire management is decent, as it provides a slim channel behind the main drawer (behind the keyboard area). You will want to grab a basic power bar to set in there to make sure you can organize your PC, monitors, and other peripherals. Overall, I quite like the IKEA MICKE desk (especially in white), and it is truly hard to beat for the price.
2. 4NM Folding Desk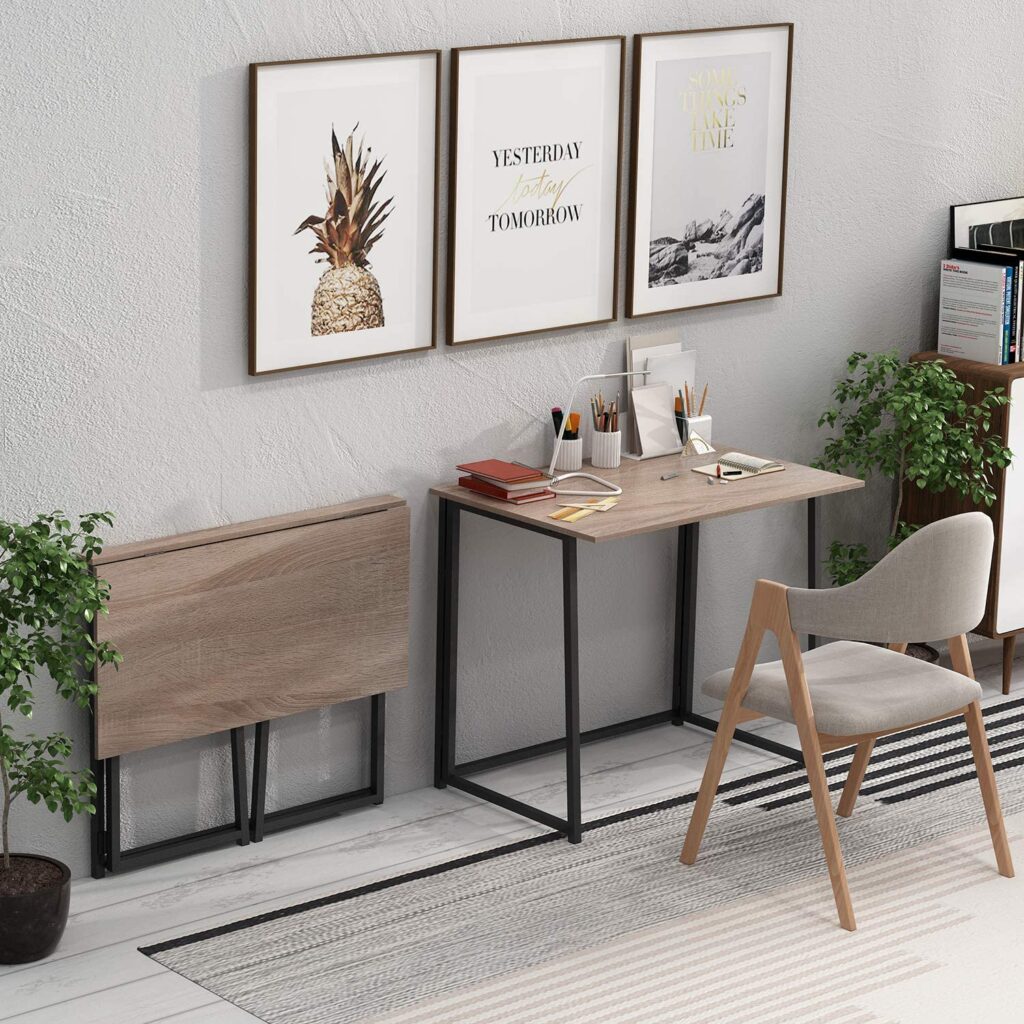 If you are really looking to use less space with your home office setup, I really love the design on the 4NM Folding Desk (check it out on Amazon). As the name implies, the desktop actually swings down out of the way when it isn't being used. This would be a really great option for someone that has their workspace off of a kitchen or hallway area. Once the workday is over, stow your laptop and then fold the desktop down for storage. The unit is made of particleboard and iron legs, and the desktop comes in several faux wood colors. The desktop is only 558 square inches, making it a little squished for some setups. But if you have a laptop and a mousepad only, this will be more than enough for you.
3. West Elm Mid-Century Mini Desk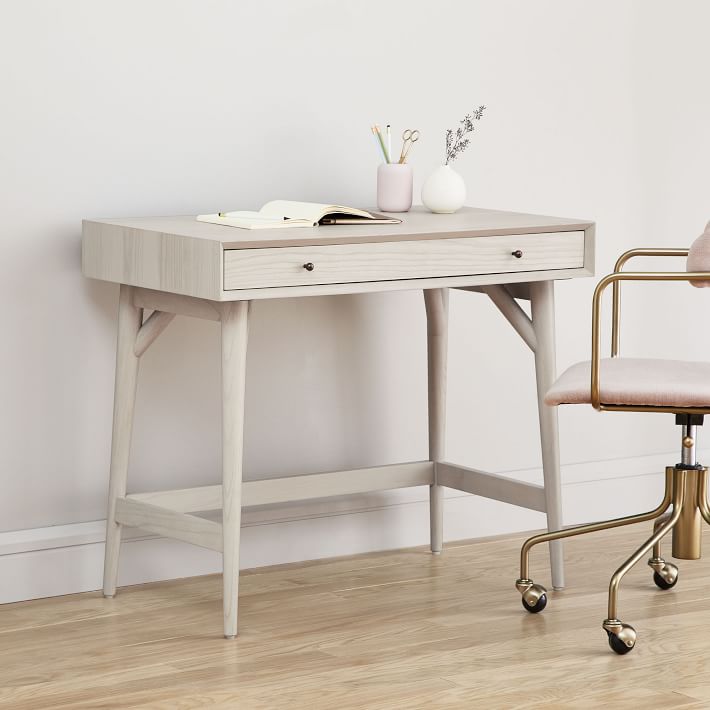 If you are looking for something that gives your space a touch of Mad Men, then look no further than the West Elm Mid-Century Mini Desk. This is a basic free-standing desk that features a large single drawer. The finish on this is a couple of steps above that of something you'd find on Amazon, but you will pay a little more for that luxury. It comes in acorn (wood), white, and pebble (stone) finishes and each of them looks great. I love the 1960's mid-century modern vibe that this piece gives off. You might mistake it for an antique, but the drawer mechanism is to modern standards. This is also fully fair trade certified and sustainably source so you don't need to worry about your environmental and social impact.
At 720 square inches, this isn't a huge desktop, but that means it can really squeeze into a lot of nooks in your home or apartments. For those of you looking for something a bit nicer looking, that can still fit in small spaces, you really can't go wrong with the Mini Desk.
4. Seville Classics Ergonomic Table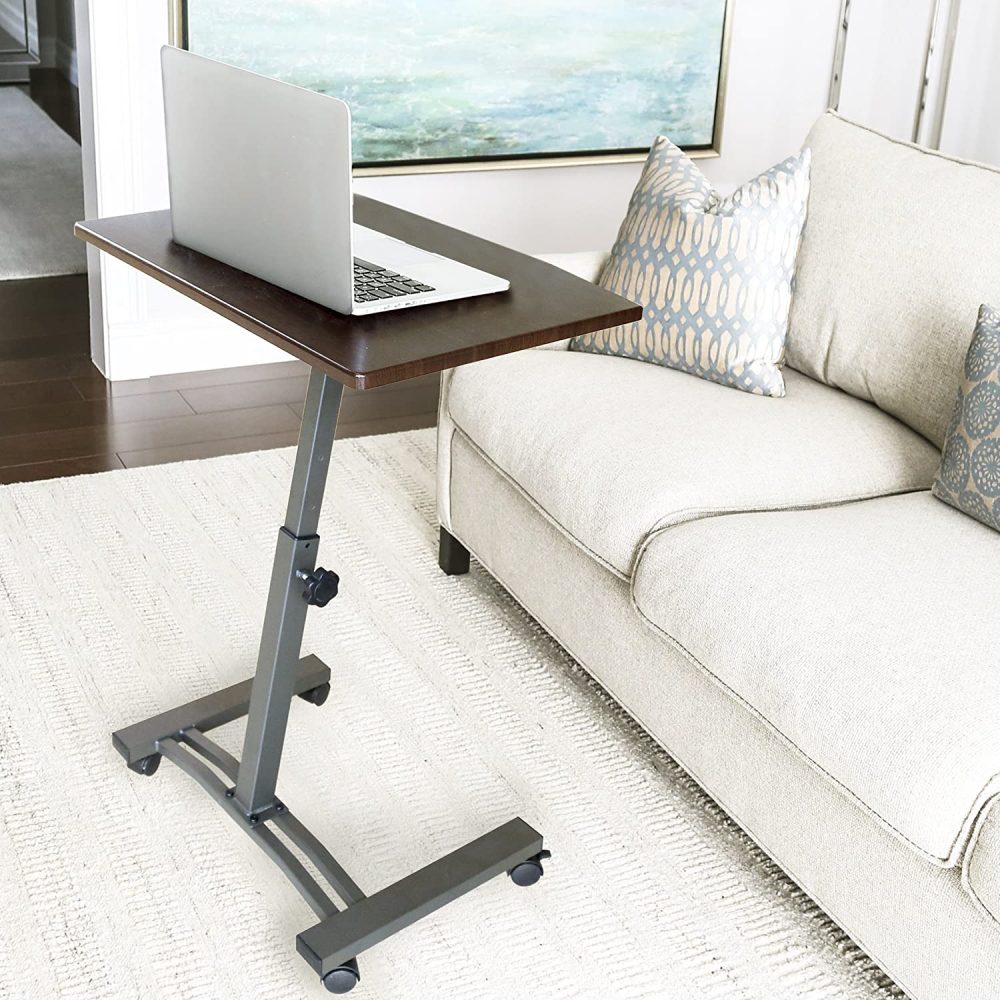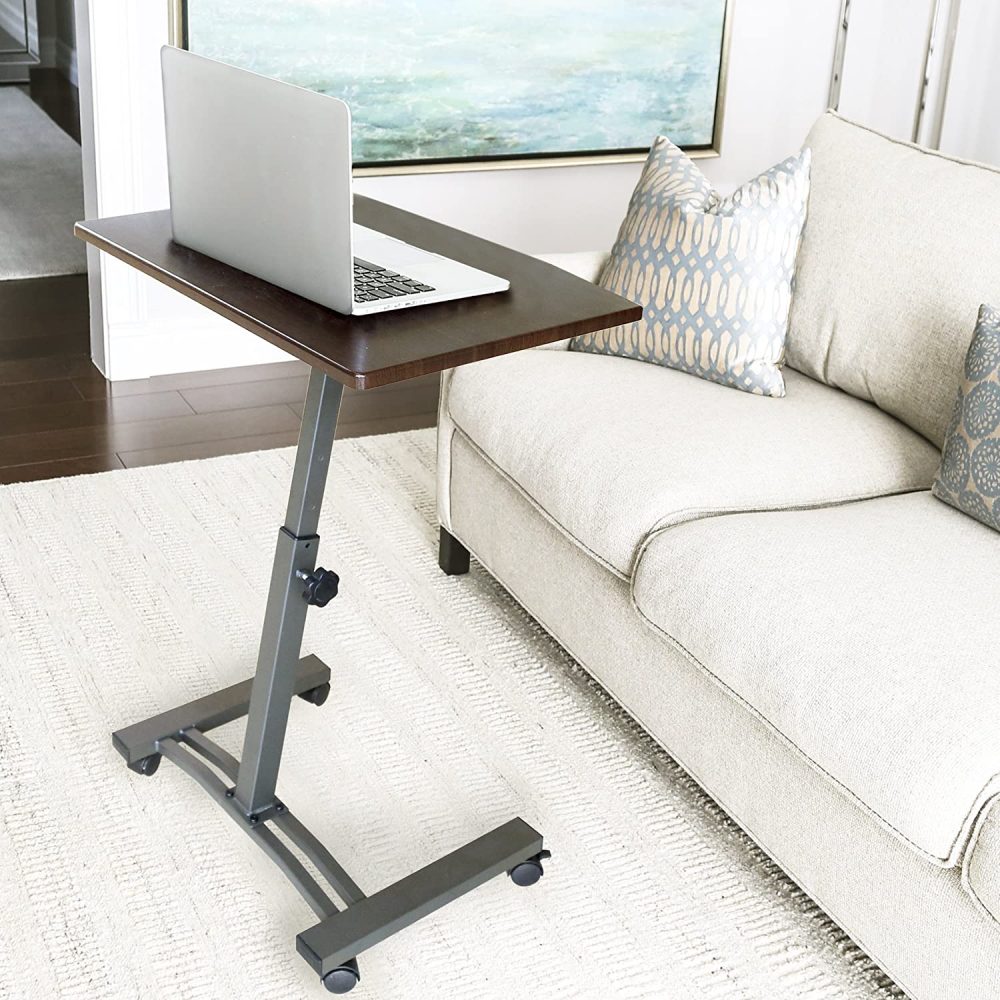 Here is something a little different. If you are really hurting for space, you can get this sit-stand laptop platform. I wouldn't call it a desk really, because it has no storage. But it is basically a mobile platform that you can use as a sit-stand desk. The beauty with this one is that it has wheels so you can easily use this desk while on the couch and then move it over to the kitchen table as needed. It only has 372 square inches of desktop space, so this is great for a laptop and maybe a mouse in a pinch. You really can't beat the price tag though. For someone that is starting to feel back problems because they have taken to working on the couch or in bed, this is a great first step to making a more dedicated office environment even when space is at a premium.
5. Ikea VITTSJÖ laptop desk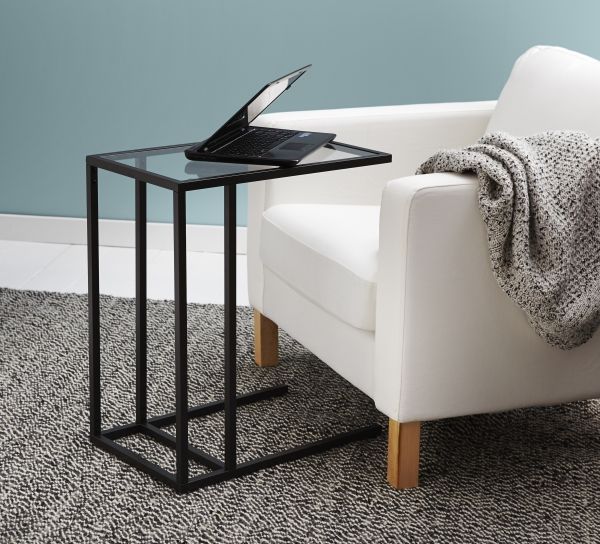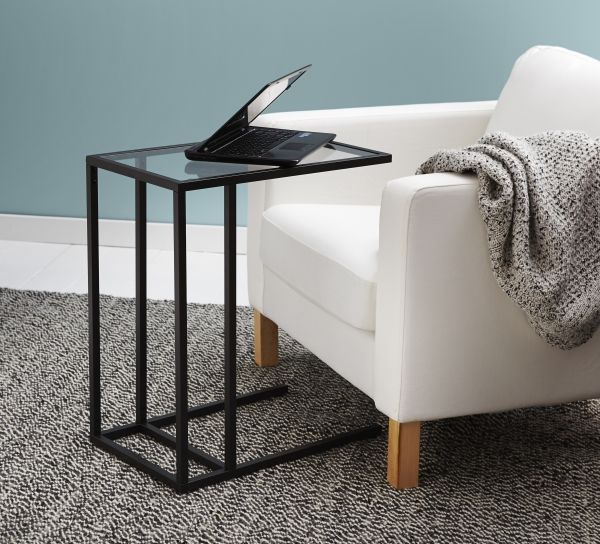 The Ikea VITTSJÖ laptop desk (don't ask me to pronounce that), is another very small desk that is meant to be mobile. The overhang design allows it to slide into place in front of a couch so you can have a dedicated place for your laptop (other than on your lap). This is the smalled "desk" on our list at just 297 square inches. One thing to keep in mind is that this is a glass top, meaning some laser-based mice won't work on it. Overall I would consider this more of a "stop-gap" measure for someone that does some work from home but maybe not full time.
6. Lavish Home Desk with Hairpin Legs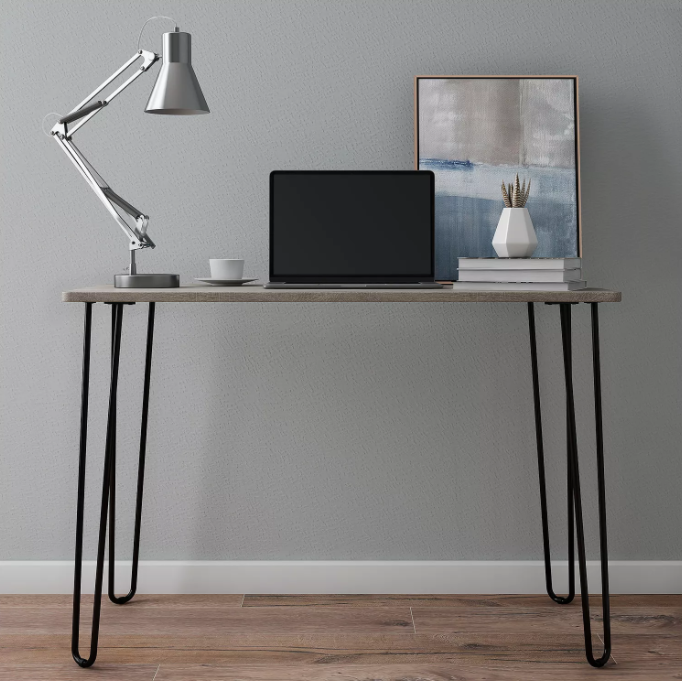 This is a great, simple, desk which should fit into a lot of decors. The hairpin legs give it a sophisticated look that is almost like a buffet or console table. Like a console table, it has no storage. This is simply a slab of wood on some powder-coated metal legs. But it does offer 765 square inches of space for your work gear on top. I would recommend picking up a set of velcro wire ties to make everything a little more organized once you get your computer on there. If the Ikea MICKE desk is a bit too wide for your space, this is actually a nice option since it is just a little less wide but with a similar overall desktop feel.
7. Coavas small computer desk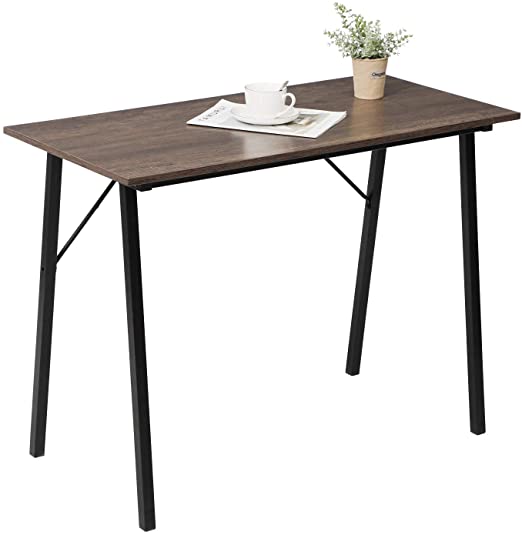 As far as classic wooden desks go, this one nails the aesthetic. The Coavas small computer desk features a really nice looking walnut surface and black metal legs. You should be able to fit a couple of computer monitors and a proper mousepad on the surface of this (665 sq inches), with a bit of room for your coffee… This table can also easily double as something you'd put in your front hallway or even in a bathroom for decor if you ever outgrow it.
8. Prepac Floating Desk with Storage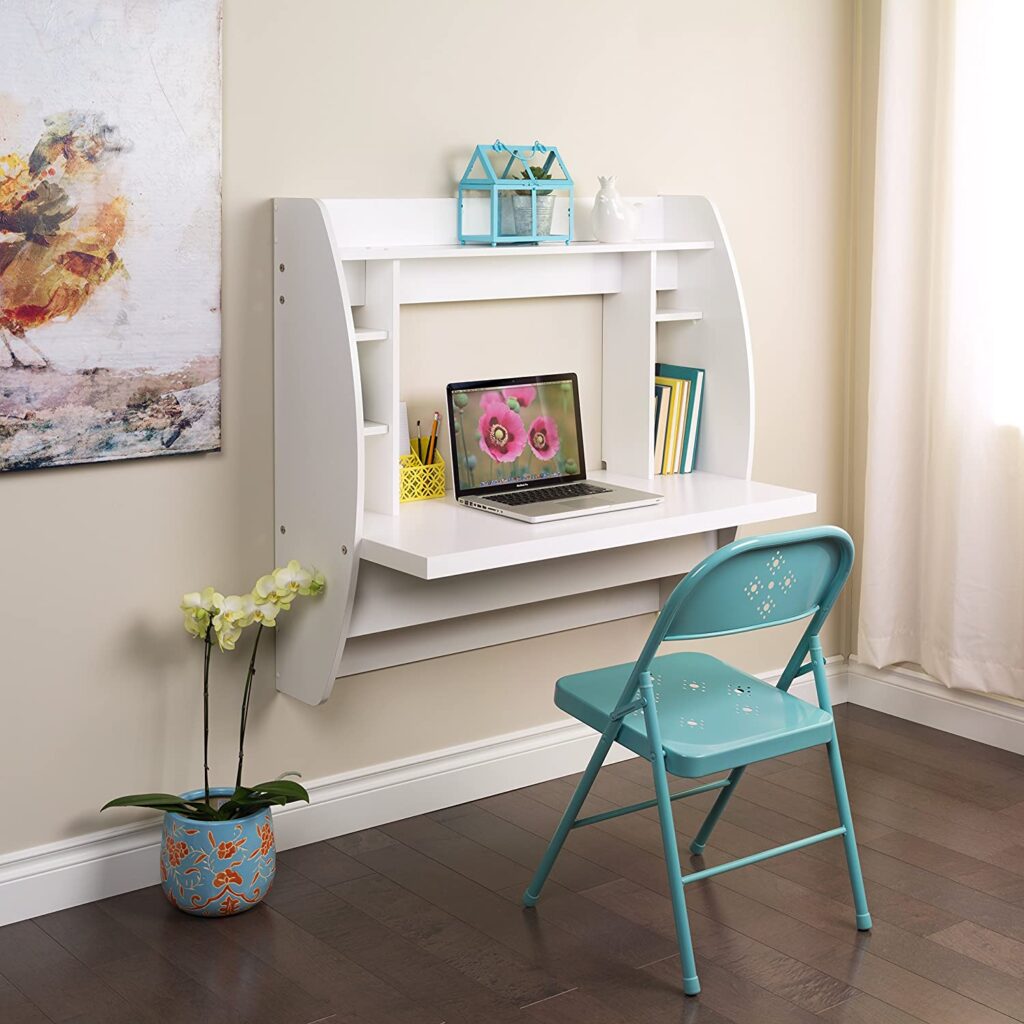 I wanted to find a good option for someone that really doesn't have a lot of space, but wants a bit of storage for things like notebooks, hard drives, etc. The Prepac Floating Desk is… well… a floating desk. This means it bolts directly to your wall and then folds out when you want to use it. Behind it features some handy cable management channels which is a big plus for someone who has a few devices on their desk. There is also a grommet hole in the rear of the desktop to feed cabled down. You're not going to have a tonne of room to place things on the desk surface since some of the dimensions are taken up by the storage slots, but I really think this is an excellent choice for a lot of people with more traditional decor.
9. Structube Sergio desk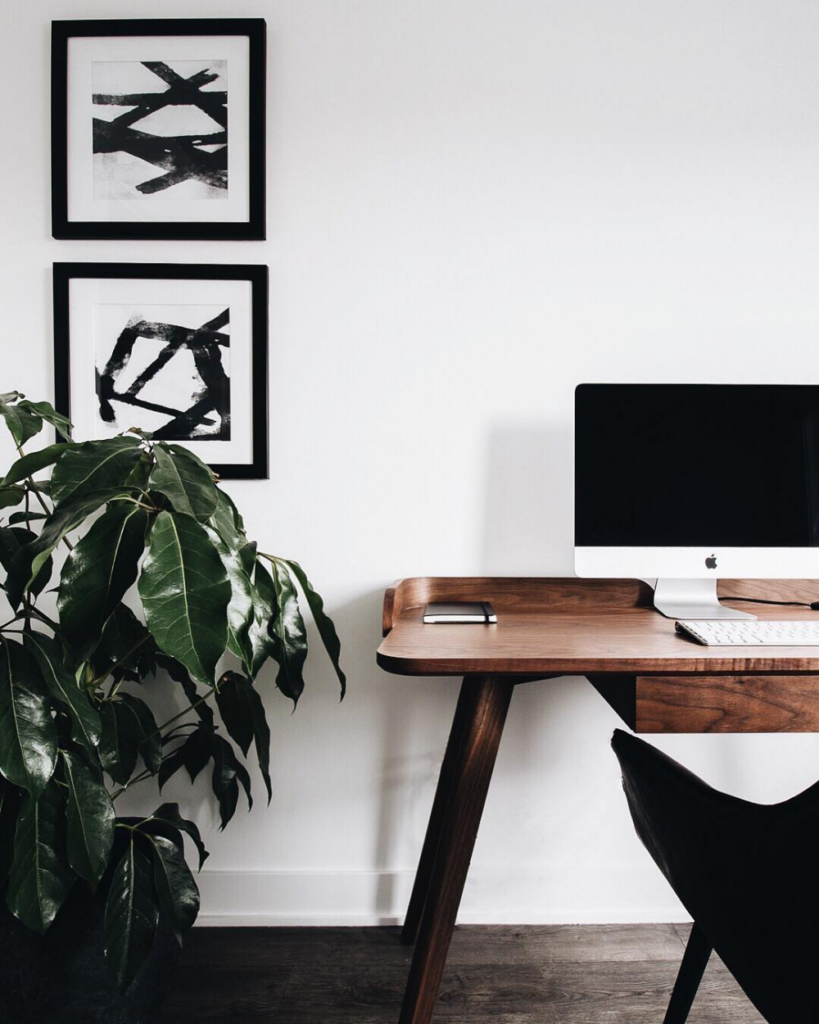 I have quite a few Structube pieces of furniture in my home. I like that they are a bit of a step up over Ikea quality, but still don't cost an arm and a leg. The Sergio desk is a great small desk that has a mid-century modern look to it. There is a small drawer under the desk that is good for accessories and pens, and the desktop itself is fairly roomy (by small desk standards) at 1010 sq inches. You will definitely be able to fit a few monitors on this surface. I would say this is the most visually pleasing desk on this list due to its interesting retro design.
10. Ikea Bekant sit-stand desk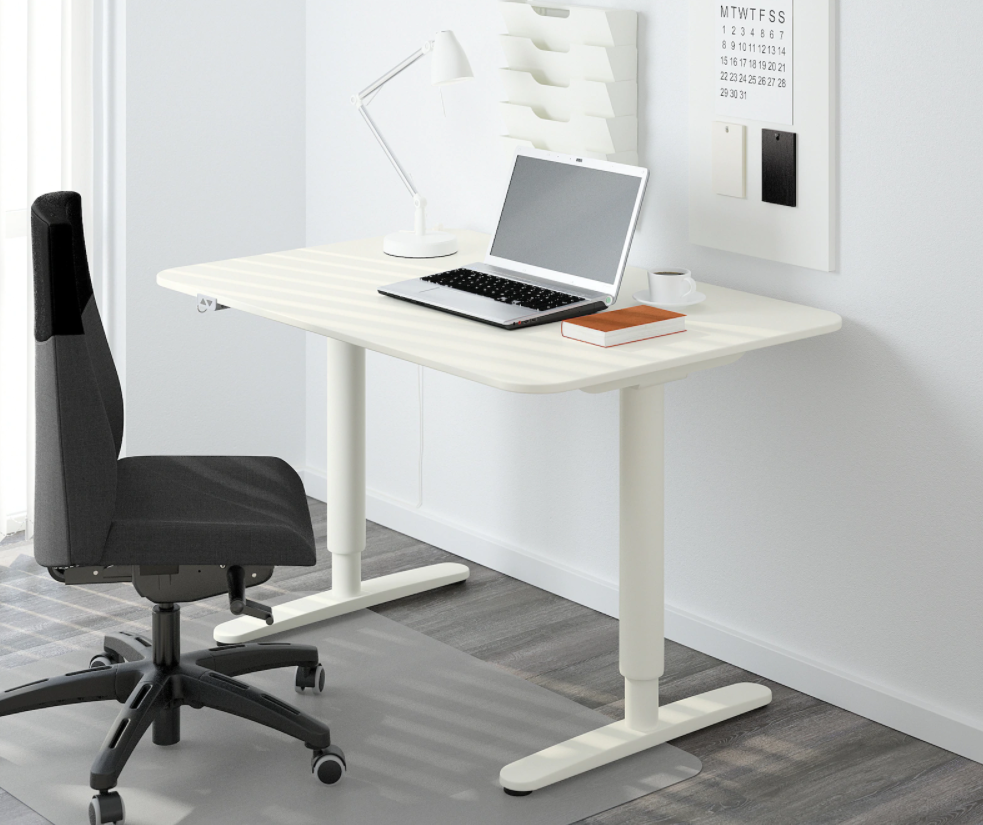 I wanted to include some reasonably-sized sit-stand desks since so many people are making the switch to this design lately. A good place to start looking is the Ikea Bekant sit-stand desk. This is the smallest of their sit-stand desks, at 1488 sq inches on the desktop surface. For the price, Ikea is including a lot here. There is an actual electric motor to move the desk up and down. This won't fit in very small spaces, but it is definitely a scaled-down sit-stand desk when compared to many others on the market.
11. Ergonofis Shift Sit-Stand Desk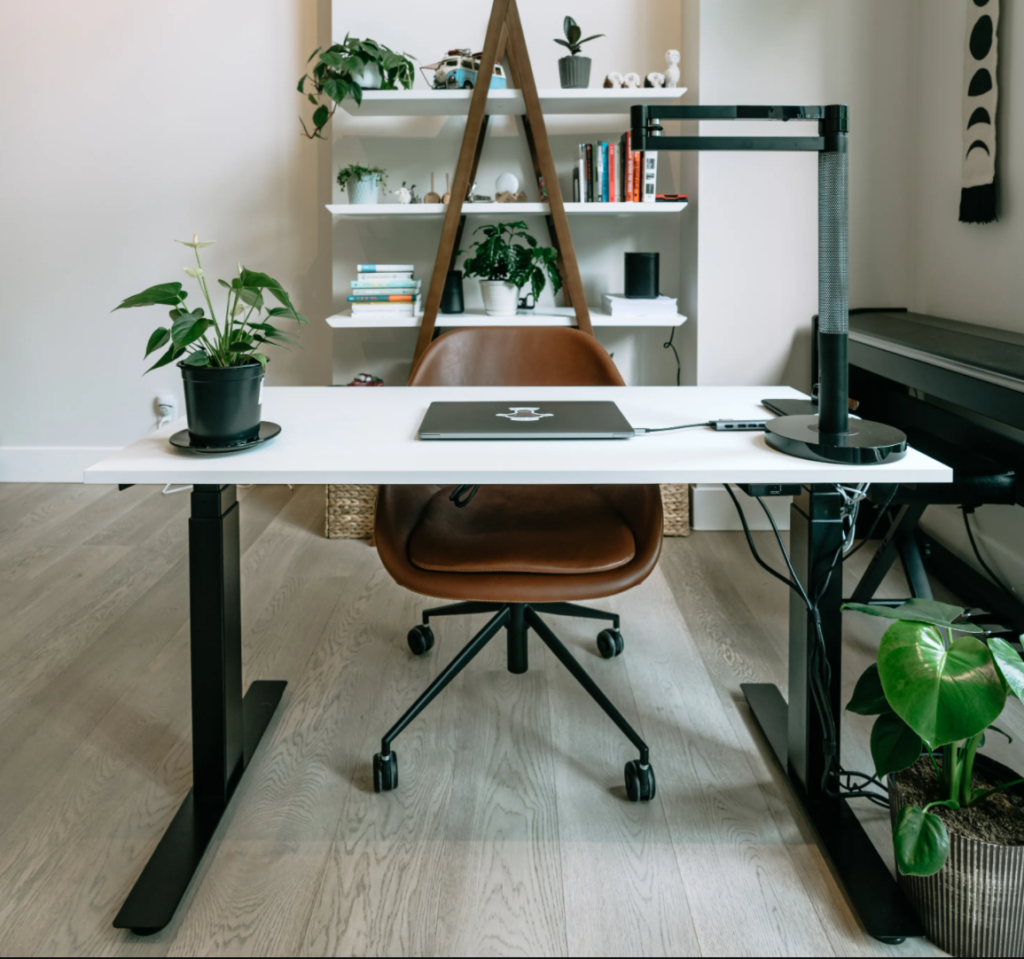 Alright, I'll admit it… I just needed to include this sit-stand desk on this list so I renamed this post from 10 to 11 desks! Ergonofis is an absolute pro at making really functional sit-stand desks. The Shift 2.0 is their entry-level electric motor desk which incorporates dual very powerful motors with a 4 memory keypad. Sure, it doesn't have the amazing natural wood as the upgraded Ergonofis Sway desk, but this desk looks stunning. It has an 1152 sq inch surface so its actually not even the largest desk on this list. I could imagine this being a very good in-between size for someone with a small bedroom but they can manage a full-size desk. This is my favorite desk on this list by far.
---