Tempered glass chair mats are much more durable than PVC and polycarbonate
Polycarbonate is a better choice for those looking to save money
PVC chair mats are lower quality and tend to deform under the pressure of the chair
So you find yourself working from home, but your home office isn't exactly made for office chairs. Many of us have our home offices upstairs in our houses where there is carpet. Or some people will have a hardwood floor in their office which can be scuffed pretty easily by an office chair. The easiest solution for this is a basic office chair mat.
The best quality chair mat for most people's home office is, believe it or not, a tempered glass chair mat. These are way more durable, don't fold or bubble, and allow your chair to roll with a silky-smooth motion. If a tempered glass chair mat is either too expensive or won't work on your floor, we recommend a good quality polycarbonate plastic chair mat. These will be much more affordable and come in more sizes to fit your desk shape. Either way, an office chair mat will make your working from home existence that much better, and you won't be slowly destroying your flooring.
Why do you need a chair mat in my home office?
Put simply, office chair casters destroy both carpets and hard floors. The weight of your office chair with you on it tends to grind up and flatten the carpet fibers, leaving your home office looking a little worse for wear after a few months. For hardwood or vinyl flooring, chair mats help protect your floors from scuffing and scratching. They can also give some much-needed grip for floors where your chair slides like it is on ice. There's also nothing worse than being "that person" that is struggling to move their chair on a Zoom call…
What kind of chair mat should I get?
The three main types of office chair floor mats are polycarbonate (plastic), PVC vinyl (plastic), and tempered glass. The most common is definitely PVC vinyl as it is much cheaper. You'll see these on sale all over the place, from Staples to Amazon. But did you know they probably aren't the best solution for most people's work from home situations? Let's go over the pros and cons of each type.
What are the benefits of a polycarbonate or vinyl chair mat?
First, polycarbonate and vinyl chair mats are usually much more affordable than glass. You can find a decent vinyl PVC chair mat for under $40. But I wouldn't recommend buying one. PVC mats are simply too pliable. They tend to warp, fold, and bubble with moderate use. The first chair mat I bought was PVC and would slowly slide and bunch up under my desk.
Instead, if you are looking for the best bang for the buck, I would look for a polycarbonate plastic mat. These will provide a much more rigid surface for your chair to glide on. Since vinyl is pliable, it generally develops divots where your wheels tend to rest, making the mat an absolute pain to use. Polycarbonate will stay rigid, making a hard surface that won't dent or divot. They also won't fold or bubble due to their rigid-nature. The only thing to keep an eye on is how easily the mat cracks. Because it is a rigid material, polycarbonate chair mats are theoretically more prone to actual cracking on the surface. Because of this, we recommend spending a little more on this Polycarbonate chair mat that is much better at withstanding cracking than the more budget mats.
Can you use polycarbonate chair mats on carpet?
Yes! Most brands of polycarbonate chair mats are built in a few flavors: (1) low pile carpet, (2) medium pile carpet, and in some cases (3) hard floor. Make sure you match your carpet length to the style of the chair mat. You may even be able to snag a polycarbonate chair mat that will work on thick or shag carpets. The hard floor style polycarbonate chair mat won't have the small dimples on the bottom to grip the carpet. Be sure never to install a chair mat with dimples or spikes on a hard floor surface.
But if you have a home office with carpet, you really should consider the small upgrade to a tempered glass chair mat.
Why would I want a tempered glass chair mat for my home office?
Once you have bought a sub-par vinyl chair mat, you'll know why you should have chosen another material the first time around. I have had brutal experiences with vinyl mats. I have owned two different models (one much more expensive than the other) that both experience: bubbling, devoting, and generally just not providing a very good surface for my office chair. Check out the photo from my home office below!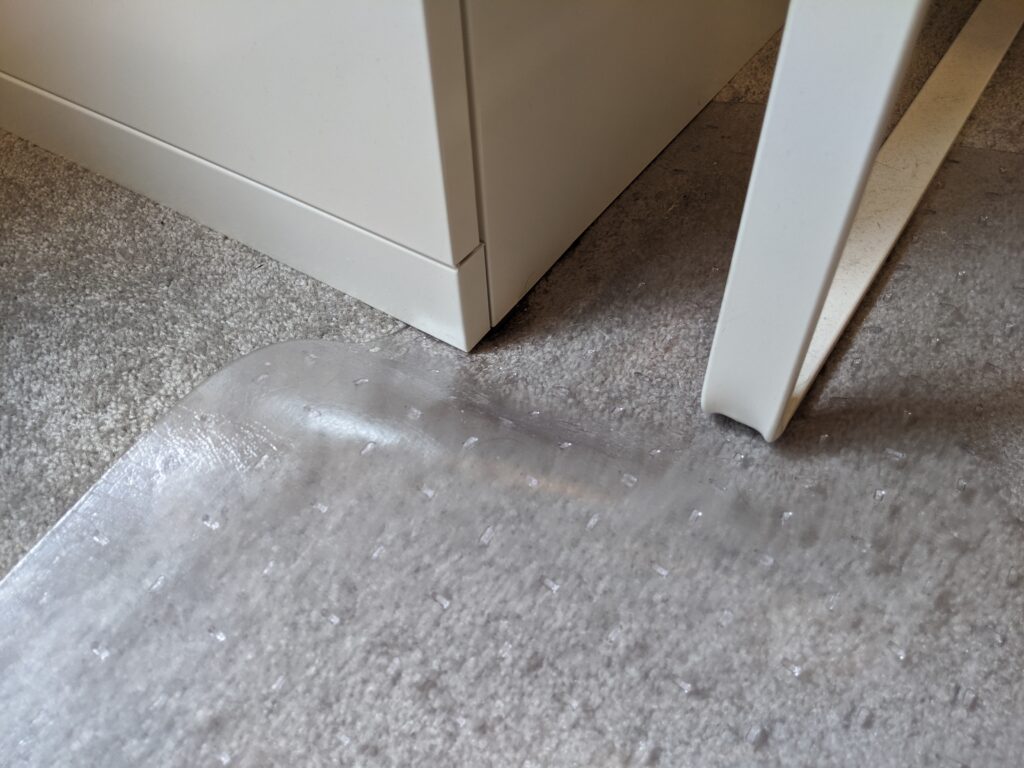 Another issue to consider is "chair mat slide" when you are dealing with plastic mats. They simply aren't heavy enough to stay in place. And the pressure of your chair tends to buckle the mat and push it further and further under the desk. Mine ended up actually rolling up against the wall after a few months. And it was a permanent shape! I literally had to cut off a large piece of the mat after it deformed. Not awesome chair mat. Not awesome…
This year I decided to give a tempered glass chair mat a try in my wife's home office. We had both been working from home due to COVID-19 and I was already seeing damage to the carpet in her makeshift home office. At first, I wasn't sure of the idea of putting all of my weight on a big piece of glass. But after a little research, I learned that the best tempered glass chair mats can support up to 1,000 pounds! I have gained some weight in quarantine, but not that much. We were good.
I ended up landing on the Lorell tempered glass chair mat which is available on Amazon and gets great reviews.
Instead of arriving all rolled up (like a vinyl chair mat), the glass chair mat came in a big flat box (for obvious reasons). Immediately I realized how durable the Lorell tempered glass chair mat was. This thing is built like a tank. A quarter in thick, with nice rounded edges. But most importantly, the office chair sat perfectly on top of the mat. Not sinking, wheel divots, or any other deformation. This is how a mat should be.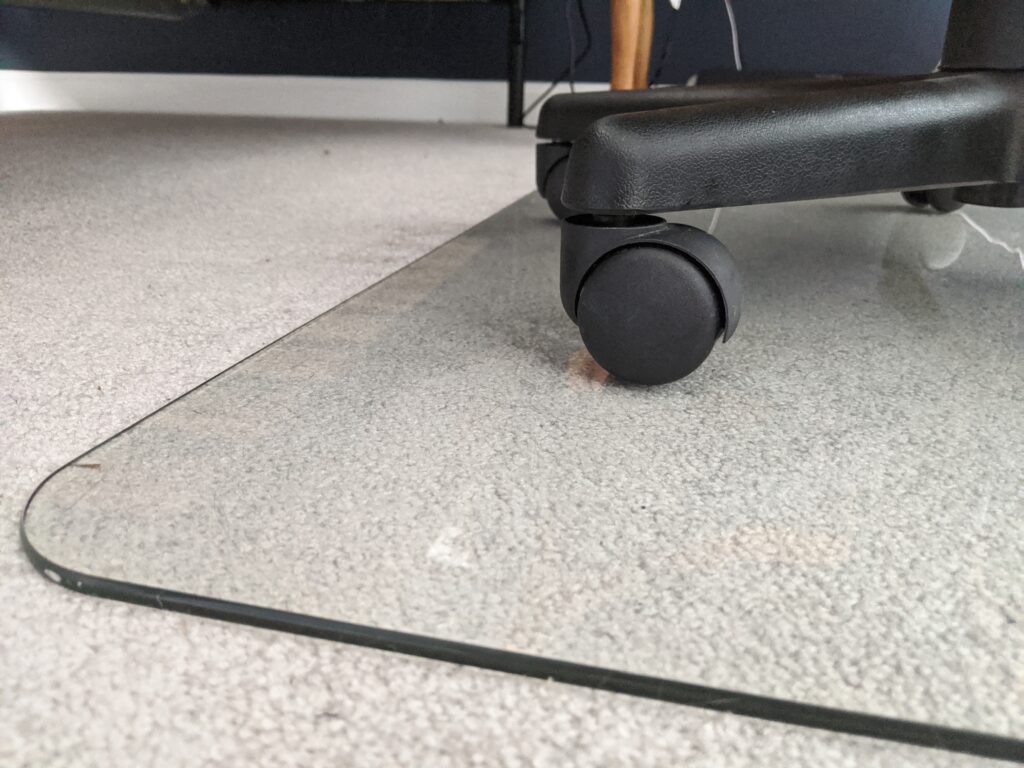 Furthermore, glass allows for a way nicer rolling experience than both vinyl and polycarbonate. For some, it actually might be a tad too slick, but you get used to only giving a little pressure when rolling around. You can use tempered glass on all types of floors, including low/medium/high pile carpet and hardwood floors. For hardwood, I would recommend putting some sticky rubber pucks underneath so it doesn't slide around and damage the floor (remember it is pretty beefy!)
The Lorell tempered glass chair mat I bought also comes with a lifetime warranty which is good to have. I can't imagine anything going wrong with it though since it is so well manufactured.
The only real downside of a tempered glass chair mat is the price. They will tend to be about double the price or a bit more. But consider this: Do you want to buy two chair mats? Because you will if you opt for an inferior plastic mat (either vinyl or PVC). The plastic ones just aren't made to last.
Wrap-up: Buy the glass chair mat and call it a day
There are times in life when you want to save a bit of money. This is not one of the moments. The quality difference between a plastic chair mat and a tempered glass one is pretty big. My experience with plastic chair mats is one of constant struggle and annoyance. They deform, crack and bubble to the point where you may be better off without a chair mat at all. Glass on the other hand provides a perfectly smooth surface for that office chair you splurged on.
I can imagine having my Lorell office chair mat for decades. The vinyl ones I bought in the past barely lasted 6 months. If you are on a budget definitely at least consider a polycarbonate model. PVC vinyl should be avoided at all costs.
---