There are many companies that have wholeheartedly embraced the idea of a distributed, remote workforce. Even before the COVID-19 pandemic, companies like Shopify, Automattic, Doist, and Toggl, promoted remote work as either an option or the only model of working. Working from home will only become more popular as companies realize the productivity and employee happiness benefits of a remote workforce.
But what are the best working from home jobs and how do you find one? We have scoured the web to come up with the below list of companies that value remote work and regularly hire for jobs that are "work from home friendly." In fact, many of the companies we included don't care where you work at all. Work from your apartment? Work from a beach in the Bahamas? It's all the same to them as long as you get the job done!
What industries are the most popular in remote work?
A recent paper estimated that somewhere around 37% of current US jobs can be done entirely from home. Not only this, but the authors of this paper found that these jobs pay more than traditional office jobs. And a further 17% of jobs can be done mostly from home. Something like two-thirds of all of the US's economic activity can be accomplished by employees working from home. In Canada, about 4/10 jobs can be carried out from home.
Official Canadian statistics show that the jobs most likely to be done from home include the following industries: Finance and insurance, Educational services, Information, cultural services, and public admin. In the US the most popular industries for remote work include IT, marketing, financial services, media and publishing, education, and e-commerce.
Are working from home jobs legit?
That all depends actually. There are a lot of jobs that are remote that are more like "gig" jobs where you get paid like an Uber driver. These are things like transcription or translation. While these certainly pay money, and are legit, these aren't what we are focusing on in this article. We are more concerned with actual careers or salaried positions at companies.
What are the best working from home jobs?
Definitely the most common working from home jobs are in the software design and IT space. These are the ones that most people think of when they picture someone in a home office. But did you know that there are actually a lot of jobs in industries like HR, communications, marketing, and accounting that are done remotely? Not only this, but we will see a massive uptick in the availability of remote jobs in the coming years as organizations mainstream working from home policies. Indeed, a full one-third of firms that had employees switch to working from home during COVID-19 in the US intends to make these positions more common post-pandemic. So the flood of remote work opportunities is just beginning. You have to make sure that you are ready to take advantage of some of these great opportunities to get into a great remote job. This means brushing up on your resume and cover letter skills and being able to interview well.
The top companies hiring working from home employees
We have compiled a list of more than 50 top US companies that are hiring remote employees regularly. We also found a quote that exemplifies each company's work from home philosophy as well as a direct link to their job application page on their website. We hope this gives you a few ideas of where you can find your dream job working from home.
| Company | Remote work philosophy | Apply now |
| --- | --- | --- |
| 10Up | "With teamwork as our foundation, we inspire and challenge each other over Slack, video calls, and even good old-fashioned phone calls." | https://10up.com/careers/ |
| Aha! | "Being a remote-first company eliminates the need to commute and gives you more time with family and friends too." | https://www.aha.io/company/careers |
| Amazon | "Sometimes, Amazon has virtual (or "work-from-home") positions available to qualified individuals who live in some areas. So if you aren't near a physical Amazon location, or just want to see if there are virtual opportunities in your area, you're in the right place." | https://www.amazon.jobs/en/locations/virtual-locations |
| Apartment Therapy | "Remote-friendly culture with instant access to the team through Google Hangouts and Slack" | https://www.apartmenttherapymedia.com/jobs/ |
| Apple | "Our customers are all over the world, so it's by design that Apple employees are all over the world, too." | https://www.apple.com/jobs/us/about.html |
| Arkency | "You are working from everywhere in the world – home, your coworking office, whatever." | https://arkency.com/join-our-team/ |
| Articulate | "Work wherever you want. We'll help set up your home office with awesome equipment and technology." | https://articulate.com/company/careers/ |
| Automattic | "Everyone works from the location they choose. We're spread out all over the world in more than 70 countries." | https://automattic.com/work-with-us/ |
| Basecamp | "Many of us love working remotely – we literally wrote the book on remote working!" | https://basecamp.com/about |
| Better Help | | https://www.betterhelp.com/jobs/ |
| Buffer | "Buffer is a fully remote team, spread across the whole planet. We have Bufferoos in 15 countries, 11 timezones and 42 cities (and counting!). As a member of our team, you will be invited to work wherever you're happiest and most productive." | https://journey.buffer.com/ |
| ConvertKit | "ConvertKit is on a mission to help creators earn $1B using our SaaS email marketing platform. We are 100% independent, 100% remote and are growing rapidly." | https://convertkit.com/careers |
| CVS Health | | https://jobs.cvshealth.com/ListJobs/remote/yes?prefilters=none&CloudSearchLocation=none&CloudSearchValue=none |
| Docker | | https://www.docker.com/career-openings |
| Doist | "We're a remote-first team that collaborates across 18 timezones and over 20 different countries. We build tools for the future we want to work in." | https://doist.com/jobs/ |
| Duck Duck Go | "We know that productivity is personal, and trust our remote team to work wherever, whenever. We rely on a variety of tools to connect and collaborate across time zones." | https://duckduckgo.com/hiring/ |
| Envato | "Many of us are able to work from home, a café, or a park whenever we want. Yay freedom!" | https://envato.com/careers/ |
| Fire Engine Red | "We've been fully remote since our CEO and Chief Creative Officer, Shelly J. Spiegel, founded the company in 2001. In fact, Fire Engine RED was one of the first fully remote companies in the U.S., possibly the world." | https://fire-engine-red.com/career/ |
| Foundr Magazine | "Whether it's our "work from home Thursdays", off site team building in Thailand and Bali, or our new office in New York." | https://foundr.com/careers |
| Ghost | "The vast majority of our work gets done on Github, with Slack as the main channel for communication. We do weekly meetings via Zoom which are used to discuss progress and plan what's coming next." | https://careers.ghost.org/ |
| GitLab | "We're a fully remote and completely distributed team, so we can work wherever we're happiest. Night owls rejoice! We're dedicated to working asynchronously, so we can contribute from anywhere at anytime." | https://about.gitlab.com/jobs/ |
| Groove | | https://www.groovehq.com/about |
| Hubstaff | "As part of the international Hubstaff team, you work when and where you're most productive. Home office, co-working space, beach, train, plane, you name it." | https://hubstaff.com/jobs |
| Invision | "Who says you need to move to work at a great company? Not us. We know there's great talent all over the place and we are a completely distributed company. Do great work from an environment that you're comfortable in." | https://www.invisionapp.com/about |
| Khan Academy | "Remote-friendly workplace." | https://www.khanacademy.org/careers |
| Knack | "We've been 100% remote from the beginning. Every decision we've made has been around how to best grow a team, do amazing work, and build a lasting culture in a 100% remote environment." | https://www.knack.com/jobs |
| Komoot | "We don't feel the need to babysit anybody, and we believe that only you know best which environments let you thrive. That's why we will support you 100% to work fully remotely, be that in one of our offices, a co-working space or from home — anywhere that's located between the timezones UTC-01:00 to UTC+03:00." | https://www.komoot.com/jobs |
| MeetEdgar | "We're 100% remote, so you can work from the comfort of your home office, local coffee shop, or underground nuclear fallout shelter." | https://meetedgar.com/careers/ |
| Moment | "We are a 40 person team that is spread around the US. Most of us work out of our Seattle studio, but physical location is secondary to your love for mobile photography and delivering exceptional work." | https://www.shopmoment.com/careers |
| MoveOn | "You could say that MoveOn has offices all over America. That's because MoveOn staff live all across the country. No two people work in the same place. This is not an accident. It started as an experiment in the "virtual office," and it has proven an important part of our success." | https://front.moveon.org/careers/ |
| Mozilla | "With offices all over the world, we consider the internet from multiple cultures and contexts." | https://careers.mozilla.org/ |
| Netlify | "Netlify is a globally distributed, remote friendly company. Our team currently represents 28 nationalities and more than 15 languages." | https://www.netlify.com/careers/ |
| Plex | "We are a kind and respectful group of people distributed across many countries, cultures, and timezones." | https://www.plex.tv/about/careers/ |
| Prudential | | https://jobs.prudential.com/job-listing.php?keyword=remote&jobType=&jobType=any&location=&location= |
| ScrapingHub | "Your new remote job will involve happiness and freedom. You cool with that?" | https://www.scrapinghub.com/jobs/ |
| Shopify | "Shopify has gone digital by default." | https://www.shopify.ca/careers |
| Sococo | "At Sococo, we embody the values of our mission – we're a 100% distributed team, built on collaboration, accountability and trust. We come to work every day in Sococo, using our own technology to work together." | https://www.sococo.com/careers/ |
| Spotify | | https://www.spotifyjobs.com/search-jobs/#search=remote&location=usa |
| Stripe | "More than 2,500 Stripes build products and support our users from offices in San Francisco, Chicago, New York City, Seattle, Amsterdam, Bangalore, Berlin, Dublin, London, Paris, Melbourne, Singapore, Mexico City, and Tokyo—as well as the homes and coworking spaces of our remote colleagues." | https://stripe.com/jobs |
| Sugar CRM | | https://www.sugarcrm.com/career |
| TED | "TED is a global community — and so is our staff. We're headquartered in New York and Vancouver, but the collaborative and global nature of our work means we have staffers, advisors and volunteers worldwide." | https://www.ted.com/about/our-organization/jobs-at-ted |
| Tesla | "Headquartered in the San Francisco Bay Area with office locations around the world, we work to build an inclusive environment in which everyone, regardless of gender, race, religion, age, or background, can do their best work." | https://www.tesla.com/careers |
| The Wirecutter | | https://www.nytimes.com/wirecutter/jobs |
| Toggl | "We believe great people will make awesome stuff anywhere. New York, São Paulo, or a quiet village near Florence." | https://toggl.com/jobs/ |
| Toptal | "Toptal is the largest fully-remote company globally. With over 500 core team members in 60+ countries and operations in many more, we connect the world's top talent with the world's top organizations." | https://www.toptal.com/careers |
| Trello | "Team Trello is headquartered in New York City and distributed all over the world. We embrace a remote-working culture that has helped us to build an amazing product that fits the needs of modern knowledge workers, super-organized parents, and efficient project planners alike." | https://www.atlassian.com/company/careers/trello |
| Viamo | "As a distributed team, we work extra hard to stay connected. We have meetings with participants across 15 time zones and use Slack, Skype, and WhatsApp to collaborate across departments and countries." | https://viamo.io/careers/ |
| Wikimedia Foundation | | https://wikimediafoundation.org/about/jobs/ |
| X-Team | "Work from anywhere for the world's leading brands and get supported to do more of what you love." | https://x-team.com/join/ |
| Xerox | "Over the past 30 years we've recognized the benefits of working from home. We currently have more than 8000 home-based employees performing a wide range of functions" | https://www.xerox.com/en-us/jobs/work-from-home |
| YNAB (You Need a Budget) | "We are intentional about creating an environment where every empoyee gets to do important work they love." | https://www.youneedabudget.com/careers/ |
| Zapier | "We're a team of 250+ people living and working remotely in 24+ countries. We're working hard to build a diverse and collaborative team that can empathize with each other to solve hard problems and build a product we can be proud of." | https://zapier.com/about/ |
How to apply for remote jobs
We recommend bookmarking some of your favorite company job pages above. Regluarly check these pages for job postings that might be interesting.
There are also some very useful sites to keep an eye on new working from home jobs. First, take a look at Remotive, which is solely dedicated to tracking remote jobs. A lot of these jobs tend to be with smaller startups. Second, jump over to Indeed.com and include "Work from Home" or "Remote" in your job search. I find their search algorithm is pretty good at including the right kind of jobs. Other great sites include Monster and just plain old Google (who recently added an excellent job search function).
Sometimes companies will invite people to "pitch their own position." Take advantage of this! Even if there aren't any job openings, send a thoughtful email and copy of your resume (see below) to these kinds of email accounts. But be very deliberate. Take some time and craft a good email that makes a clear case for a specific position that you would be perfect for. It's a long shot, but sometimes all it takes is someone with a bit of confidence and a good idea to get the ball rolling. I know Shopify will accept these kinds of "cold call" applications. Give it a go!
How to write a good resume for a remote job
To be honest, this isn't all that different from a normal job application. Try to highlight any experience you have in working remotely to show that you are familiar with the idea. Other than that, make sure that your resume (1) is professional and (2) stands out in the crowd. We don't mean throwing graphics all over the place or using wacky fonts either… Just make sure you seem like a well-rounded and interesting person as well as showing the necessary skills. Often a good cover letter can really help your chances in this regard. Include some specific reasons why you are attracted to this specific job and company. Show that you did your homework and make it personal! As a hiring manager myself, I can't stand when someone submits a totally generic resume and cover letter that have nothing to do with the specific job. Take 10 minutes and customize parts of your resume and write up a one of a kind cover letter that makes the case for you to be the right candidate for the job.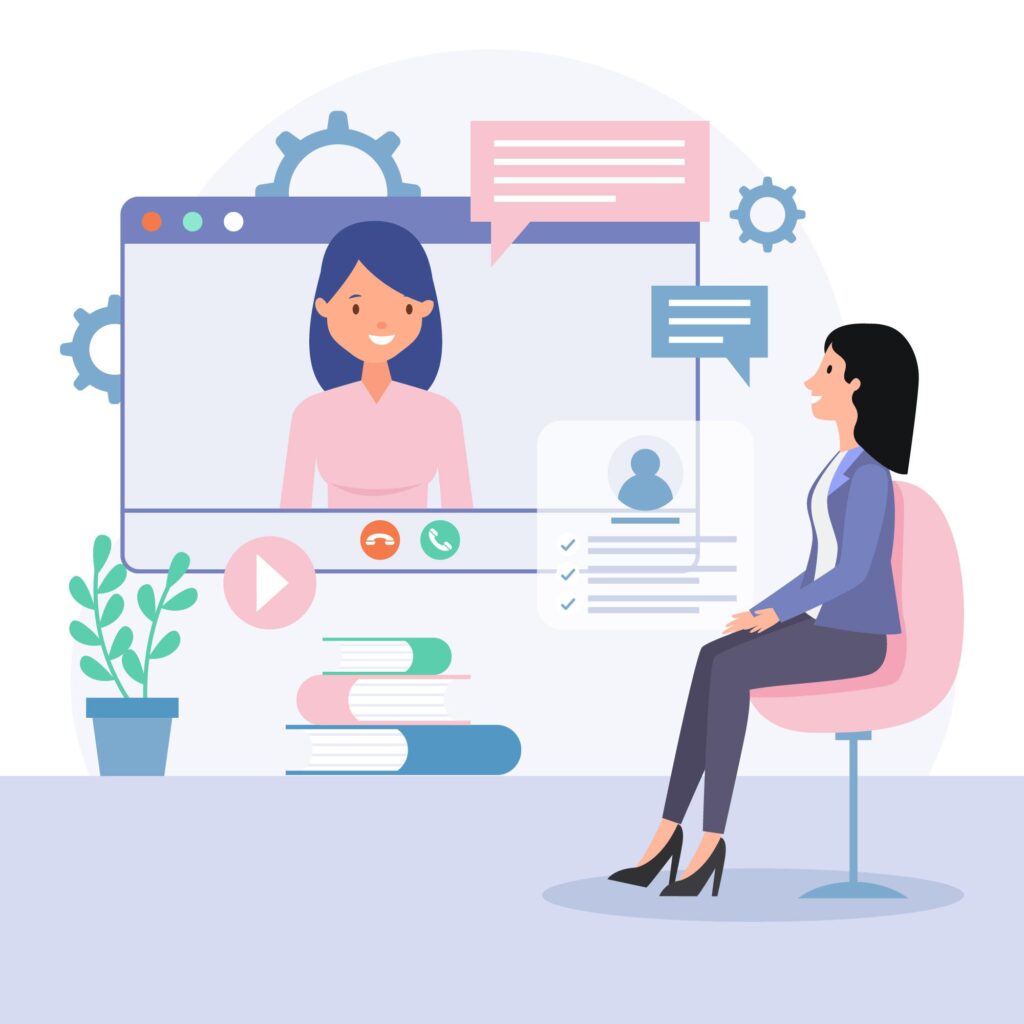 How to do an interview for a remote job
Often the process for remote jobs starts with a basic phone call or video call pre-interview to make sure you have the right skill set to be considered in a full interview. Be ready to highlight your experience in the technical aspects covered by the job. But also make it very clear that you are comfortable working from home. Highlight any experience from the COVID-19 pandemic. Did you manage anyone remotely? Mention it. Are you a wizard when it comes to online collaboration tools? Totally fair game to get into this. After all, these employers are looking for people who see working from home as second nature, not a major barrier or challenge. This may come easier to younger, more tech-savvy workers, but there is no reason why anyone with any experience in remote work to speak to these strengths.
Show that you can work from home in the interview
When you get to any interview stage, PLEASE make sure you are ready technically for the interview! Make sure your internet is stable. If it's not, go to a friend's house. Make sure your environment is controlled and quiet for the interview. Got kids? Get the grandparents to take them for the afternoon. You need to show that you can be professional and prepared in a remote scenario. Speaking of professional, dress the part! Sure, its a Zoom call, but put on a nice suit jacket and tie. You'd be surprised how many people fail this one… Keep a bottle of water nearby just in case as well.
Become an expert interviewee on the video interview
Speak clearly and answer questions succinctly. Interviewers don't want to hear your life story in every answer. Give them the perfect answer and just enough extra to keep them interested in your profile and experience. Keep eye contact with the people doing the remote interview. This means: do not read from notes word for word. It's fine to have a few point-form notes on the side, but interviewers can totally tell if you are reading from notes.
That's pretty much it! Good luck in finding, applying and getting your dream job working from home! We hope these resources helped.
---