We have all had to adapt quickly to a new way of managing remote team communications during COVID-19 as emails, video chats, and instant messages suddenly infiltrate our homes like never before. But the tools we've adopted to make connecting with one another easier sometimes seem to make matters worse. You know you saw a decision from your boss on the file you're working on, but can't remember if it came through an email, Slack, or WhatsApp. Meanwhile, conversations that used to be contained within a 9 to 5 now ping on your bedside table as you try to fall asleep.
There are 6 essential tools you need to manage remote team communications: a knowledge hub for static information that everyone should have access to; a video conferencing platform for real-time conversations and connection; an internal social platform for informal discussions among colleagues; an email platform for sharing important updates; an instant messaging platform for short and urgent requests; and an emergency line for, well, emergencies.
Many of us working from home are feeling overwhelmed by the constant flow of information and requests coming at us across multiple channels throughout the day. One study estimated that the average office worker checks their various communications platforms every six minutes. It's time to cut through the clutter.
The 6 Tools You Need to Manage Remote Team Communications (and How to Use Them)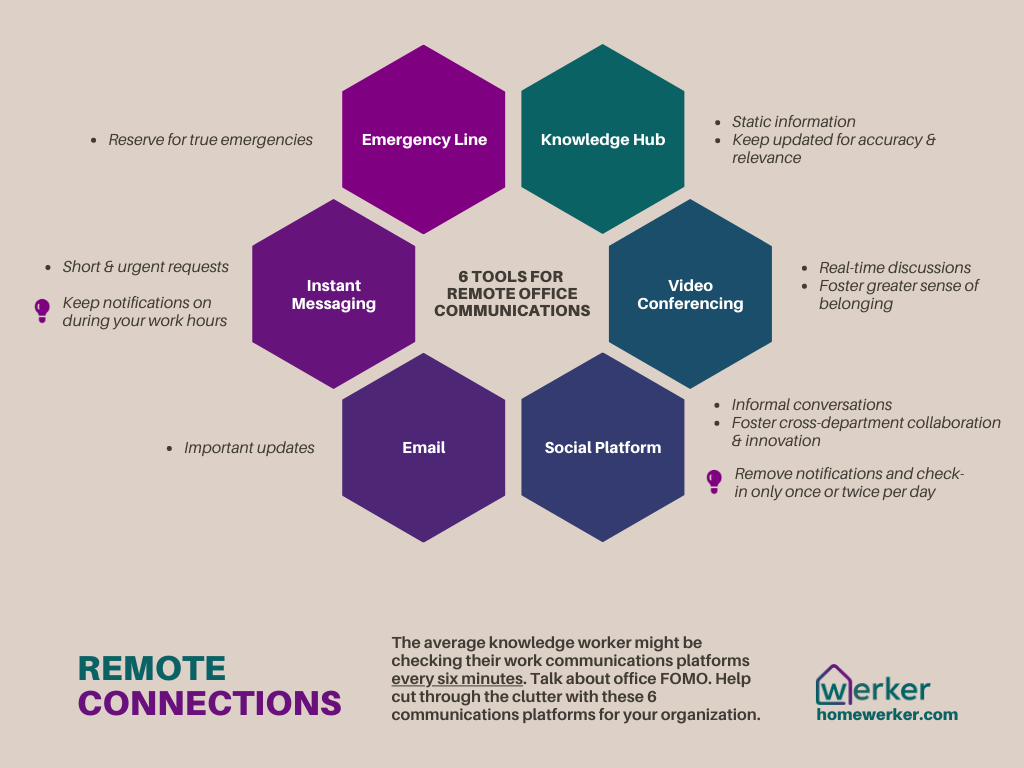 1. A Knowledge Hub
Do you ever feel like you're repeating yourself at work? Receiving the same questions and giving the same answers over and over to different colleagues? It's not surprising. Our employees may be spending up to an average of 2 hours EVERY DAY just searching and gathering information.
One of the easiest ways to cut down on the communications noise is by equipping your team with a knowledge hub where they can go to access some of the most requested information. Start simple by including resources that answer the questions you tend hear on repeat throughout the week and build from there. Don't let it become too cluttered, however, or else questions like "What is our policy on X?" will turn into "Where can I find our policy on X?" And be sure to dedicate a bit of time each month, quarter, or year to keep the space updated for accuracy and relevance.
Wondering how to build a company intranet without website development experience? Tools like Google Sites and Notion can help you create an information platform for your business in just one day without coding!
2. A Video Conferencing Platform
Video calls among work from home colleagues are a must-have to keep your team feeling connected to your organization and to one another. Eye contact is essential to human connection and can go a long way in helping your employees feel seen and appreciated.
A number of video conferencing platforms have recently made themselves more affordable and accessible to businesses trying to stay connected during COVID-19. Google Meet, Microsoft Teams, and Zoom are just a few examples. Whichever solution you choose, be sure to offer training on an ongoing basis for your staff so that they can maximize the benefits of your platform. And set some company-specific ground rules, like whether or not custom backgrounds are allowed.
Even though the greatest benefit of video calls is the face-to-face connection, try to avoid requiring your team to always keep their video on. Team members living in low-connectivity areas, such as rural communities, might not be able to keep their connection steady. During COVID-19, for colleagues who are not working from home by choice, enforcing video-on rules can lead to increased stress, especially if they are simultaneously managing childcare responsibilities while on the call. Lastly, if you work with a global team, remember that video conferencing, unlike email, is an asynchronous communication tool, so be sure to keep an eye on time zones to avoid scheduling a meeting during the middle of the night!
3. An Internal Social Platform for remote team communications
Hallway hangouts and kitchen conversations are not just an important building block in developing social relationships — they are also spaces where colleagues from different departments come together, a key ingredient to fostering greater innovation in work. Recreating that atmosphere of casual collaboration can be hard with a remote team, but it's not impossible.
Certain social media platforms have been designed specifically to meet the needs of distributed workforces. Workplace by Facebook, Google Currents, and Slack are a few examples. These tools provide a dedicated space for colleagues to get to know one another better, while also promoting thoughtful conversations about work. Social platforms can also help teams crowdsource solutions to some of their current challenges.
Of course, as most of us can attest to, social media platforms are easy places to lose track of time. Try to reserve this space for non-urgent conversations and let team members know they aren't expected to check-in on it repeatedly throughout the day.
4. An Email Platform
Having a tool to send and receive emails probably goes without saying. But is your team using email as effectively as they could? It's estimated that the average office worker spends 28% of their workweek reading and responding to emails. Oftentimes, urgent and important messages get lost in a flood of non-urgent or, worse, trivial emails like that one newsletter you keep forgetting to unsubscribe from.
With so many other platforms at your team's fingertips, we recommend reserving email for sharing more robust and less urgent information (if urgent, notify the recipient using your instant messaging tool — see #5). For example, emails are a great channel for notifying team members, in writing, of important business decisions that have been made, along with a brief summary of the rationale behind the decision. Personally, the simple act of moving the less urgent conversations to a social channel (see #3) was the tipping point that helped me finally reach inbox zero.
5. An Instant Messaging Platform
Gone are the days when your team members could just drop by your desk when they needed a quick answer to an immediate question. For a remote team, that's where an instant messaging platform comes in. Reserve this tool for short, urgent updates or requests to help ensure your colleagues aren't left feeling blocked for hours over something that you could resolve together in a matter of minutes.
Unlike your social platform, your instant messaging should be somewhat distracting and designed to pull your attention away from what you're working on. Using a tool that can be integrated into your existing email platform, like Google Chat/Hangouts or Microsoft Teams, is one way to do this. Make sure colleagues know that this platform should only be used for pressing matters so that they are not interrupting your flow with things that can wait until your next check-in.
6. An Emergency Line
Depending on your position and your responsibilities, it might be necessary to also provide your teammates with a phone number they can reach you on in case of a work-related emergency. This should be a must-have for managers, but ideally, something that would be provided by all your work from home staff as you don't have the luxury of running to their desk in a pinch. If you work with global teams or with teams in areas with poor cell coverage, consider an instant messaging app that can send texts and calls over wifi, such as WhatsApp or Telegram. If you decide on an app for your emergency line, we recommend using one that is distinct from your urgent-but-not-an-emergency instant messenger (see #5), so that you never miss a true emergency.
Are there other communications tools you've found to be essential while working from home? Let us know in the comments below!
---