Did you know that Amazon is consistently hiring for both full-time and part-time jobs that can be done from the comfort of your own home? Some of these are admittedly "gig work" but an increasing number of full-time salary positions are showing up online. And it is not a very difficult process to apply for these Amazon work from home jobs! We'll walk you through what is available and how to apply below. And we will be talking about actual legit working from home jobs at Amazon, not fulfilled by Amazon or publishing your own e-books! These are actual jobs with benefits in many cases.
Amazon offers work from home remote jobs in the areas of human resources, marketing, software development, project management, pharmaceuticals, finance, law, and customer service. These jobs are both full-time and part-time. Amazon Mechanical Turk is another way to work for Amazon from home that focuses on micro-tasks instead of steady salaried employment
How to find full time Amazon work from home jobs
Amazon has made it super easy to find a wide-variety of full-time and part-time positions that can be done remotely. Simply navigate over to the Amazon Virtual Locations website which they use to post all new working from home jobs. Then navigate over to the sidebar and select USA (or whatever country you are in). Lastly, scroll down and click the "Work from Home" category near the bottom of the left column. This will filter all jobs by remote work and make it much easier to find jobs that you can do from home. The animated gif below will show you how to navigate this site.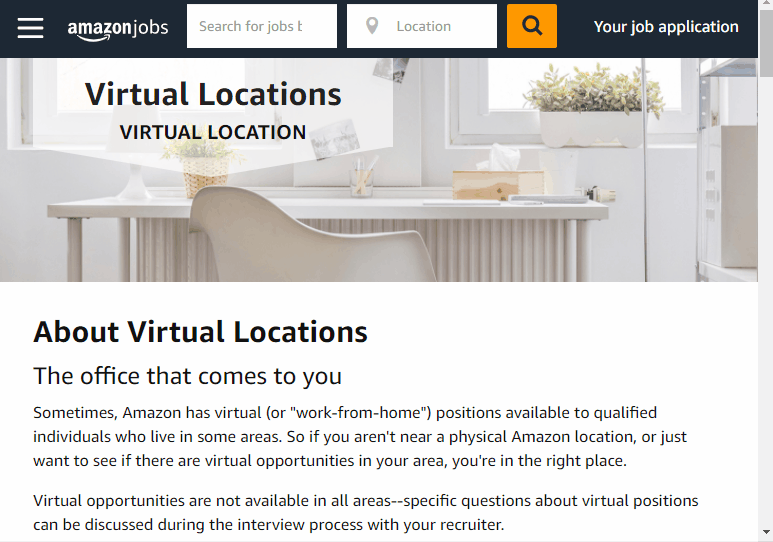 Type of full-time remote careers at Amazon
New job postings go up all the time on the Amazon Jobs site with a focus on remote work. We have pulled together a few examples to give you an idea of the types of jobs available full-time.
| Job title | Field | Amazon team |
| --- | --- | --- |
| Account Manager | Sales | Amazon Web Services |
| Associate Security Consultant | Web Security | Amazon Web Services |
| AWS Marketing Manager | Marketing | Amazon Web Services |
| Employee Relations Manager, AWS | Human Resources | Amazon.com Services |
| Front-End Developer | Software Development | Amazon Dev Center U.S. |
| Instructional Designer | Human Resources | Amazon.com Services |
| Instructional Developer | Human Resources | Amazon.com Services |
| Lead Solutions Design Engineer | Fulfillment | Amazon Robotics |
| Legal Roles at Amazon | Legal | Amazon.com Services |
| LMS Administration Program Manager | Training | Amazon.com Services |
| Manager, Technical Support | IT | Amazon Robotics |
| Principal Grants Program Manager: U.S. State & Local Government | Public Sector | Amazon Web Services |
| Security Consultant – Healthcare | IT | Amazon Web Services |
| Senior Data Scientist | Project Management | Amazon AI |
| Senior Instructional Designer | Artificial Intelligence | Amazon Data Services |
| Senior Logistics Manager | Public Sector | Amazon Web Services |
| Senior Sales Strategy & Operations Lead | Project Management | Amazon Web Services |
| Senior UX Designer | Design | Amazon.com Services |
| Software Development Engineer | Software Development | Amazon.com Services |
| Sr IoT Customer Delivery Architect | Project Management | Amazon Web Services |
| Sr Practice Manager, Media & Entertainment | Project Management | Amazon Web Services |
| Sr Program Manager | Supply Chain | Amazon.com Services |
| Sr. Creative Project Manager | Project Management | Amazon.com Services |
| Sr. Technical Writer | Writing | Amazon.com Services |
| Workforce Engagement Program Manager | Human Resources | Amazon.com Services |
Location requirements
While all of these positions are designated work from home, most of them still have a location requirement. The states that are most common include (but are not limited to):
Arizona
California
Colorado
Florida
Illinois
Maryland
Massachusetts
Minnesota
New Jersey
New York
North Carolina
Ohio
Pennsylvania
Tennessee
Texas
Virginia
Washington
Washington, D.C.
In some cases, there are also requirements to be close to specific cities such as Seattle Washington in order to be able to occasionally visit central offices for Amazon. There are also some positions available internationally in places like Canada, Great Britain, and Australia. Consider looking up whether there is an Amazon office within a distance that you could occasionally commute to.
Benefits available for full-time Amazon jobs
For regular full-time employees, Amazon offers a generous set of benefits including health coverage, dental coverage, matching 401(k) contributions, optional life insurance, and the ability to buy restricted Amazon stock units that the public does not have access to. Amazon also offers short and long-term disability as well as an employee assistance program. Some more unique benefits of being a full-time Amazon employee is that they cover adoption expenses like attorney fees and travel!
After one year of being with the company, employees are also entitled to fully paid maternity and paternity leave and an ability to slowly return back to work once this period completes.
Lastly, employees do get an employee discount on Amazon products.
---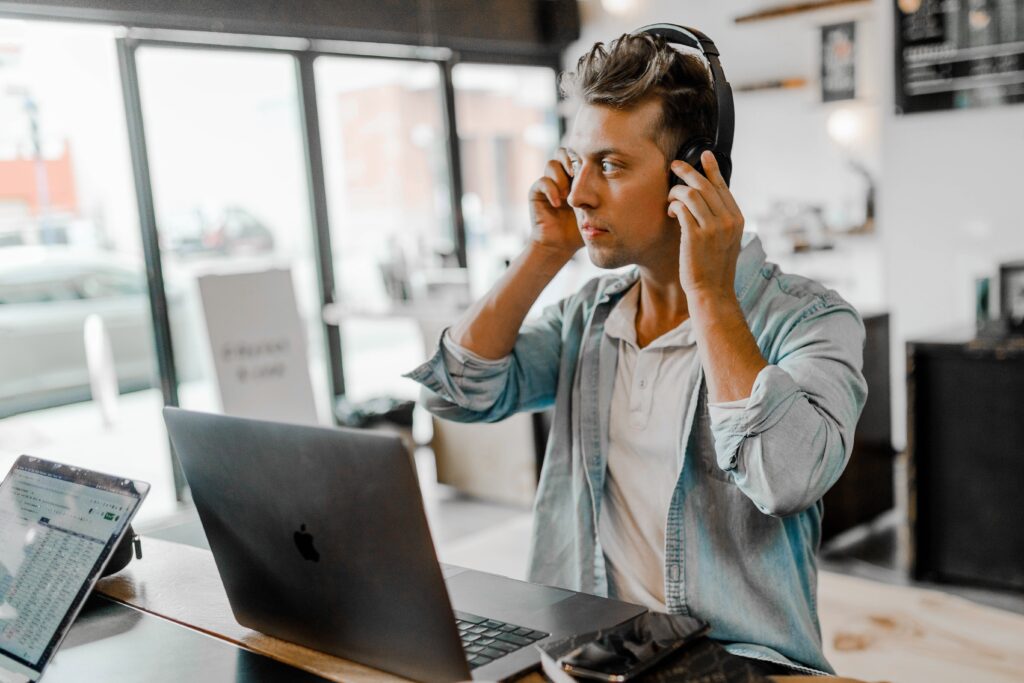 Other types of Amazon work from home jobs
Amazon Customer Service
One of the more sought after positions at Amazon is Work From Home Customer Service Agent. These positions appear quite often on the Amazon Jobs website on a special page dedicated to these jobs. There are work from home customer service positions all over the world in 40 different countries. The type of work you would be doing is dealing with customer issues on phone, chat, and email. An example would be a customer service agent that helps customers connect Amazon home theatre or smart home gadgets like the Fire TV. Others may be helping customers locate packages that have not arrived from Amazon.
To find these work from home customer service jobs at Amazon, check out this web page.
For most of these customer service positions, you will need a high school diploma, good language skills, high-speed internet, and good typing skills. Amazon is also looking for people who have an environment at home that is conducive to doing this type of work. This means limiting interruptions. It is also recommended to have some experience in customer service if you apply for one of these jobs. Be sure to mention this on your resume since Amazon doesn't take cover letters in applications!
Generally, you will see more job openings for customer service agents near the months of October and November, before the Christmas season starts. These may start out as temporary positions but can often turn into more permanent roles.
Amazon Mechanical Turk
Another popular and very accessible way to work from home for Amazon is to become a Mechanical Turk worker. Mechanical Turk is a popular site run by Amazon where workers take on casual small tasks on an online marketplace. These would be manual tasks that need to be done on a large scale by companies. Think of it like crowdsourcing small tasks and paying these workers for completing them.
In many cases, tasks on MTurk will be repetitive and quite small. Things like manually identifying images for artificial intelligence systems, or categorizing data on the web. These micro-tasks don't pay a heck of a lot of money, but it is a good way to build up some extra income, especially when you are between jobs. However, we'd also recommend that you check out some other (much higher paying) sites for doing similar small tasks. Instead of a full career, I would consider Amazon Mechanical Turk to be more of a side hustle.
Amazon PillPack work from home jobs
Did you know that Amazon runs a subsidiary called Amazon PillPack that is essentially an online pharmacy? We have noticed a tonne of new jobs showing up on the job application site for PillPack in the past couple of years. Jobs available from PillPack vary quite a bit, from actual Pharmacists to software engineers. For those with experience in the pharmacy industry, PillPack could be an excellent option to take your career entirely remote. Most of the jobs available to be done from home are focused on marketing, human resources, and software development.
Check out this special page on the Amazon Jobs website that lists all of the available work from home PillPack jobs.
---
Applying for remote Amazon jobs
Applying for any of the jobs listed on the Virtual Location Amazon Job site is as simple as submitting a resume. Amazon does not deal with cover letters at all so don't worry about them. But this means that your resume needs to be customized a little bit for the job since you can't provide additional context in a cover letter. Work samples may be requested if you get onto the interview phase.
Online assessment
Once you complete an online application you will then move onto an "assessment" phase. This assessment is meant to determine whether you should move onto the interview phase. It consists of an online assessment that takes about 10-20 minutes to complete. These are basically survey questions that ask you to rank how much specific statements represent your working style. There may also be a "work sample simulation" depending on the job your are applying for. These will also take about 20 minutes and are more oriented towards problem-solving in hypothetical scenarios that would come up in the job you are applying to. Be ready to work with data (tables, multiple choice, etc.) during this assessment.
After the online assessment, you will be notified via email if you are continuing to the next phase (an interview).
Interviewing for remote Amazon jobs
For most remote-based jobs, Amazon will conduct a phone/web conference interview. In some higher-level positions, there may also be an in-person interview. For this interview, it is based around what Amazon calls "behavior-based questions." These are scenarios that they present you with and then ask you about your experience in handling them in real life. To prep for this, it is good to brush up on any learning experiences or challenging experiences you have had in previous positions, especially when it comes to managing other staff or collaborating on a project. For some technical roles, Amazon also gives some advice on preparation here.
---
Other excellent places to get work from home jobs
While Amazon is certainly one of the biggest remote working employers, they are by no means the only one. We have pulled together a list of the top companies that hire remote employees here. If you're interested in knowing what kind of positions are available to be done from home, we listed the top 100 work from home jobs and their average salaries.
And if you are looking for something that is not full-time, check out our list of work from home side hustles that allow you to get paid for testing websites and doing other small tasks online.
---