Over the years I have tried a lot of keyboards. Everything from a basic Microsoft cheap-o keyboard to a top-of-the-line mechanical one. I've learned a few things over this time. (1) I have a definite preference for a specific size/layout, and (2) Keychron wireless mechanical keyboards are my jam.
Over the past 2 years I have found myself coming back to the Keychron K8 wireless mechanical keyboard time and again. It's sleek design, excellent battery life, and awesome tenkeyless layout have cemented its place as my favorite mechanical keyboard around.
What I used to use
I have two keyboards that used to be my favorite. The first was a basic wireless ergonomic keyboard from Microsoft. It got the job done and was super comfortable with a built-in wristpad. However, it was full-size so it took up a lot of valuable real estate on my desk. It was only when I started dipping my toes into the wild world of mechanical keyboards that I realized that full-size keyboards are not for me! I don't normally use the number pad in everyday activities so that entire side of the keyboard was essentially a waste. So I kept on looking…
After several months of careful research, I landed on the Durgod K320 TKL keyboard. I chose the Cherry MX Brown mechanical key switches which provided a nice tactile bump. But, perhaps even more important was the layout. I decided that the num pad was out. But I did prefer to have a full-size arrow cluster and page up and page down buttons. Hence why I have chosen the TKL or "tenkeyless" layout as my go-to. It has good arrows, a full-size function row, and enough room to breathe when doing normal productivity work from home.
The K320 is an awesome keyboard but I still found it lacking on a few fronts.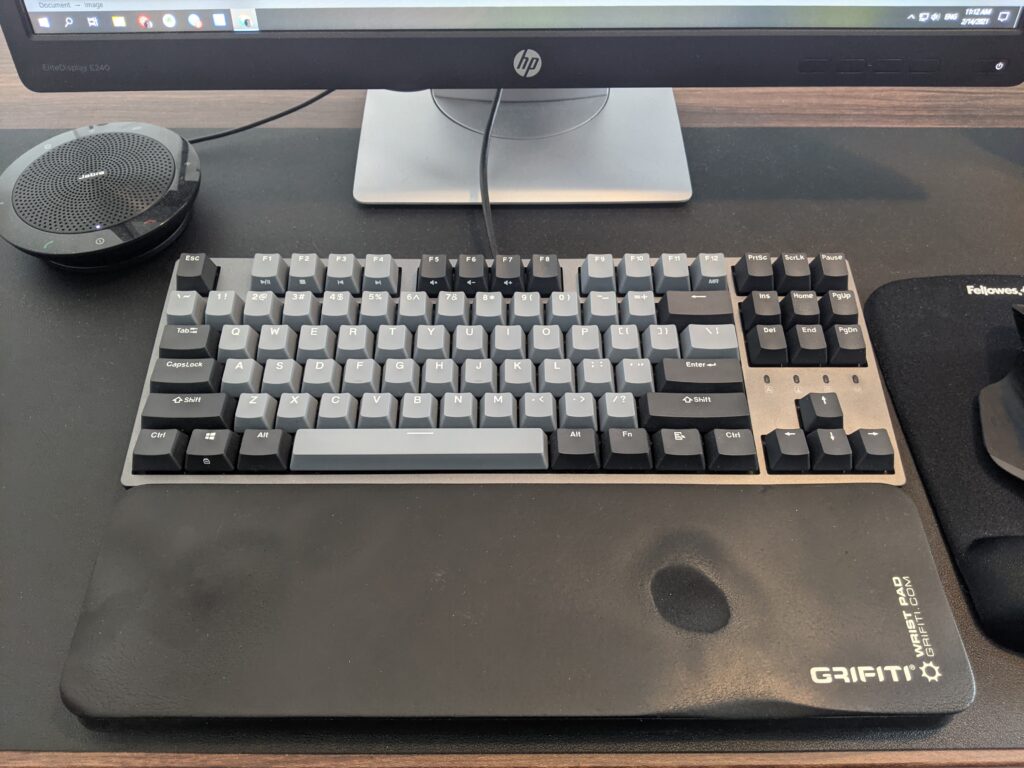 Why I made the switch
I wanted to stick with the TKL layout because it was a great happy medium between size and functionality. I loved that it centered the keyboard on my monitor much more than a regular keyboard (because it chops off the num pad on the right). Ergonomically TKL seemed to be the right fit. But I wanted to declutter my desk even more than I had. One word: wireless.
Wireless mechanical keyboards used to be a bit of an oddity in the keyboard space. That is until Keychron launched its first wireless Bluetooth keyboard a few years ago. And surprisingly reviews were good! With a few years of honing their production of wireless mechanical keyboards under their belts, I felt it was time.
The Keychron K8 has ended up being by far my favorite mechanical keyboard ever since I picked it up over a year ago. So let me tell you why I liked it so much that I bought a second for my wife's home office setup…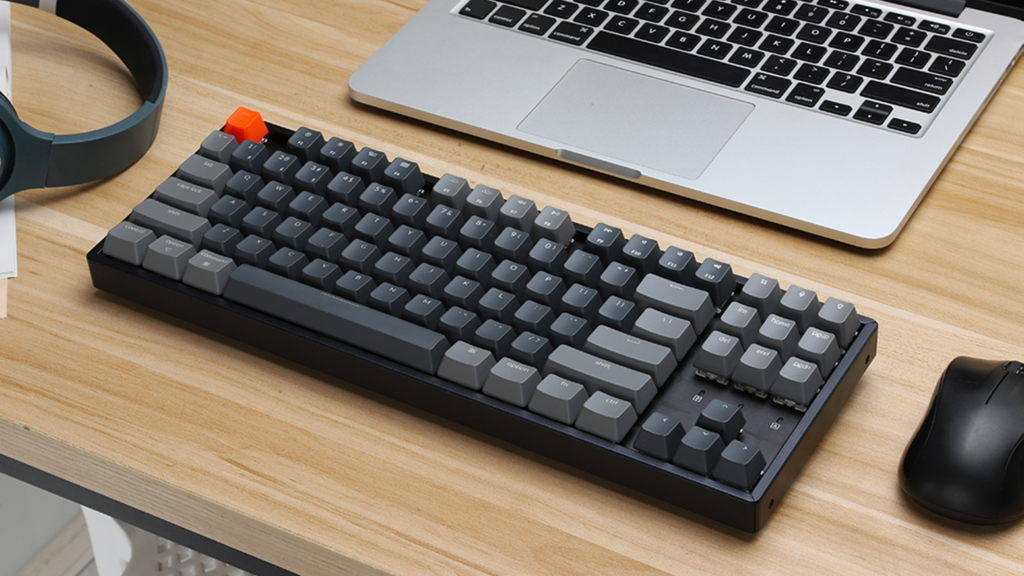 Design and ergonomics
Keychron seems to take a lot of design inspiration from companies like Apple. The boards themselves are minimalist, yet flashy in just the right kind of way. There is no wasted space, with a nicely defined arrow cluster on the right and a hidden USB Type C charging port on the far left of the case. Right next to that are two switches. One to flip between macOS and Windows, and one to turn on Bluetooth or wired mode.
The keys come in a nice understated two-tone gray color, and are finished with an almost slightly rubbery surface. This was a change from the Durgod which had excellent double-shot PBT keycaps that are arguably even more durable. But, honestly I kind of prefer the soft-touch feel of the included keycaps with the Keychron K8.
The only slight negative with this keyboard (and all Keychrons actually) is that they are raised a bit more than other keyboards. This means that you probably want to pick up a wrist rest to raise your hands up when you type. I have this one from Grafiti and it works perfectly for the TKL layout.
Wireless and decluttering
Sometimes moving from tried and true wired devices to wireless can introduce all kinds of annoyances, hiccups, and limitations. That is absolutely not the case with the K8. I have a Windows setup so as soon as I unboxed the keyboard I swapped out the macOS keys with the ALT and Windows keys (which are included with a nice key puller). All it took to get it up and running was a basic Bluetooth pairing using a quick key combo (function + 1 for 4 seconds) and pairing within Windows. That was over a year ago and I sincerely haven't had to monkey with anything. No dropouts, no Bluetooth weirdness, no hassle. Why don't all electronics function like this?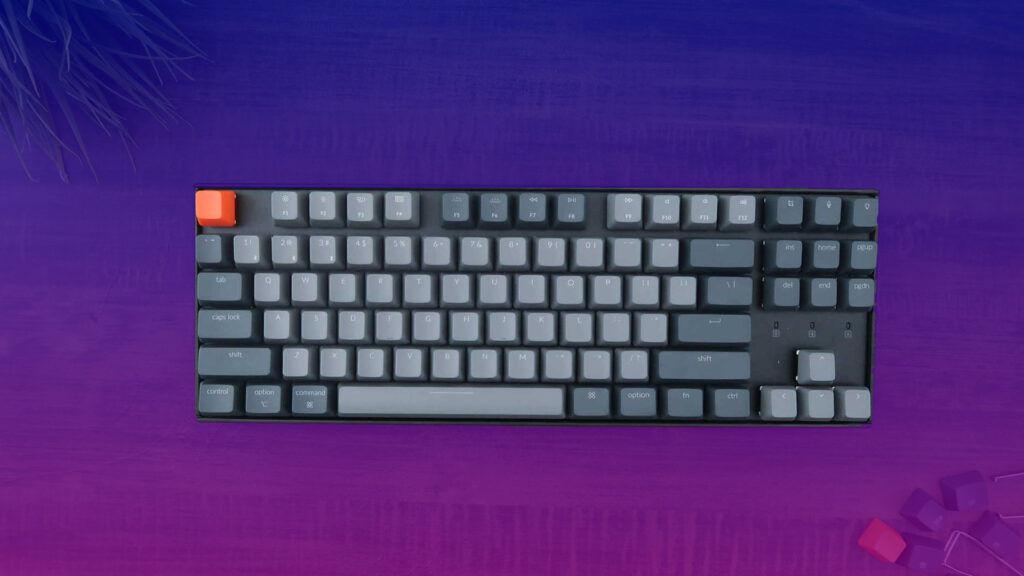 RGB vs white backlight
I opted for the RGB style of backlight. Because the keys are made of ABS plastic, they are really good for shining the backlight through. I'm no gamer, but I appreciated all of the RGB backlight settings that Keychron includes out of the box (no software install needed). Keychron includes a dedicated backlight control button in the top right corner that swaps between several modes. My favorite is an understated one that only turns on light after you press a key, with a nice subtle fading away of the backlight over about a second. It looks nice and doesn't give off the vibe that I am a Fortnite professional.
Battery life
Now, this is the one category that was a bit of a test for me. How long could a wireless keyboard actually last? Well, I'm happy to report that I usually get around a month of juice off a single charge. This is when using it daily for basic productivity work from home. By pressing the function + B key you can see how much power is left (denoted by backlighting the keys with green, blue, or red). I couldn't believe how long this thing kept on showing green!
This is probably because the case for the Keychron K8 is fairly sizeable. It's nothing unmanageable, but you can feel the weight when you pick it up. And once the keyboard does run out of juice, I can charge it up in a couple hours via my 45W USB C charger from Anker (side note: you should get one of these).
Switches
As mentioned earlier, my first foray into mechanical keyboards was with the excellent Durgod K320. With this board, I discovered the beauty of mechanical keyboards. I am a sucker for Cherry MX Brown style switches since they give a really nice sense of feedback with a gentle tactile "bump" when you press a key. When you press a key you really know when it engages. And as opposed to the Cherry MX Blue's, the Browns aren't ridiculously loud. This was important to me because I work from home and can't have super loud clicking coming from my keyboard if I happen to be off-mute on a Teams call.
As I alluded to earlier, I liked this keyboard so much that I bought a second! This time I decided to get the Keychron Gateron Red switches as opposed to the Browns. Call me impressed! While I still prefer browns, the office setup where I put the second keyboard is in a shared space in the basement so the even quieter linear reds are perfect. For someone with a dedicated office with a closing door, I would probably recommend browns though, since they just feel so good.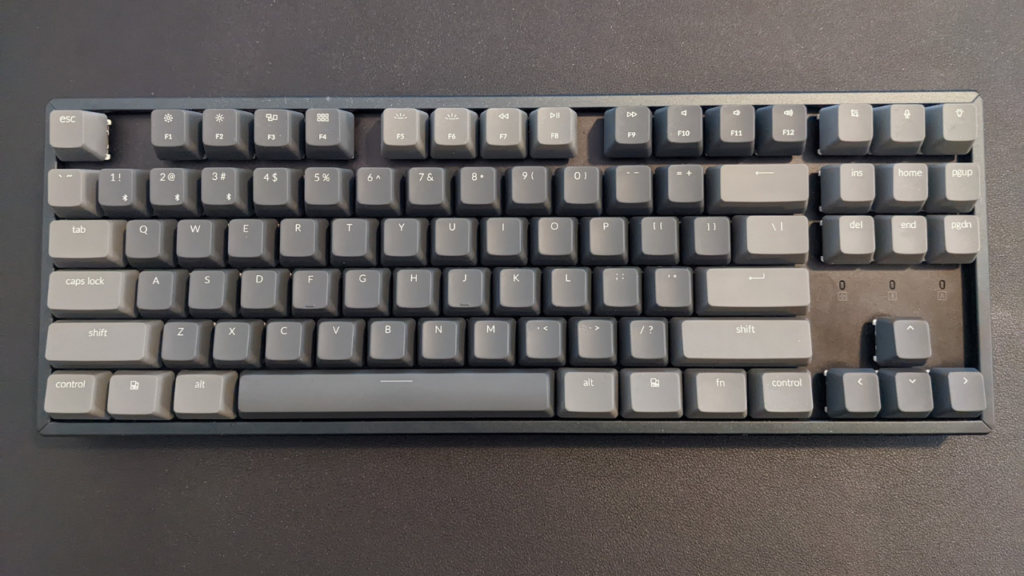 Compatibility and multi-user
Keychron makes a big deal about their keyboards being macOS and Windows compatible right out of the box. The fact they even include the requisite keys in a small bag to switch over to Windows is excellent. I personally haven't used the K8 with a Mac, but thousands of Mac users swear by these keyboards so I have to assume it is all good on the operating system side of things.
For my work-from-home setup I actually regularly swap offices with my wife. The "second" office is in the basement so it is nice to be able to have a change of venue every few days. For this, the Keychron K8 is simply awesome. It has three memory functions for remembering a Bluetooth connection. Simply press function + 1, 2, or 3 and it jumps over to that pre-configured Bluetooth connection. Again, no fuss here. It just works for my Lenovo X1 Carbon and her HP laptop.
Conclusion – A mechanical keyboard for a professional
I never thought I'd be that guy that evangelizes for mechanical keyboards every chance I get. But the Keychron K8 really is that good. The thought of moving away from the TKL layout and into a wired keyboard again is just ridiculous. I have tasted a bit of the future and I'm never going back.