The devices you interact with the most when working from home are your mouse and keyboard. So why do so many get by with such low-quality keyboards? First, a really great keyboard is actually not that expensive. Second, you might be actually injuring yourself with a bad keyboard, and at the very least, your productivity is suffering. We are going to recommend the best keyboard for working from home in several categories like wired, wireless, budget, ergonomic, and finance/coding. So let's get into it.
The best keyboard for most people working from home is the Durgod Taurus K320. This is a mechanical keyboard so it gives great tactile feedback and will allow you to type your fastest. It also has a great ergonomic incline so you won't risk wrist injury and it can be programmed to fit your specific needs. For a budget mechanical keyboard, this is an impressive device that won't break the bank to add to your work from home setup.
Of course, the Durgod K320 won't work for everyone. So we are going to go through a few alternatives as well.
---
The best overall keyboard for home office use
As mentioned above. We absolutely love the value proposition offered by the Durgod Taurus K320. We love it because it provides premium mechanical keyboard features but at a very reasonable price. The K320 is what is called a Tenkeyless design. This means that it omits the dedicated number pad, but keeps dedicated arrow buttons and some function buttons like insert, home, and page up and down. We think this is the best middle ground in terms of functionality and size. For most people, a number pad is just not necessary. And the space you save will allow you to place the K320 more in the center of your desk. This placement is better for your body position in front of your monitor instead of pushing your arms off to the side.
Of course, the big feature of the K320 is its mechanical keys. It is available in Cherry MX red, brown, and blue switches. For those uninitiated to the mechanical keyboard world, these are three types of "feels" of keys. These keys all will feature actual physical travel as they pressed, giving much more of a tactile experience over the "mushy" keys on many of the low profile digital keyboards pumped out nowadays. And the difference is huge. Serious typists will notice an immediate change in their speed and accuracy on one of these keyboards. I'm never going back.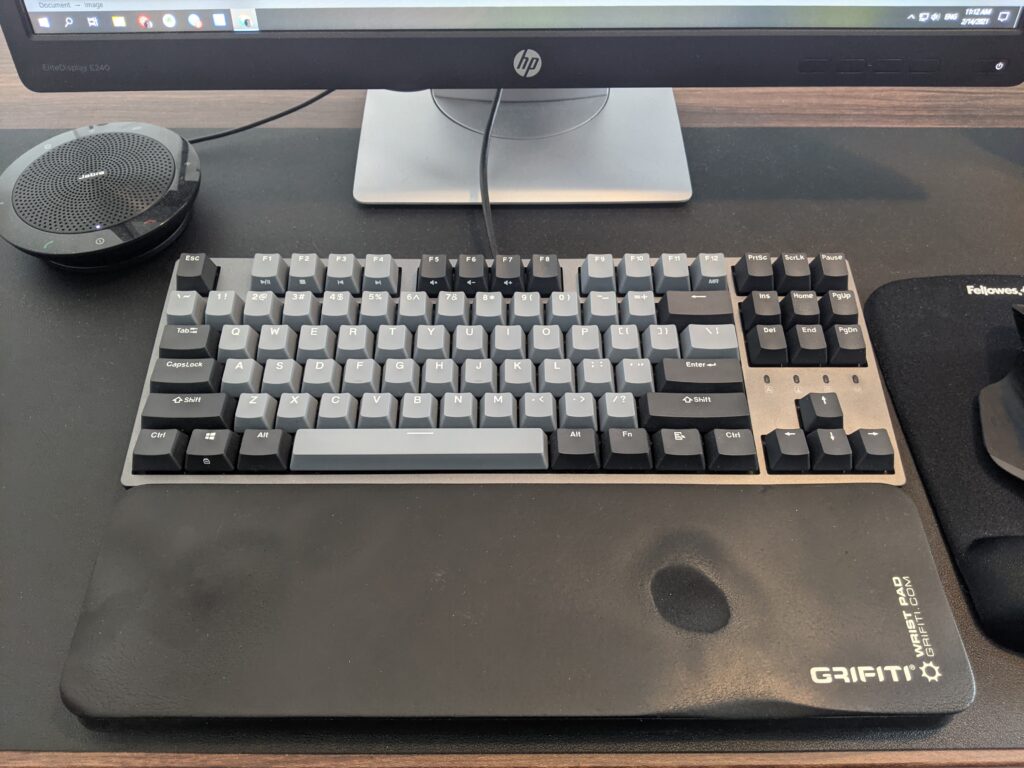 The model I am currently writing this article on includes the Cherry MX Brown switches. These provide a tactile bump to each key that makes it clear when you have actually depressed the key. If you opt for the Red switches, you will still get key travel but no tactile bump. The Blue switches will be on the other side of the spectrum. They have the physical bump but also add a very satisfying click to each keypress. I personally find the blues to be a bit too loud in my office environment but many office workers swear by them.
Lastly, the keycaps themselves on this keyboard are top-notch. Instead of using throwaway normal plastic keys, the K320 uses Double Shot PBT keycaps. These actually have each letter on the key injected into the PBT plastic as opposed to just being painted on. This means these keys will basically last forever.
This is a wired keyboard, so those looking for wireless capability should keep reading for our favorite wireless pick. But the connection is USB Type C which is excellent. We're very happy to see older US standards like micro USB finally dying.
Overall, you won't find a better mix of materials, features, and aesthetics on a keyboard for this price. And that's why we recommend this keyboard to most people working from home. We do recommend grabbing some kind of wrist rest to complement this keyboard like the Grifiti wrist pad shown above.
---
The best wireless mechanical keyboard
If you loved our top pick, but need something that is wireless, look no further!
Keychron started out as a Kickstarter several years ago and has been steadily adding excellent wireless mechanical keyboards to their lineup ever since. And without a doubt, the Keychron K8 is my favorite. I am partial to a tenkeyless design, so the setup of the K8 is perfect for my taste. The K8 comes in a choice of red, brown, and blue Gateron switches. I don't like them quite as much as Cherry MX switches, but they are still very excellent. The keys themselves are double-shot PBT and can be arranged in a Mac or PC setup with the included extra keycaps.
The whole keyboard just exudes quality. The aluminum frame is slightly angled to allow for a more ergonomic position for your wrists. The K8 is significantly more angled than previous models of Keychron keyboards like the K1 and K2 which is a welcome change. I still would recommend a wrist rest on this model, however.
The biggest draw of the K8 is the fact that it contains a 4000mAh battery that will last 72 hours. This makes this keyboard able to be used wired (with the includes USB Type C cable) or Bluetooth. So if your work from home setup needs a little more slickness (and fewer wires), this might be the right pick for you. Oh, and it includes full RGB lighting control, if that's your thing.
---
The best non-mechanical wireless keyboard
Not everyone wants or needs a mechanical keyboard. In fact, sometimes there are a few extras that may be worth going with a more typical rubber dome keyboard instead of mechanical.
Yes, I am partial to the old school feel of a mechanical keyboard. But not everyone is. If aesthetics and sleekness are big considerations for you, the Logitech MX Keys is about as good as you are going to get. This is a cousin to the amazing Logitech MX Master 3 mouse that we have grown so attached to in recent months. The MX Keys has a unique low-profile design that has a very nice angle to accommodate an ergonomic wrist posture. The keys themselves are chiclet-style and have a nice circle indentation in them that feels really great as you type. And the backlight function on this keyboard is the best of the bunch in my opinion since they will automatically turn on when your hands approach using a proximity sensor. This is some awesome tech.
One large difference between this keyboard the K320 or K8, is that this is a full-size keyboard. This means it retains a dedicated number pad. So for those of you in finance or in programming, this is a big plus. The wireless functionality in this keyboard is best in class. Instead of a measly 72 hours from the Keychron K8, this keyboard offers 10 days of charge even with the backlight on.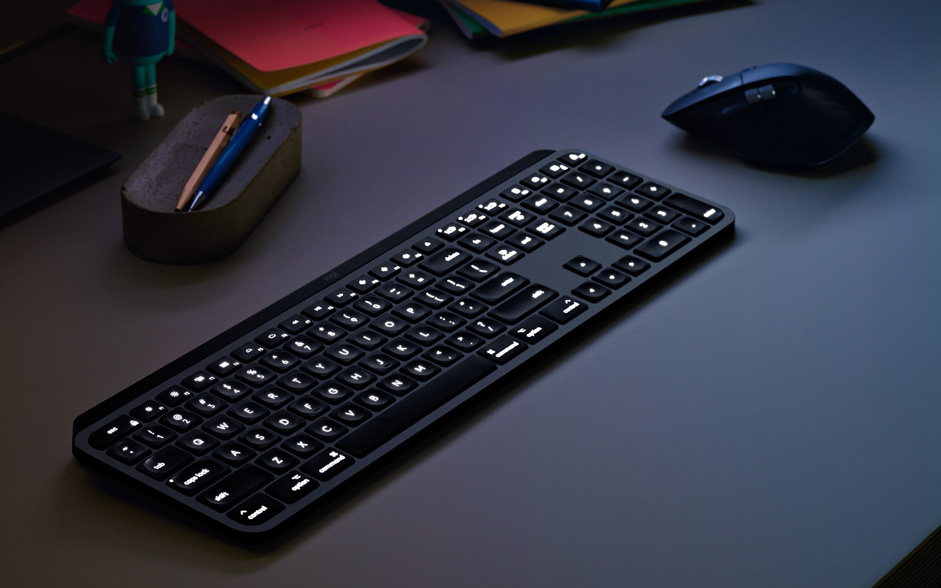 The last really cool feature of the MX Keys is that it uses Logitech's Flow cross-computer control. This is a system where this can be connected to multiple computers at once, seamlessly flowing even across operating systems. it's awesome, and it pairs really nicely with the MX Master 3 mouse if you work across multiple devices daily. Overall, this is a great keyboard for anyone that wants wireless, great battery life, and some bells and whistles offered by Logitech's customizable companion app.
---
The best keyboard for programmers or finance people
If you are a gamer, programmer, or finance person, the Razer BlackWidow Elite keyboard might be your new best friend at the office. This is a full-size keyboard with a dedicated number pad that is ideal for those working with numbers all day long. So for programmers and finance staff, this is a great option. The keys use Razer's mechanical Green switches which provide nice tactile feedback and are excellent for speed and accuracy. They are actually designed for gamers first, so if you play a few games in your off-time then this is an even better option.
The media controls and connectivity on this keyboard are just plain awesome. You have dedicated media keys and even a really nice tactile volume knob in the top right of the keyboard. On the left side, you have a headphone jack and USB passthrough. So if you have some peripherals, you can power them and passthrough data with this USB port. For programmers and finance people, the BlackWidow Elite has programmable macros that can trigger often-used key combos that can be remapped across the keyboard.
Build quality is excellent, with a very rigid metal frame and a really nice magnetic wrist rest that snaps to the front of the keyboard. Like everything Razer makes, you're gonna pay a bit of a premium for these features, but they amount to a really nice package.
---
The best ergonomic keyboard
When you're working on your keyboard for long hours, you're going to want to use as comfortable setup as possible. This is where ergonomic adjustment comes in. Most keyboards are just a slab of metal and plastic and don't really physically adjust to meet your ergonomic needs. Enter the Logitech Ergo K860. This is probably the most comfortable keyboard that has ever been produced.
First, you'll notice that this keyboard is a split design. This allows your wrists to rest at a more natural angle. Further, Logitech has built a "wave" into this keyboard (which you can see in the photo above). This outward slope further reduces any strain on your wrists and forearms when typing.
The Ergo K860 also comes with a really nice pillow wrist rest which you would generally have to buy separately from other manufacturers. The keys are non-mechanical but feature nice indented scoops that feel good to type on. The whole keyboard can be adjusted to 0°, -4°, and -7° of angle to match whether you are typing sitting down or standing up with a sit-stand desk.
Lastly, this keyboard is wireless, featuring either a USB dongle or Bluetooth connection so you can keep your desktop free of wire clutter. Just note that this keyboard is wireless ONLY, so if you run out of juice, it will need to be recharged before using it. Like the MX Keys, the Ergo K860 can connect to up to 3 devices at the same time and switch seamlessly between them using Logitech's keyboard software. Overall, we love this keyboard for those of you that do a lot of typing and want to avoid any wrist or arm injuries.
---
What is the best keyboard for working from home?
As you can see, there are several kings in the keyboard space right now, depending on your particular circumstances. But for 90% of users, we still think they will get the best value out of the excellent Durgod Taurus K320 mechanical keyboard. Its feature set, quality build, and nice-looking aesthetic are just too good to pass up on.