Logitech MX Master 3S review:
The Logitech MX Master 3s is a highly anticipated upgrade to its predecessor, the MX Master 3, and it doesn't disappoint. Packed with advanced features, ergonomic design, and unparalleled precision, this mouse offers a seamless and efficient user experience. In this review, we will delve into its performance, design, customization options, and overall value, showcasing why the MX Master 3s is a top contender in the realm of productivity mice.
My experience over 6 months of owning one
I upgraded from the MX Master 3 this year and have been using the 3S ever since. It is a similar mouse, but upgrades can definitely be felt throughout. First, I find the click on the 3S is less hollow and just feels better than the MX Master 3. Second, the Logitech Options+ software is more intuitive than its predecessor (note that they have updated the MX Master 3 to also use this software now). Battery life is another area that has received a boost. I find I am easily getting an extra week out of the Master 3S.
Overall, it is really an iterative improvement over its predecessor. But if you are in the market for the best of the best in terms of work from home mice for productivity work, this is the one to get.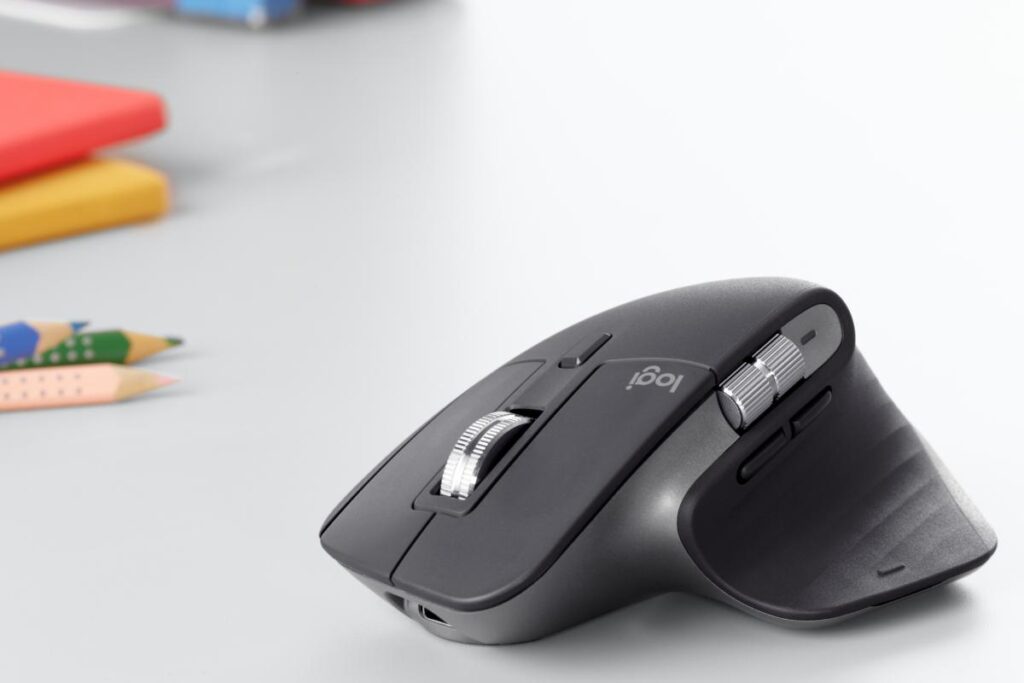 Performance and Precision:
The MX Master 3s boasts Logitech's signature Darkfield™ 4000 DPI high-precision sensor, which delivers flawless tracking on any surface, including glass. This technology ensures precise cursor movement, making it ideal for tasks that require pixel-perfect accuracy, such as graphic design and photo editing. Moreover, the mouse offers swift scrolling through documents, thanks to the electromagnetic MagSpeed wheel, which offers both rapid and precise scrolling options. The tracking and responsiveness of the MX Master 3s are exceptional, enabling smooth and effortless navigation across multiple screens.
Ergonomic Design and Comfort:
Logitech has always excelled in crafting ergonomically superior products, and the MX Master 3s is no exception. The mouse features a contoured shape that fits snugly in the hand, providing exceptional comfort during extended use. The textured thumb rest adds to the grip, ensuring a secure and relaxed hold, while the buttons are conveniently placed within easy reach. The mouse's weight and balance are also well-calibrated, allowing for precise control without strain. Logitech has truly designed the MX Master 3s with ergonomics in mind, catering to long hours of work without sacrificing comfort.
Customization and Software:
One of the standout features of the MX Master 3s is its extensive customization options. Logitech's Options software allows users to personalize button functions, gestures, and even application-specific settings. With up to six programmable buttons, users can assign various commands, making repetitive tasks a breeze. The software also supports multi-device connectivity, enabling seamless switching between different devices at the touch of a button. This versatility is a significant advantage for professionals working across multiple screens or devices.
Wireless Connectivity and Battery Life:
The MX Master 3s offers both Bluetooth and USB wireless connectivity options, providing flexibility for different setups. The Bluetooth pairing is straightforward, and the mouse maintains a stable connection without any noticeable lag. For added convenience, Logitech has integrated a USB Type-C port, allowing for both charging and connectivity. The battery life of the MX Master 3s is impressive, with a single charge lasting up to 70 days, making it a reliable companion for long work sessions. Additionally, the mouse supports quick charging, providing a full day's usage with just a few minutes of charging.
Build Quality and Durability:
Logitech has crafted the MX Master 3s with high-quality materials, ensuring longevity and durability. The mouse's body has a premium feel, with a combination of matte and metallic finishes, giving it a sleek and professional look. The main buttons are responsive and have a satisfying click, while the scroll wheel feels sturdy and well-constructed. The overall build quality of the MX Master 3s instills confidence in its ability to withstand rigorous daily use.
Conclusion:
The Logitech MX Master 3s is a remarkable mouse that delivers exceptional performance, comfort, and customization options. With its precise tracking, ergonomic design, and extensive software features, it caters to the needs of professionals and power users alike. The MX Master 3s stands out as a top-tier productivity mouse, enabling users to maximize their efficiency and navigate seamlessly across multiple screens. Although it comes at a premium price, its advanced features, build, and ergonomic features more than justify it.