The tempered glass shows no signs of wear after almost two years
The glass is way more durable than both PVC and polycarbonate mats
Make sure you don't impact the mat with metal or you'll be in for a bad time
I honestly had no idea that one of my favorite purchases of 2020 was going to be a chair mat… Seriously, what a mundane addition to my work-from-home setup! But here we are, I'm about to wax poetically about my Lorell Tempered Glass Chair Mat that I bought a few months into the COVID-19 pandemic. I've now been using this chair mat since May 2020 and have a few thoughts after using it for the long term. Spoilers: It's awesome and you should probably get one.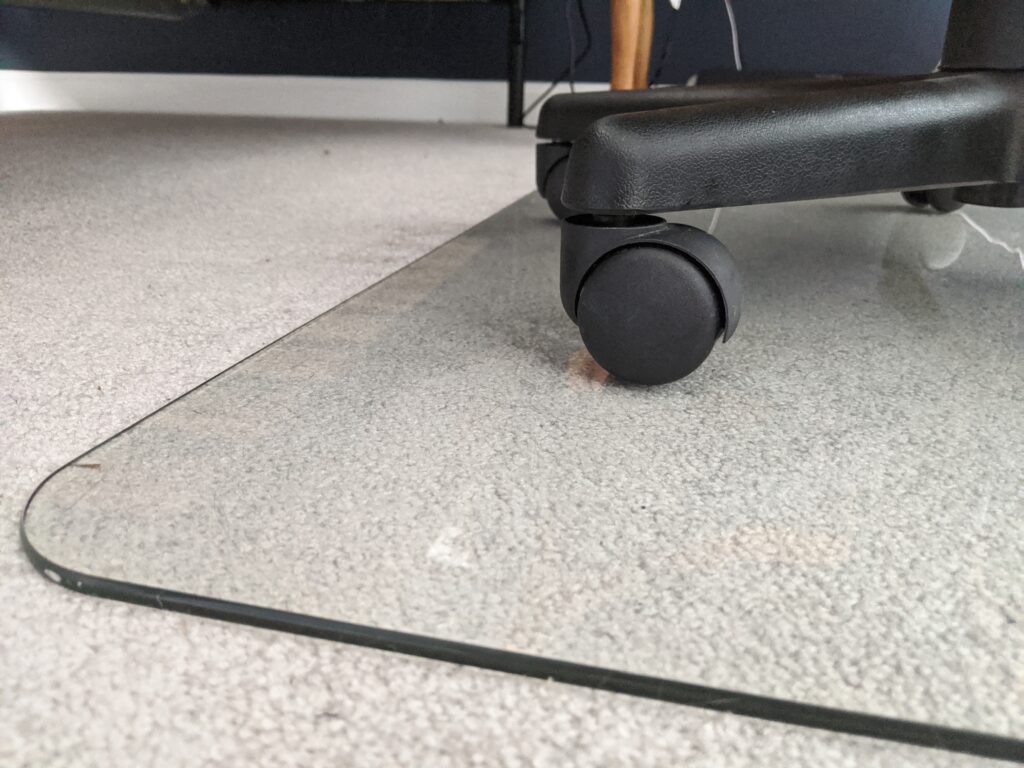 Best glass chair mat: Lorell tempered glass chair mat
This is the pinnacle of chair mats. Super durable tempered glass, incredible build quality, and an excellent warranty make the Lorell tempered glass chair mat a winner for any home office. I liked it so much I bought it twice…
Glass VS plastic chair mats
First up, why the heck would you want a tempered glass chair mat instead of those ubiquitous plastic ones all over Amazon? The short answer is durability and keeping its shape. There are three main types of office chair mats out there: (1) PVC, (2) polycarbonate and (3) tempered glass. PVC (or vinyl) are of the lowest quality. They are cheaper, but they are very pliable and will generally be very susceptible to deforming under the weight of your chair. I don't recommend these at all. Polycarbonate mats are better, but will still show major signs of wear and tear after long-term use. This means you will start noticing divots and channeling on the mate where your chair casters usually sit.
Tempered glass, on the other hand, is incredibly durable. You won't see any signs of deformation even after very long-term use. Its rigid structure also allows for a very smooth rolling experience. Lastly, glass will do a better job at protecting your floor from damage whether it's carpet or hard floorings like hardwood or luxury vinyl plank.
Want to know more about why you might want to go with a tempered glass chair mat? Check out our buying guide on office chair mats.
Size and shape
The Lorell glass chair matt is a great size for most desks. It is a rectangle shape with nicely rounded corners and even a great round-off on all of the edges. There are no sharp corners whatsoever on the mat which is a nice change of pace from super-sharp plastic mats I have used in the past. There are multiple sizes available, but the main one sold on Amazon is probably the one you are looking for if you have a standard-sized desk.
| | |
| --- | --- |
| Lorell tempered glass chair mat specs | |
| Mat Weight | Approx 40 lbs |
| Mat Width | 46″ |
| Mat Length | 36″ |
| Mat Thickness | 0.25″ |
| Max weight support | 1000 lbs |
I use it under my Vari Electric standing desk and the second mat we bought fits perfectly under the slightly smaller generic standing desk my wife uses in her office. Just make sure you measure the distance between the feet on your desk to make sure this mat will fit.
Long term durability
The mat is rated to support up to 1000 lbs and I believe it. This is a beefy chair mat that can really take a beating. Like I said earlier, I have had this thing for almost two years now and literally can't see a single spot of wear. Mind you, I do use a Herman Miller Aeron chair on it with softer wheels than some generic chairs out there. But I think if you have any decent office chair with good casters, you'll be totally fine in the durability front.
In terms of how it has protected my floor, it is excellent. I installed this in my office which has a medium pile carpet. I have removed the chair mat a few times to see how the carpet underneath is fairing and it is excellent, with no wear at all. This is in contrast to the PVC mat I had previously which chewed up the carpet underneath it due to the grip nubs underneath. All around, this is a much better solution.
It's also worth noting that I occasionally will roll my chair off the edge of the chair mat. I initially thought this might cause the glass to scratch (or worse) but, again, no wear whatsoever.
Warranty
Lorell provides a solid 5-year warranty on these chair mats which I think is pretty good for a product like this. I haven't needed to call on the warranty at all, however.
Things to remember
The casters you use may impact durability. As I said above, I use a Herman Miller Aeron with fairly soft casters. If you have a cheaper office chair with very hard plastic casters, your mileage may vary. But most casters are very easy to replace with an after-market set like these on Amazon. These are roller-blade style but you can also get more typical shapes online.
Lorell recommends using the included "adhesive dots" when you put the chair mat on a hard floor like hardwood. I did this on the second mat that I bought for a luxury vinyl floor in my basement. The dots are a sort of hard rubber material and provide bother good protection for the floor and make sure the mat doesn't slide around. Speaker of sliding around, this is the one area where I did have a slight issue. On my medium pile carpet, I found that the mat would slowly slide across the carpet over time when I rolled my chair. What I ended up doing is installing both the adhesive dots and another set of grippier rubber pads on the bottom. These have kept the mat much more stationary and I don't have to reposition the mat as much. I do find that once every few months I may need to nudge the mat a little.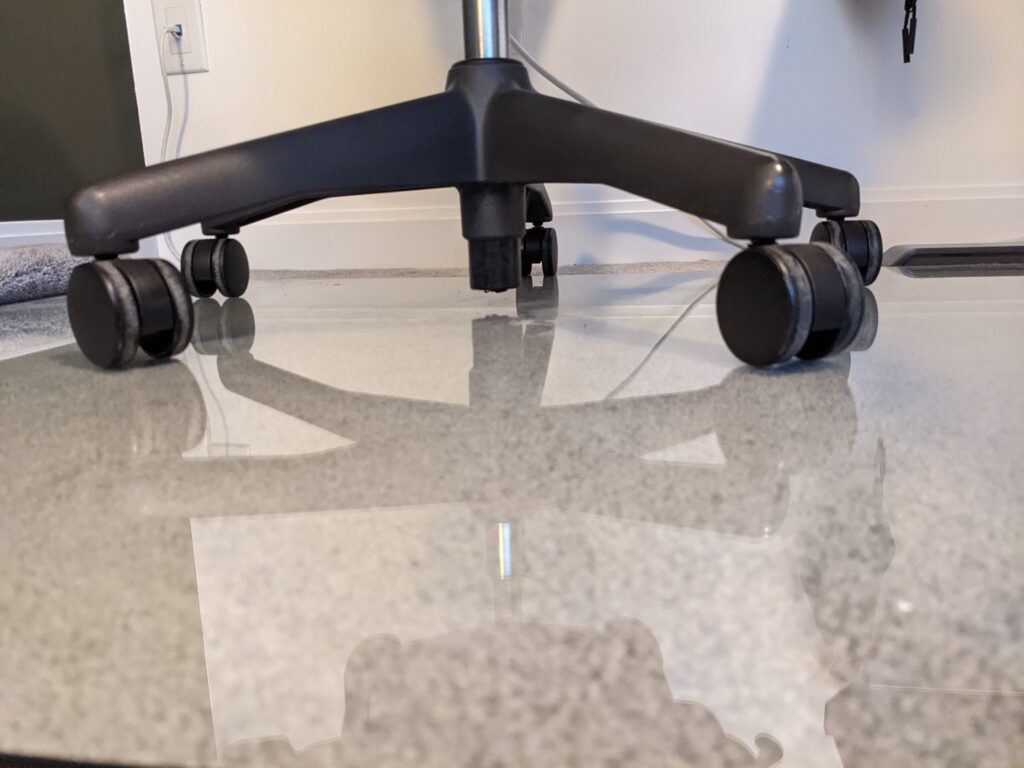 You'd also notice in the photo above, a little DIY bumper that I made out of some spare carpet that I wrapped around some foam. I made this so if I roll backward quickly in my chair that there is a barrier so I don't roll right off the mat into the wall. This is mainly because the tempered glass is so smooth, your chair rolls really well (sometimes too well).
One of the biggest precautions you'll have to take with any tempered glass chair mat is to never impact it with metal. This means chair legs, desk legs or anything else metal. This is because metal is notorious for shattering tempered glass. It's not a big issue, but just something you need to keep in mind.
Liked it so much I bought it twice
As I've mentioned a couple of times already, I was so satisfied with this purchase that I bought one for my wife as well. She has set up her office in the basement on vinyl flooring and it works just as well there. Aesthetically, the mats look WAY better than any of the PVC or polycarbonate mats out there. Dare I say they look classy?
Delivery
Lorell really puts a lot of care into the packaging for this chair mat. It is heavy, so the cardboard and styrofoam packaging is substantial. I didn't have any issues with broken packaging or any damage out of the box. Just make sure you are able to move the almost 50-pound chair mat once you unpack it!
Conclusion
If you are trying to invest in quality products in your home office, the Lorell tempered glass chair mat is one of those products. Its durability is way better than both PVC and polycarbonate and the fit and finish on the mat are excellent. I can't recommend it enough for people with either carpet or hard floors.