In March 2020 I bought my first pair of Duer jeans. For years I had been looking for a higher quality pair of jeans to replace my precious Levi 511's, which have gone downhill in quality in recent years. And my goodness, I couldn't have picked a better year to do it. I first picked up a pair of Duer performance denim as a pair of jeans I would bring on a trip to Arizona in the early months of 2020. So in my mind, I was buying a pair of jeans that could be used in hiking as well as out to a restaurant. It just so happens, that I think I also found the perfect pair of work from home jeans – and pants generally.
I'm going to try to make the case for Duer jeans as your ultimate pair of work from home pants because they are: (1) super durable, (2) endlessly comfortable, and (3) stylish. Yes, I'm aware that nobody is seeing my legs while on Zoom calls. But someday I will be seeing people in person once again in a work environment, and with my Duers in hand I am ready!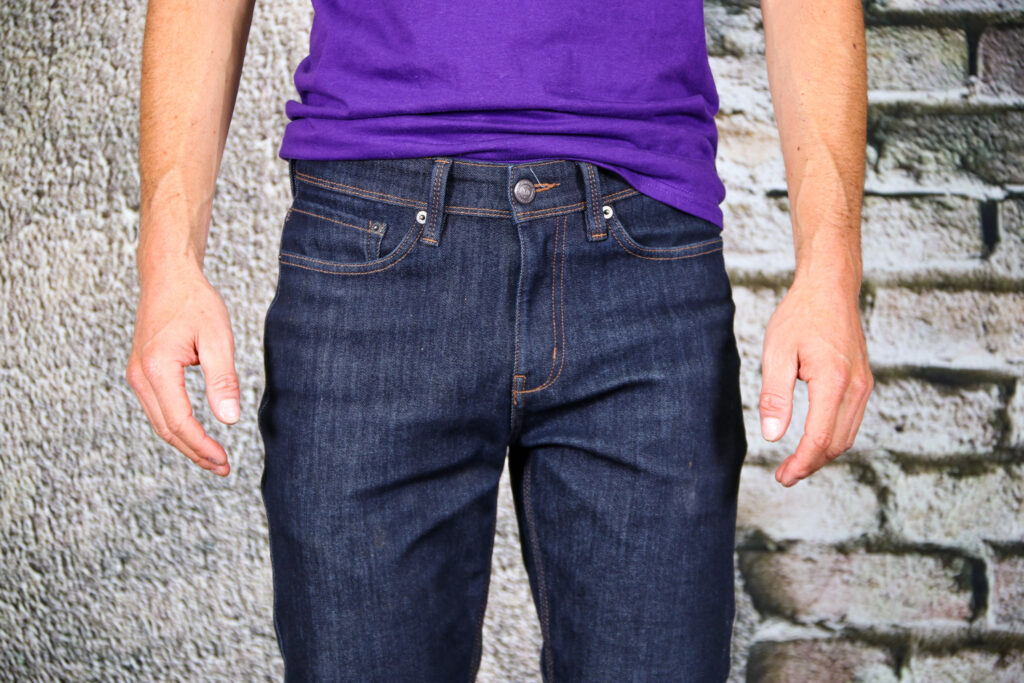 Best work from home jeans:

Duer Performance Denim

Amazingly comfortable jeans that feel more like you're wearing sweatpants at your desk. Duer's durability, comfort, and good looks result in a pair of jeans that can just as easily be worn on a hike as to the office.
Why Duer make the best work from home jeans
They are the most comfortable pants I own
I am serious. I own several pairs of sweatpants, pajama pants, khakis, track pants, and shorts. And my go-to pair of pants for working from home is my pair of Duer jeans. Usually, denim will make a very poor pair of pants for working long hours in an office chair. But by some kind of sorcery Duer has created a pair of jeans that doesn't cause pressure points on your legs or become uncomfortable after several hours.
The Duer performance slim denim jeans are made of a really interesting mix of materials that they call L2X denim. Cotton, Coolmax polyester, and spandex combine to create a fabric that is both stretchy and durable. The Coolmax polyester is designed to be a performance material, so it helps wick moisture from your legs while still providing adequate insulation.
As I said earlier, my previous go-to pants were Levi 511 jeans. What I found with these is they were either way too rigid for long hours in an office chair, or, when they were stretch fabric versions, they got worn down to fast and actually failed well before I wore them for a year. Sure, you can wear sweatpants to your home office, but it is nice to put on something that feels like real pants to create a situation where you are truly purposely dressing for work in the morning, It goes a long way to mentally prepare you for the day.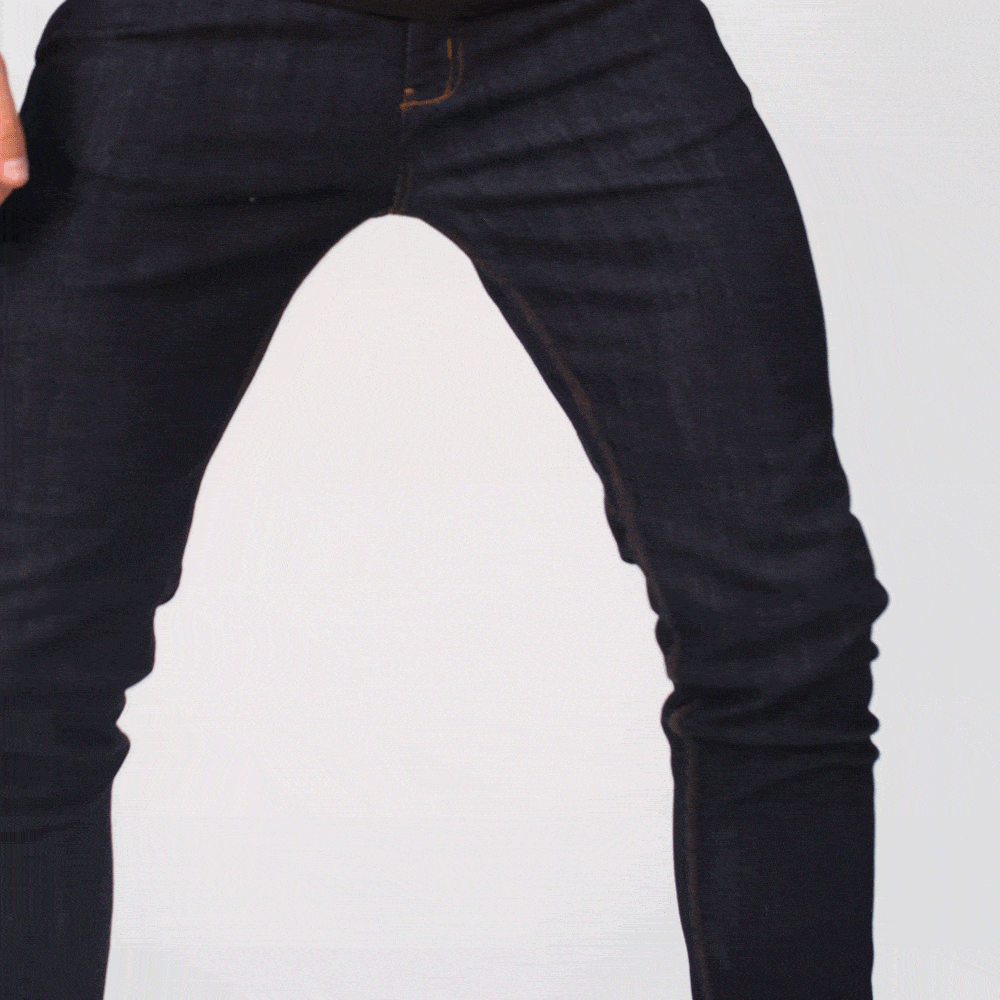 Duer performance jeans are super durable
I tend to use my jeans in many different environments. During the workday, I will often go on 30-40 minute walks in a nearby wildlife area to clear my mind. Having a pair of jeans that feel up to a hiking challenge is excellent. The integrated stretch is perfect for someone that is active, providing comfort even when you push yourself.
All of the seams on Duer jeans are triple stitched and the back pockets are made of a double layer of denim. And if you tend to blow out the crotch of your pants easily (a common issue for those with muscular legs or thighs), Duers are all made with reinforced gusseted crotches. You wouldn't really know that there is a gusset there, but it helps a lot in allowing the jeans to stretch and expand when needed. If you are looking for a pair of jeans for an extended range of motion during hiking or just a generally active lifestyle, these jeans are a good choice.
I don't personally bike, but if you are a cyclist, these are definitely an appealing pair of jeans due to their high range of motion and durability.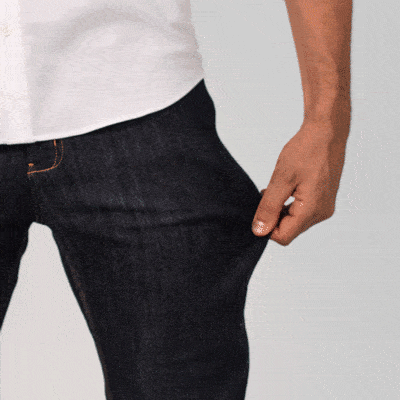 These pants actually look good
There are a lot of comfortable and durable pants on the market that use performance materials. Unfortunately, most of them simply don't look like normal pants. Take Outlier pants for example. They just have that "I'm a technical travel pant" look to them. To me, many of these performance fabrics look like they are made for hardcore mountaineering or something. Duers, especially in some of the classic jean washes, look just like a nice pair of normal jeans. This is a great thing when you are buying these to be used in multiple environments. I can use them in the office (or home office), but also go on a hike or even go out to a bar at night with the same pants, and nobody bats an eye.
The slim fit on these pants is modern and doesn't give off that Southern dude ranch kind of vibe. Again, I really think they have a similar fit to Levi 511 or 513 jeans, but much more comfortable. They also come in 30, 32, or 34-inch inseams which is excellent. So many high-end pant companies just assume you are going to hem your jeans.
I have two pairs of these jeans, one in Heritage wash (classy dark blue) and one in Skyline wash (a lighter, more distressed blue). Both work great for office environments if you don't work in a super formal workplace. When working from home, of course, nobody is really going to see your pants anyway!
Duer is a great company
i like to support companies that have strong environmental and sustainability ethics. Duer offsets their shipping carbon footprint with every purchase. They also build their pants with the idea of durability and repairability in mind. This is truly embracing the Buy It For Life movement that has encouraged consumers to buy fewer, more durable products that have extended life spans. If you live near one of their retail locations, Duer will repair your pants for free!
Their materials use organic cotton that is dyed with low environmental impact dyes. with any leather accents being made from vegan leather. If you're concerned about your environmental impact with your purchases, Duer is one of the good guys.
---
Conclusion: Comfortable work from home jeans that will last
I bought my first pair of Duer jeans well over 2 years ago and they are going strong even with regular inclusion in my clothing rotation. Because they are made with an antibacterial thread, you don't have to wash them as much as normal jeans. This means I can go a little longer between washes. Since I am wearing these at a desk job during the day, it is important that they don't create pressure points on my skin. Unlike normal denim, this stuff feels like I am still wearing my most comfortable pair of jogging pants at my desk. If you're looking for a comfortable pair of jeans to wear during your workday that are well-made and durable, look no further. The Duer Performance Denim slim jeans are what you need.