Working from home requires a nice technical setup to make sure you are both productive and comfortable for long periods of time at your desk. Arguably one of the most important elements to a home office is your computer monitor. It used to be that any old computer monitor would do. Now we have monitors customized to specific applications, jobs, and environments. So depending on what you do for a living, you may want a specific type of computer monitor. We're going to go over all of the best computer monitors for different budgets and employee's needs.
The best computer monitor for most home offices is currently the Dell 27 inch U2720Q. For a reasonable price, it packs in 4K resolution, almost zero screen flicker, High Dynamic Range (HDR), and a great adjustable stand that allows you to set the monitor in either landscape or portrait (tall) orientation. You'll find better monitors out there, but the U2720Q hits the sweet spot in terms of cost and functionality. If you're a designer or creative professional we'd recommend the Acer Predator X27 which has near-perfect color reproduction for photo or video editing and features a fast 144Hz refresh rate. For those on a budget, check out the Dell U2518D which simply ditches the 4K resolution in favor of a very solid Full HD 1080p screen. For those looking for a dual monitor setup, this might be a good place to start.
---
What is the best monitor for home office use right now?
There are constantly new displays being released, but we have come up with a list of our absolute favorites below. However, we have picked our top 3 favorite monitors that should suit most people setting up a functional home office while working from home.
Chances are if you are setting up a home office you aren't looking for the absolute top of the line specs on a monitor. We have chosen the Dell U2720Q as our favorite overall home office monitor.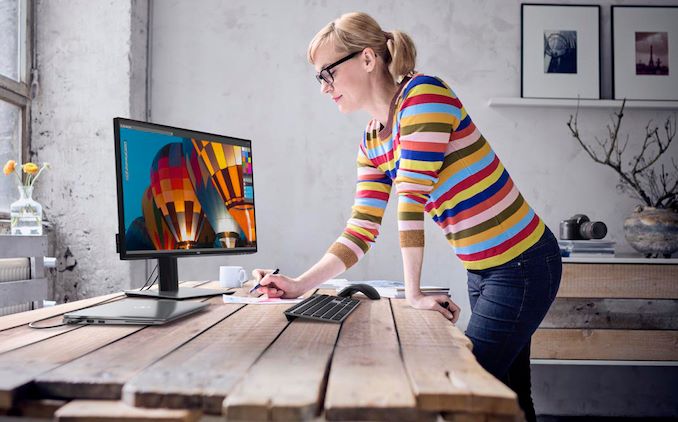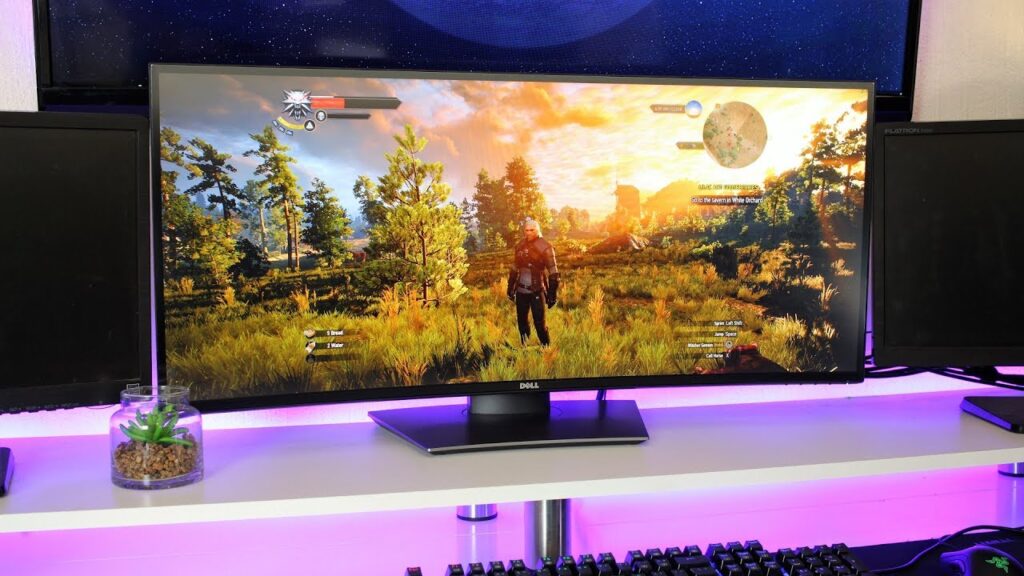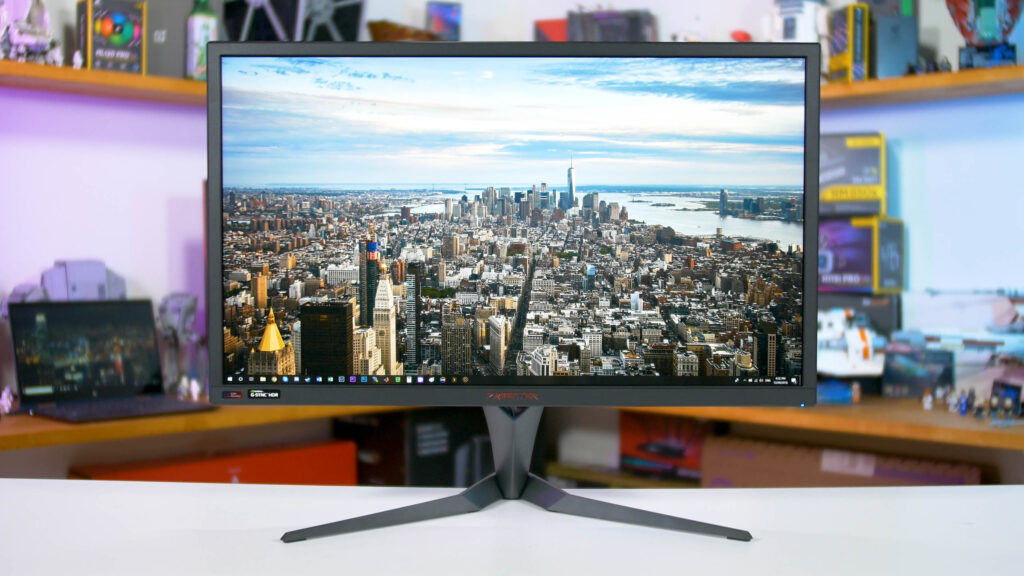 ---
These aren't the only three excellent offiice monitors you should consider though. We have pulled together our favorite 12 home office monitors in the table below. We look at their dimensions, resolution, and refresh rate as we think these are the most critical elements to consider for an office monitor at home. For more information about what to look for in a computer monitor when you are working from home keep reading below.
| Brand | Model | Size | Weight | Stand width | Stand depth | Resolution | Refresh rate |
| --- | --- | --- | --- | --- | --- | --- | --- |
| Dell | U2518D | 25″ | 7.58 lbs | 11.5″ | 7.9″ | 2560 x 1440 | 60Hz |
| Dell | U2720Q | 27″ | 8.16 lbs | 9.8″ | 7.3″ | 3840 x 2160 | 60Hz |
| Acer | Predator X27 | 27″ | 14.3 lbs | 18.7″ | 11.3″ | 3840 x 2160 | 144Hz |
| Dell | SE2719HR | 27″ | 9.35 lbs | 10.13″ | 7.35″ | 1920 x 1080 | 75Hz |
| HP | Z27 | 27″ | 13.69 lbs | 10″ | 9.06″ | 3840 x 2160 | 60Hz |
| LG | 32UD99-W | 32″ | 14.3 lbs | 15.7″ | 10.8″ | 3840 x 2160 | 60Hz |
| BenQ | EW3270U | 32″ | 13 lbs | 15″ | 8.5″ | 3840 x 2160 | 60Hz |
| Samsung | Space SR75 | 32″ | 7.7 lbs | 3.5″ | 4.5″ | 2560 x 1440 | 144Hz |
| LG | 34GN850-B | 34″ | 12.13 lbs | 17.8″ | 12.2″ | 3440 x 1440 | 160Hz |
| Asus | ProArt PA34VC | 34″ | 17.19 lbs | 22.44″ | 8.77″ | 3440 x 1440 | 100Hz |
| Dell | U3818DW | 38″ | 19.95 lbs | 13.4″ | 8.9″ | 3840 x 1600 | 60Hz |
| View Sonic | VP3881 | 38″ | 17.6 lbs | 11.76″ | 11.76″ | 3840 x 1600 | 60Hz |
---
What to look for in a home office monitor
When you are working remotely you're going to want to have a few key specs on your monitor for the best productivity. These are:
Resolution
Aspect ratio
Refresh rate
Panel type
Contrast ratio
Viewing angle
Connectivity (ports)
Stand size
Weight
We're going to briefly discuss each of these.
Resolution
Resolution refers to the number of horizontal and vertical pixels on the monitor. Like a TV, this is basically calculating the number of pixels on the screen. The more pixels, the harder it is for your eye to see rough edges on graphics and text on your screen. In general, you want to be looking for the highest resolution you can on a monitor. However, the higher the resolution the more expensive the monitor. For most offices, you'd be fine with a 1920 x 1080 screen resolution (also known as Full HD). If your work from home job involves a lot of spreadsheets you may want to look at a 4K resolutions screen as it will allow you to see more cells/columns on your screen at once. This will also allow your conference calls to show more people on screen at the same time.
However, keep in mind that sometimes programs on your computer aren't great at scaling to higher resolutions. This means that you will sometimes find certain apps are too small to read properly on very high-resolution screens. There are ways around this, but it is a factor to consider.
We have put together a handy computer monitor resolution table below which recommends specific resolutions screens depending on your job. This is, of course, very general, but it should give you an idea of what resolutions screen you should buy for your home office.
| Name | Resolution | Best used for |
| --- | --- | --- |
| 720p | 1280 x 720 | Very basic word processing (not recommended) |
| HD | 1366 x 768 | Basic productivity on a budget |
| Full HD | 1920 x 1080 | Most employees doing productivity work, multi-monitor setups |
| 1440p | 2560 x 1440 | Multi-taskers, accountants, and designers |
| 4K Ultra HD | 3840 x 2160 | Designers, video editors, and speadsheet experts |
| 5K | 5120 x 2880 | Designers and professional photographers/editors |
| 8K | 7680 x 4320 | Professional video editors, those with money to burn |
Aspect ratio
One of the first decisions you need to make with an office monitor is around aspect ratio. This is just a fancy way of saying the shape of the screen. For office purposes, there are 2 major screen sizes: (1) regular widescreen and (2) ultra widescreen. Gone are the days of square-shaped screens. Generally, you will see most screens with a 16:9 (or close to it) aspect ration. This means for every 16 horizontal units, you'll have 9 vertical ones, resulting in a screen that is wider than taller.
But as of a few years ago, ultra-widescreen monitors have become affordable enough to be real contenders. If you do a lot of multitasking, it makes sense to at least consider an ultra-widescreen monitor, as you can fit more windows and elements on the screen at a given time. You'll see a lot of monitors with a resolution like 3840 x 1600, which denotes an ultra-widescreen monitor. If you plan on doing a dual-monitor setup at your desk, then I'd skip the ultra-wide.
Refresh rate
Refresh rate tends to be a spec that is more important to people who work in creative industries. It basically means how fast the screen can keep up with movement by completely "refreshing" the panel. When the refresh rate is too low, you can experience ghosting and blurring. For those doing video editing or anything that requires fast motion, look for the highest refresh rate that your budget will allow. This may get you into the gaming side of monitors, however, resulting in much higher costs. For the vast majority of home workers, 60Hz is perfectly fine as a refresh rate.
You will also come across a spec called response time. This is more applicable to gamers and would not generally be something necessary to consider in an office monitor unless you are doing hardcore video editing.
Panel type
The actual screen technology may be something to pay attention to as well. Generally monitors come in one of 3 flavors: (1) TN, or twisted nematic (2) VA, or vertical alignment, and (3) IPS, or in-plane switching. Each of these panel technologies comes with their pros and cons, so we have put together a table that shows their advantages. Keep in mind that there are exceptions to the rule where, for instance, you can get VA panels that have an excellent response time
| | TN | VA | IPS |
| --- | --- | --- | --- |
| Color accuracy / gamut | Worst | Better | Best |
| Contrast | Worst | Best | Better |
| Viewing angle | Worst | Better | Best |
| Response time / refresh | Best | Worst | Better |
| Pricing | Inexpensive | Mid-high price | Highest price |
Contrast ratio
Contrast ratio is the ability for the display to show both very dark blacks (instead of dark grays) as well as light screens. This generally won't be a huge factor for most looking for a general productivity monitor used for Excel or Gmail. Where it does matter is where you need to work on video, photos, or other creative jobs. If you want the inkiest of blacks and brightest of whites side-by-side then find a monitor with a high contrast ratio (probably a VA panel).
Viewing angle
Viewing angle may be a major element of choosing a monitor for your home office setup. For example, if you have a couple of different monitors and one is not directly in front of you (also known as off-axis) then you may want to look at monitors that handle off-axis viewing angles better. This also applies to off-axis viewing that is on the vertical plane. So if you mount a monitor higher than usual, you can lose the quality of color and contrast as you move further off-axis. You are probably in the market for an IPS panel if you need good viewing angles, otherwise, TN and VA will do the job if you are looking straight on.
Connectivity
You want to hook your monitor up to your computer right? Well, get ready for a confusing time because there are tonnes of different ways to connect a modern display to your laptop or desktop. Generally, we'll see more connection options as you pay more for a screen. But in some cases, the connection technology is necessary for transferring the high-resolution image of a 4K or 5K display.
| | Availability | Advantage / Disadvantage | Why you want it |
| --- | --- | --- | --- |
| HDMI | Very common | Available on most computers, can transfer a lot of information | Chances are, this is what your computer uses |
| VGA | Uncommon on new monitors | Not digital. Unavailable on most computers as it is old | You don't… Unless you are a time traveler |
| DVI | Uncommon on new monitors | Not as common as it used to be. Large connector. | You don't need it unless you have an older computer |
| DisplayPort | Common | Supports both audio and video. Medium sized connector. | Many older Mac computers use this |
| Mini DisplayPort | Very common | All of the advantages of DisplayPort in a smaller connector. | Many desktop computers will have both HDMI and Mini DisplayPort |
| USB Type C | Common (becoming more and more common) | Smallest connector. Ability to transfer power and video at high resolutions. | To be future-proof. USC C is becoming the standard for most companies. |
| USB Type C Thunderbolt | Common | Very fast and can transfer massive amounts of data. | Futureproofing your setup and getting the highest possible resolution screen. |
More and more we are seeing USB Type C becoming the standard for display connections. But this doesn't mean that you need it. Generally, higher cost monitors will have it in order to transfer very high resolutions pictures. Right now HDMI or Mini DisplayPort will be fine for the vast majority of office workers. But if you want to futureproof, try to find a monitor with both HDMI and USB Type C connections, especially if you want to do multiple monitors in your home office.
Keep in mind that not all HDMI connections are created equal. Look for a monitor (and computer) that supports at least HDMI 1.4 in order to be able to transfer 4K resolution to your display. Better yet, look for a monitor rated to HDMI 2.0 in order to get 4K resolution transferred at the higher 60Hz refresh rate.
Stand size
Something a lot of people forget when they are buying their monitor for home office use is the actual physical footprint of the display. If you aren't mounting your monitor on an arm, then you will be utilizing the included stand which sits on your desktop. And this footprint can vary widely depending on the brand and model. There are some monitors from Samsung that have stands that are so tiny that you can forget they're even there! Check out the table at the beginning of this article where we found the width and depth of several of the stands on the best office monitors out currently.
Weight
This is mostly an issue to consider when you are planning on mounting your monitor to a wall or desk mounted arm. Generally, most arms will be able to support 7-10lbs of weight. But when you get into larger 32-inch monitors or ultra-wide monitors, the weight could become an issue and cause sagging issues with your mount of choice.
Other features to consider
There are also a few extra goodies that you can consider in your office monitor purchase. Blue light filters allow the monitor to switch to a blue light mode for when you are working in the dark or late at night. This filter will switch your monitor into a more eye-pleasing warm light. The science is currently out on blue light filters, but it is something that is being offered.
Curved monitors are also fairly popular now. These will generally not add a lot of value to an office setup and are more targeted towards those using their displays for entertainment purposes and need the extra immersion provided by the curved display.
VESA mounting holes are also something to look for. If you don't see these, then walk away. Basically any monitor worth anything will have these standard hole patterns which will allow you to attach your monitor to a stand or arm mount.
Lastly, a lot of monitor manufacturers are starting to include various USB charging capabilities right on board. These are often called USB charging hubs and will allow you to charge your phone, tablet, or even extra laptop from the monitor itself. This can be amazing in situations where you want to keep your desk setup as clean and uncluttered as possible. Furthermore, some monitors will have what is called a USB hub. This means you can plug several USB devices into the monitor and then have one cable go out to your computer, making for a slick minimalist setup without a lot of cords hanging around.
Conclusion: How to pick the best computer monitor when working from home
While there are a bunch of different specifications to consider when choosing a monitor, most of it comes down to price, size, resolution, and refresh rate for most people. This is why we chose the Dell U2720Q as the best home office monitor for 90% of people. Its 4K resolution, excellent color reproduction, and bountiful connection options make it hard to beat. If you don't need the 4K resolution and need something a little more basic there is always this excellent 1080p monitor also from Dell. But make sure either of these will fit in your environment. If you are putting it on your desk, make sure the stand will give you adequate room for adjustment on the desk surface. Ultimately, any of the monitors we recommend above will be a huge upgrade for most office workers. Now that you are working from home full time, its time to get a display that actually looks nice and makes you more productive!
---