Ember Self-Heating Coffee Mug Review: The Perfect Companion for Coffee Enthusiasts
Coffee lovers around the world understand the frustration of sipping on a lukewarm cup of coffee. Thankfully, the Ember Self-Heating Coffee Mug aims to solve this problem by providing a convenient and efficient way to keep your beverage at the perfect temperature. In this review, we will explore the features, performance, and overall user experience of the Ember self-heating coffee mug.
My overall experience over the past year and a half
My wife bought me the Ember mug for my birthday. I didn't even know it was something I needed until I started using it. It's pretty simple, it is a rechargeable coffee mug that you charge up by placing on an inductive charging base. Once charged, it can sense when you pour warm liquid into it, and then it will hold its temperature at a pre-determined level. For me, I set it to keep my flat whites and lattes at a nice warm temperature without cooking the milk.
The app is pretty straightforward in that it connects to the mug by Bluetooth and allows you to set what temperature your beverage should be at. If there was one weak spot in the Ember mug it is the reliability of connecting through this app. It has had trouble updating for me and is generally a little clunky. Hopefully, this can be fixed via update in the future. However, for me, I just set it up once and then left it since I always drink the same flat white in the morning.
But the actual function of the mug? Oh boy, is this ever a game-changer… I can get myself a coffee in the morning and slowly sip it all the way until noon if I want to. This is something I was never able to do in the past and it makes it so I am no longer rushing through my coffee because I am afraid it is getting cold.
It is simple, effective, and useful. I can't imagine not using this mug now that I know what is possible. Excessive? Maybe. Unnecessary? Absolutely. Super awesome? 100%. Let's get into some of the details of what makes the Ember self-heating coffee mug so good.
Check out our list of other must-have work-from-home accessories.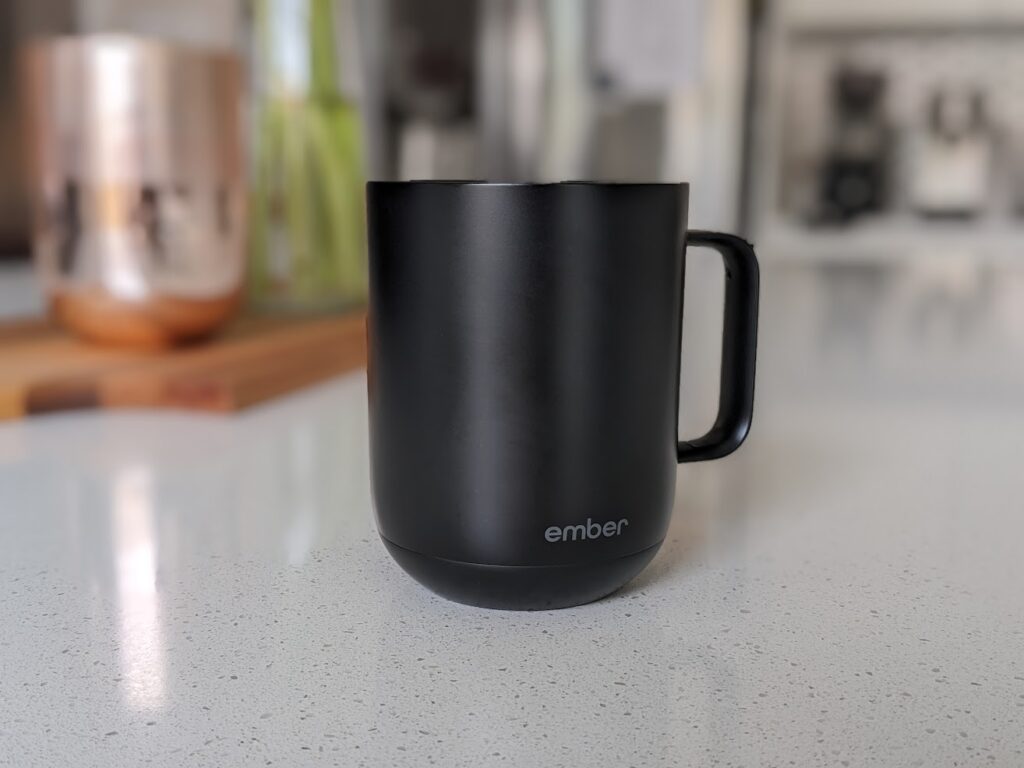 Design and Features
The Ember mug boasts an elegant and sleek design that easily fits into any coffee lover's lifestyle. Crafted from high-quality stainless steel, it feels durable and well-built. The mug is available in different sizes, accommodating a range of beverage volumes. The outer surface remains cool to the touch, ensuring safety and preventing accidental burns.
One of the key features of the Ember mug is its self-heating technology. By utilizing an integrated heating element and temperature sensors, it allows you to set and maintain your desired temperature for an extended period. The Ember smartphone app complements the mug, offering precise temperature control, custom presets, and a notification system to alert you when your drink reaches the desired temperature.
Performance
When it comes to performance, the Ember mug truly shines. After pouring your coffee into the mug, the heating element quickly warms it up to your desired temperature. The temperature sensors accurately monitor the liquid, making adjustments as needed to maintain the set temperature. This ensures that your coffee remains consistently warm throughout your drinking experience, even if you get sidetracked or take longer breaks.
The Ember smartphone app adds an extra layer of convenience and control. It allows you to choose between preset temperature settings or set a custom temperature according to your preference. The app also provides an estimated time to reach the desired temperature, ensuring you can plan your coffee breaks accordingly. Again, the app could use a little work, but it gets the job done, especially if you aren't switching between different beverages regularly.
The battery life of the Ember mug is impressive, lasting for several hours on a single charge. I have been able to have three different cups of coffee in it before the charge is out. The included charging coaster also serves as a convenient resting place for the mug and wirelessly charges it between uses. Additionally, the Ember mug is water-resistant, making it safe for everyday use and easy to clean.
User Experience
Using the Ember mug is a delightful experience. The ability to keep your coffee at the perfect temperature from the first sip to the last is truly a game-changer. The mug's insulation properties are excellent, keeping the exterior cool while retaining heat within. This makes it comfortable to hold, even when filled with piping hot coffee.
The Ember app seamlessly integrates with the mug, allowing you to control it with ease. The interface is intuitive and user-friendly, making it effortless to set and adjust temperature settings. The app also offers firmware updates that bring new features and improvements to the mug, ensuring that your investment remains up-to-date.
One minor drawback of the Ember mug is its weight, which is slightly heavier than a regular coffee mug due to the built-in technology. While this doesn't significantly affect the overall experience, some users may find it noticeable, especially if they are accustomed to lightweight mugs.
Ember self-heating coffee mug review: Final thoughts
The Ember Self-Heating Coffee Mug is a revolutionary product for coffee enthusiasts who value a consistently warm and enjoyable coffee-drinking experience. Its elegant design, exceptional performance, and user-friendly interface make it a must-have accessory for those seeking to elevate their coffee rituals. While it comes at a premium price point, the Ember mug's ability to keep your coffee at the perfect temperature for extended periods is well worth the investment. Whether you're an avid coffee connoisseur or simply enjoy sipping a hot cup of joe, the Ember mug is a remarkable addition to your coffee arsenal. Say goodbye to lukewarm coffee and embrace the joy of every sip with this ridiculously awesome coffee mug.