Logitech C920 review: Still the one to beat
Undoubtedly, video conferencing has become an integral part of our daily lives. Whether it's for professional meetings, virtual classrooms, or catching up with loved ones, a high-quality webcam is essential for a seamless and engaging experience. The Logitech C920 Webcam has been a popular choice among users, known for its exceptional performance and affordability. In this review, we will explore the various features, usability, and overall performance of the Logitech C920 Webcam.
My experience with the Logitech C920 webcam
I have owned the C920 for almost two years now and it is still my favorite webcam. I have tried others from Microsoft and even other Logitech models, but I keep coming back to the C920. First, I find the microphone on this webcam very good. There is no echo or general audio weirdness from my colleague's side when I use it as my primary mic. Second, I really like the lens on the webcam itself. The field of view on the lens is large enough to see some of my surroundings, but so large as to make me appear distant to others on web conferences. Also, it is nice to not have to clean up my entire office… Logitech's upgraded cams such as the Logitech 930e are also great, but offer a slightly different look, with a wider field of view that I personally find too wide.
The connectivity on the webcam is also super reliable. I have it plugged into a USB hub and it has not once failed to connect. I have tried several Microsoft cameras that simply struggle to start up on occasion, making it a pretty frustrating experience.
Design and Build Quality:
The Logitech C920 boasts a sleek and compact design that complements any setup. The webcam is crafted with a sturdy plastic body that feels durable, ensuring longevity. It features a flexible clip that securely attaches to different monitor sizes and laptops, offering versatility and ease of use. The hinge allows for 360-degree rotation, enabling users to find the perfect angle for their video calls. The overall build quality of the Logitech C920 is impressive, and it easily stands out in its price range.
Video Quality:
One of the key highlights of the Logitech C920 is its outstanding video quality. Equipped with a Full HD 1080p resolution and a 30fps frame rate, the webcam delivers sharp and clear visuals. Sure, you can find full 4K cameras out there, but in most cases, a 1080p webcam is the nice sweet spot for price, quality, and internet bandwidth usage.
The automatic light correction feature ensures that the image quality remains consistent, even in various lighting conditions. Whether you are in a dimly lit room or a brightly lit environment, the C920 adjusts accordingly, providing well-balanced and natural-looking colors. The autofocus feature ensures that your face remains in focus at all times, enhancing the overall video quality. I have found the auto focus to be excellent, rarely having to wait for it to focus on my face.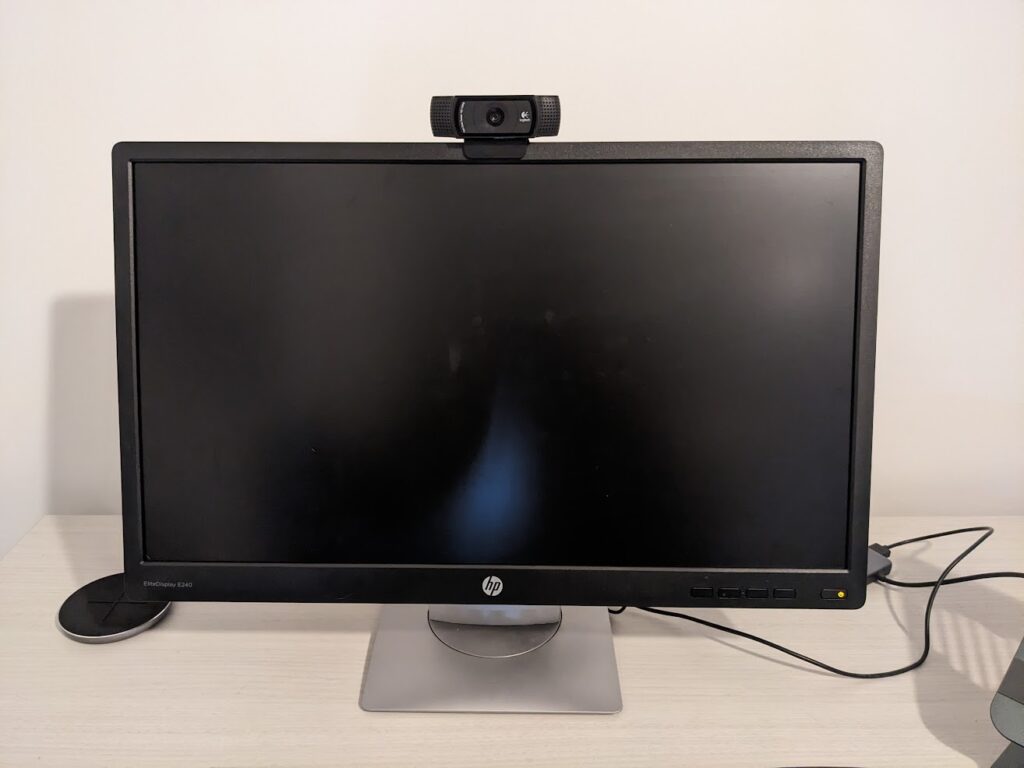 Audio Quality:
While the Logitech C920 primarily focuses on video, it also offers decent audio quality. The built-in dual stereo microphones capture clear and intelligible sound, eliminating the need for an additional microphone in most scenarios. The microphones effectively reduce background noise, allowing your voice to come through distinctly during video calls. However, for professional settings or more demanding audio requirements, a dedicated external microphone would still be recommended.
Check out our guide for the best web conference speakerphones.
Ease of Use:
Setting up the Logitech C920 is a breeze. Simply connect the webcam to your computer's USB port, and it's ready to go. The plug-and-play functionality ensures compatibility with various operating systems, including Windows, macOS, and Linux. Logitech's user-friendly software allows users to customize settings such as brightness, contrast, and zoom levels. The software also provides advanced features like background removal, which is particularly useful for virtual meetings and streaming.
Compatibility and Integration:
The Logitech C920 is compatible with a wide range of video conferencing platforms, including Zoom, Microsoft Teams, Skype, and Google Meet. It seamlessly integrates with these applications, making it effortless to use during meetings and collaborations. The webcam also works well with streaming platforms such as Twitch and YouTube, ensuring smooth live broadcasts with excellent video quality.
Additional Features:
The Logitech C920 offers additional features that enhance the overall user experience. It supports H.264 video compression, reducing the strain on your computer's resources during video calls. This ensures a smooth and uninterrupted experience, even on lower-end systems. The webcam also comes with a privacy shutter, allowing users to physically cover the lens when not in use, ensuring privacy and peace of mind. Believe me, this can be a life saver when you are wolfing down breakfast while in an all-staff meeting…
Logitech C920 review: Conclusion
The Logitech C920 Webcam is undoubtedly a reliable and cost-effective choice for anyone in need of a high-quality webcam. With its impressive video quality, ease of use, and compatibility with popular video conferencing platforms, it fulfills the requirements of both professionals and casual users alike. Overall, the Logitech C920 Webcam delivers an excellent video conferencing experience, making it a worthwhile investment for individuals and businesses looking to enhance their virtual interactions.